Heard Museum hosts historic crowd for 33rd annual World Hoop Dance Contest
Darren Thompson, Native News Online
Originally Published: February 28, 2023 4:31 p.m.
PHOENIX — The Heard Museum hosted its 33rd World Hoop Dance Contest this past weekend in historic fashion. This year's competition included 108 competitors from the United States and Canada, the highest number the contest has ever hosted.
Hoop dancers were organized into four categories youth (6-12 years), teen (13-17 years), adult (18-39 years) and senior (40 or more years) and judged in five separate elements of the hoop dance: precision, rhythm, showmanship, creativity and speed. The competition required dancers to wear bells or an item that let judges know a dancer is on beat with the drum and for each hoop to be used during a dancer's performances.
Cozad Singers from Oklahoma was the competition's co-host southern drum, and Thunder Boy Singers from the Hopi Indian Reservation in Arizona was the co-host northern drum. Both drums sang 27 songs each on Saturday and another dozen songs in the competition finals on Sunday. Youth and teen divisions were limited to five-minute performances, and adult and senior divisions were limited to seven-minute performances. The event's master of ceremonies was Dennis Bowen, Seneca, who has been the event announcer for many years.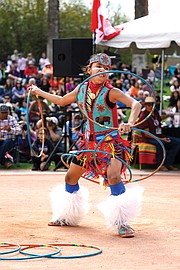 Many dancers traveled thousands of miles to compete in the annual hoop dance celebration that brings some of the world's most renowned hoop dancers to the Heard Museum. When the competition started in 1991, it featured just seven dancers.
The hoop dance has a deep history among Indigenous peoples in North America, where many dancers tell stories with their hoops to the rhythm of songs sung on a drum. Today, the art form is celebrated and loved by many, and crowds of the annual hoop dance competition have been growing into the thousands. Food lines at Emerson's Fry Bread, a popular food truck that specializes in Indian tacos, had a wait time of 90 minutes during the competition.
"It's such an honor to be among so many talented hoop dancers," said Starr Chief Eagle, Sicangu Lakota, who traveled from the Black Hills of South Dakota to compete. "Just to make it here, to be among so many respected dancers, is exciting. We all represent different tribes."
Jerry "J.J." First Charger drove 21 hours from Alberta, Canada, with his son Jerrhan First Charger. The pair represented the Blood Tribe, part of the Blackfoot Confederacy in Canada. They both placed in the competition—J.J. third in the senior division, and Jerrhan third in the teen division. J.J. has traveled to the competition three times, in 2001, 2020, and this year.
"It's great to see all the beautiful dancers, to be a part of this and it has grown so much over the years," J.J. First Charger told Native News Online, Because of the number of competitors, this year's competition had to double up. Normally a dancer has the arena to themselves, and the modification presented a new challenge to competitors.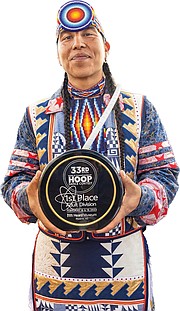 "We celebrate the hoop dance and the gathering of people, to enjoy the good feeling of being together," said Sue Sixkiller, Western Band of Cherokee and Akimel O'odham, to Native News Online. "This gives us a time to celebrate with one another, to visit our families, to share our culture with the world and the next generation."
Sue's children placed in the hoop dance competition. Sampson Sinquah was last year's world champion and placed 6th in the adult division. Scott Sixkiller Sinquah is the 2023 Heard Museum's World Hoop Dance Champion in the adult division. Montee Sinquah won first place in the senior division.
"I'm so proud of them," Sue Sixkiller said.
SUBMIT FEEDBACK
Click Below to: