Alchesay Falcons claim 3A State Championship title
Marilyn Sheldon, Navajo- Hopi Observer
Originally Published: February 28, 2023 4 p.m.
SHOW LOW — Rick Sanchez, Alchesay girls basketball coach, had two predictions for his team.
The first was that his eighth-seeded Falcons would defeat Window Rock by seven points in the semi-final round of the 3A girls basketball championships Feb. 24. The second was that they'd win the championship game by double digits.
He was really close on both counts.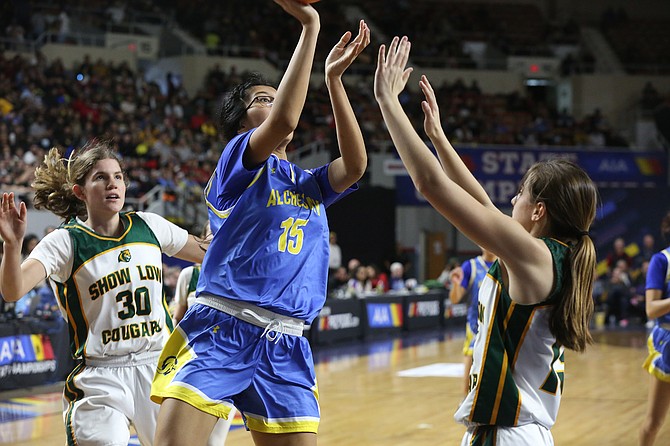 Last Friday, in front of a packed Arizona Veteran Memorial Coliseum crowd, the Falcons downed fifth-seeded Window Rock 44-36, by a margin of eight points, very close to Sanchez' prediction.
The following day, the Falcons posted a decisive, come-from-behind win, to secure their second straight 3A state championship title. Alchesay trailed in the first quarter, but came alive in the second. They dropped in four 3-point baskets in the second period alone, en route to a 30-18 lead at the half.
They never looked back. They extended their lead to more than 20 points in the third quarter, then substituted freely, as they handily defeated Show Low 52-35, spot on Sanchez' prediction.
Jenieth Sanchez led Alchesay with 18 points. Jazlyn Nosi added 10 to top the Falcon scorers.
Alchesay finished the season with an 11-8 overall record, and a 6-6 3A North Region mark.
SUBMIT FEEDBACK
Click Below to: