Native Artists shine at Super Bowl LVII
Navajo artist Randy Barton creates animated traditional Navajo rug for Feb. 12 event
By Dalton Walker and Noel Lyn Smith, Indian Country Today
Originally Published: February 14, 2023 10:18 a.m.
PHOENIX — Navajo artist Randy Barton was on the big stage Feb. 5. On Sunday, his art work was on the big game.
Barton made an appearance at Super Bowl LVII Opening Night at the Footprint Center in downtown Phoenix. Barton was among the fan celebrations to welcome the Philadelphia Eagles and Kansas City Chiefs to Super Bowl week. The teams faced each other Feb. 12 in nearby Glendale.
Monday's popular event was also known for its media access with most players available for interviews, including more notable players getting dedicated chair and microphone space to field questions. Cameras flooded the arena floor with the most pointed at history. Quarterbacks Patrick Mahomes and Jalen Hurts received most of the attention. This was the first time in Super Bowl history that two Black quarterbacks went against each other.
The entire event took place in the area usually known for Phoenix Suns and Phoenix Mercury basketball. On this night, it belonged to the most popular sport in the country — football. The Eagles were introduced first. About an hour or so later, Kansas City players arrived. Before and inbetween, the arena was bursting with anticipation and music while hosts introduced people in attendance for broadcast and for the fans inside. It got its loudest when Mahomes and Hurts were spotlighted.
Barton also got a nice fan applause.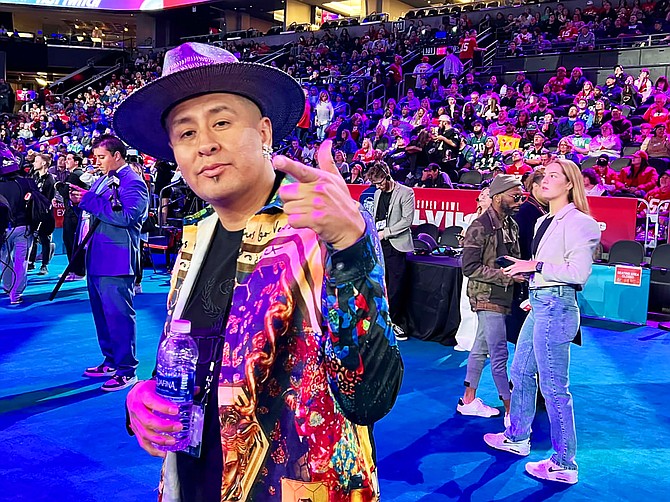 Barton was introduced on the main stage, a large riser above the busy floor space. He was part of a friendly art contest which of course he quickly won. He was one of many introduced to the crowd from the stage. But what Barton had in his bag, few, if any, in attendance could put on their work resume.
Barton created a digital design that will premiere when Philadelphia and Kansas City players take the field on Sunday. He created an animated traditional Navajo rug design that "looks like it's exploding, it's really dope," he said with excitement. He also created end zone designs and some ribbon designs that will be visible on the field.
The sports world will have to wait until gameday to see the final results.
"The inspiration comes from being a young kid growing up on the reservation, watching my grandmother weave rugs," he said. "So I kind of took those same designs, them eye dazzler designs and brought them to life and animated them digitally."
Barton has been an artist and designer for more than 20 years. He's from Winslow, Arizona. He is among a group of Native artists brought in to collaborate with the NFL and Super Bowl. Production Club in Los Angeles connected with Barton last year as part of the collaboration.
"To finally be able to be noticed, and for corporations to recognize Native Americans … that kind of breaks the ceiling and gives us more opportunity," Barton said.
The opening night celebration wasn't the first event of the day.
Earlier, a news conference officially kicked off this week's festivities. And it started with a land acknowledgement by an area tribal leader.
Gila River Indian Community Gov. Stephen Roe Lewis shared the cultural significance of Phoenix's history as the ancestral homelands of the O'otham and Pee-Posh.
Lewis said history was made Monday with the NFL's first Super Bowl land acknowledgment
More history was also made.
Back inside the Footprint Center Monday night, local Indigenous dance troupe, Indigenous Enterprise, performed on the big stage. On social media, the group said it made history as the first Native group to perform at opening night.
Kansas City fan Ileoso Molina, Yaqui, and his girlfriend Aabiniiso Litzin, Navajo and Tohono O'odham, were among the people in the crowd. They live in Tucson and made the roughly 90 minute drive north for the event.
Molina was wearing a Kansas City jersey and a beaded medallion in the shape of the team's arrowhead logo. The medallion was a birthday gift from Litzin, who wore matching beaded earrings.
"We want to check it out, see how it is, especially since it's close to home," Litzin said.
Molina is a big fan of Kansas City player Travis Kelce.
"He's the best tight end," he said. "I watch all his podcasts too. He's just a great player. He's funny, charismatic, energetic."
Kansas City's James Winchester, a citizen of the Choctaw Nation of Oklahoma, was answering questions from the media but was also doing the interviews. Winchester was walking the floor with a team microphone interviewing his teammates on camera. He's one of at least two Native players set to play in the Super Bowl. His teammate Creed Humphrey, Citizen Potawatomi Nation, is the other.
Winchester is playing in his third Super Bowl in four years and has won one ring.
"It's incredible to make it to the game and have an opportunity," he said. "It's a long season, super proud of my teammates and it's just a blessing to get to play for another world championship."
Humphrey said this week is all about preparation for the Eagles.
"This week is exciting, I'm having fun with it," he said. "We are here to win a game, we are preparing hard and getting ready."
This story originally appeared on Indian Country Today.
Dacoda McDowell-Wahpekeche contributed to this report.
SUBMIT FEEDBACK
Click Below to: