Buu Nygren attends Biden's State of Union, addresses Navajo Nation needs
Navajo Nation president attends event as guest of Sen. Mark Kelly; spends week in meetings
Originally Published: February 14, 2023 10:43 a.m.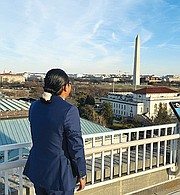 WASHINGTON — Navajo Nation President Buu Nygren's first official trip to Washington was a busy and productive one. Nygren, who was a guest of Arizona Sen. Mark Kelly, was in the nation's capital to attend President Biden's second State of the Union address to the joint session of Congress.
Throughout the week, Nygren had a packed schedule of meetings with various government officials, including five U.S. senators, five congressmen and women, four cabinet officials and Director of Tribal Affairs PaaWee Rivera. He also had the opportunity to tour the National Museum of the American Indian and the Pentagon.
Nygren, in a written statement, said one of the highlights of his week was meeting with Interior Secretary Deb Haaland again. This meeting was crucial as it allowed the two leaders to discuss important issues affecting the Navajo Nation, including uranium mining and its devastating legacy. The president also had individual meetings with Senators Martin Heinrich and Ben Ray Luján of New Mexico.
In addition to his meetings with government officials, Nygren also met with Indian Health Service Director Roselyn Tso and National Endowment for the Humanities Chair Shelly Lowe, both of whom are Navajo. These meetings were important as they provided an opportunity for the president to discuss important issues affecting the Navajo Nation, including healthcare and education, Nygren's office said.
Kelly expressed his appreciation for the president's visit and his commitment to working together to address the needs of the Navajo Nation. Kelly said his priority for this term is to work with Nygren to ensure that tribal sovereignty is respected and that Washington supports the needs of the Navajo Nation.
"I'm honored to have President Nygren join me as my guest," Kelly said. "He is a key partner in our work to boost economic opportunities, expand access to clean and reliable drinking water, fix and upgrade roads, and much more."
One of the most pressing issues that came up during Nygren's meetings was the devastating legacy left by uranium mining on the Navajo Nation. Kelly informed the president that there was $1 billion being held in trust by the EPA to be used for uranium mine cleanup, which comes from the 2014 Kerr-McGee settlement. However, the Navajo Nation has faced delays in receiving these funds due to the requirement for a five-year plan for each of the 500-plus abandoned mines needing remediation.
Nygren also met with Arizona Sen. Kyrsten Sinema and discussed the Navajo Nation's ongoing need for water development. The president sought the senator's support as he seeks to align with the Salt River Pima-Maricopa Indian Community, Gila River Indian Community, and Tohono O'odham Nation for Arizona legislation to return a portion of the Arizona transaction privilege tax to tribes.
On Monday, Nygren met with Labor Secretary Martin J. Walsh and his deputy, Intergovernmental Affairs Tribal Liaison Jack Jackson Jr. Secretary Walsh informed the president that he would soon visit the largest tribally-controlled Job Corps Center in the country, which could serve as a model for the Navajo Nation to help train its 18- to 24-year-olds. The president expressed his support for this program, and a pre-apprenticeship program would be a great opportunity for Navajos to have a successful career, even if college isn't for them.
"Not everyone wants to go to college to get four-year degrees," the president said. "A pre-apprenticeship program sounds like a great opportunity so that every Navajo can have a successful career even if college isn't for them."
Nygren also met with Tony Dearman, the Director of the Bureau of Indian Education (BIE). They discussed several important topics, including the construction of new facilities, the development of a Navajo language program, teacher certifications, the status of the BIE School Facilities Design Handbook, and the advocacy for state funding to improve the delivery of educational services.
Nygren emphasized the importance of enhancing the use of the Navajo language in K-12 education and stated that his administration is dedicated to creating a strong program that can be taught in BIE schools across the Nation. This program can either be taught in person or through an online platform such as Zoom, to reach the greatest number of Navajo students and help preserve the daily use of the language.
Nygren has previously discussed the Navajo language program with officials from the Church of Jesus Christ of Latter-day Saints, who are known for training their missionaries to become fluent in various languages in a short period of time.
The BIE is responsible for the maintenance of 66 Navajo Nation schools, and they are currently working on plans to renovate or rebuild these facilities based on the BIE design handbook, which was last updated in 2003 and will be released later this year.
Nygren and Dearman also discussed the challenges posed by delays in completing background checks for BIE school board members and the need for repairs at the Cove Day School to prevent further contamination by uranium waste. In 2014, the federal government reached a settlement to provide almost $1 billion for the cleanup of around 50 uranium mines on the Navajo Nation.
On Tuesday, Nygren met with Transportation Secretary Pete Buttigieg, and they agreed to correct the issue of the Navajo Nation's repeated rejection for road building grants. Nygren emphasized the need for DOT grant assistance as it costs approximately $3 million per mile to pave a road on the Navajo Nation.
On Wednesday, Nygren met with New Mexico's congressional representatives, and Rep. Teresa Leger Fernández assured Nygren she would reintroduce the Radiation Exposure Compensation Act expansion bill this year. The expansion bill aims to compensate downwinders, uranium workers, and atomic veterans for the devastating health impacts of radiation exposure from U.S. nuclear weapons testing and uranium mining. The bill, if passed, will extend the period of compensation, increase payments, and add additional compensable diseases.
SUBMIT FEEDBACK
Click Below to: