Native designer partners with Macy's to launch Shash Diné home decor
Originally Published: February 7, 2023 12:37 p.m.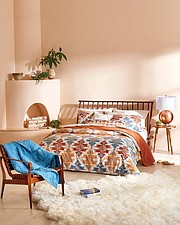 NEW YORK — Macy's has recently launched the Shash Diné Hotel Collection, a limited-edition array of home pieces created for Macy's and curated by Navajo designer Baya Meehan.
Meehan is the founder and CEO of Shash Diné EcoRetreat, a "glamping" resort in Arizona. The Shash Diné for Hotel Collection features quilts, comforters, kimonos, robes, towels and more.
"Home is not only the place that my ancestors have walked and lived, but the land that demonstrates Navajo hospitality at its finest," Meehand said. "The outstanding natural beauty of nature itself and the connection with the land is meant to be felt throughout each piece designed and created for Macy's."
Drawing inspiration from the natural environment surrounding the Arizona land, Baya pays homage to her heritage with traditional patterns and textures in this latest installment of the Macy's Hotel Collection. Designs were carefully crafted to look and fit into accommodations at the EcoRetreat while also replicating the atmosphere of Shash Diné.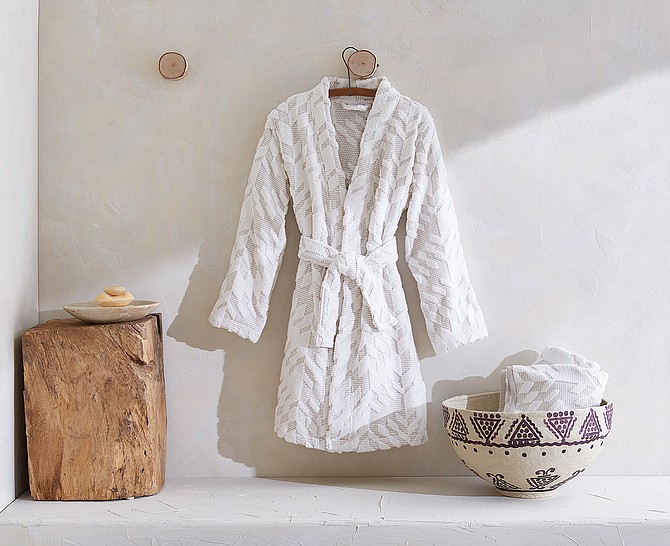 The Navajo-inspired patterns and textured yarns capture the natural beauty and tranquility of the American Southwest, connecting land, thought and care into the curation of the designs, the company said.
"We are delighted to partner with Shash Diné and Baya, who beautifully incorporated her heritage and southwestern designs into this stylish home edition of hotel collection," said Stephanie Muehlhausen, senior fashion director, Home, Macy's. "Empowering and amplifying our collaborations with diverse-owned brands and designers is core to Macy's social purpose platform, Mission Every One, and its commitment to building a brighter future with bold representation."
About Shash Diné
Shash Diné EcoRetreat is a "Glamping" Hotel that offers guests a unique stay on the northern edge of the Navajo Nation founded by Meehan in Page, Arizona. This off-grid retreat located in the Lake Powell region provides guests with traditional Navajo hogans, quality canvas Bell tents, fully restored sheepherder covered wagons, and a cabin large enough to sleep 2-4 persons.
About Baya Meehan
Baya Meehan was born and raised on Dinétah, (Navajo Nation) the same ancient land tracing back to her ancestors from numerous generations in northern Arizona. After completing high school, Baya joined the United States Navy serving honorably on the USS Blue Ridge traveling all throughout Asia. With plans to always return to her roots, Baya thoroughly enjoyed experiencing other cultures throughout her time in the military before returning to the familiar land for livelihood and overall quality of life. Between starting a family, working ranch, and Shash Dine', Baya and her family have seen tremendous success and been afforded a remarkable life. In the future, Baya and her family plan to grow and expand the EcoRetreat in many ways firstly and wisely with respect to the land, people and culture, the same land that has always sustained her family that continues to do so in a more contemporary fashion.
This story originally appeared on Business Wire via AP
SUBMIT FEEDBACK
Click Below to: