Hopi Tribal Leader shares personal history to help others at Reentry Summit
Alexandra Wittenberg, Navajo-Hopi Observer
Originally Published: August 29, 2023 10:09 a.m.
FLAGSTAFF, Ariz. — Hopi Tribal Chairman Timothy Nuvangyaoma is using his past prison experience to bring to light problems for re-entry of Hopi and Indigenous peoples. Nuvangyaoma was the keynote speaker of the first Reentry Summit on Justice Involved Tribal Members that took place at Twin Arrows Casino Resort Aug. 17 - 18.
"This might shock some of you, but I'm also known as 130518. That is my state department of provisions number," Nuvangyaoma said to the crowd of tribal probation officers, U.S. Probation and Pretrial leaders, and area social worker groups that came together for the event.
Nuvangyaoma explained how he received several DUI's starting in the 1980s when he moved to Phoenix for a job in finance.
"During that time, I worked hard, but I also played hard," Nuvangyaoma said. "I started doing the happy hour thing with some of my colleagues and co-workers and it just went on from there."
After spending a few months in prison in Douglas, Ariz., he was released.
"I thought, 'Okay I got a number, I'm kind of cool now.' But you know, there's nothing cool about that," he said. "Four months didn't teach me anything. I came out, went into rehabilitation – because that was my condition of release –and within a year's time, I picked up another DUI, I violated again, so that got me more time." His last DUI came in 2006, where he eventually got a plea deal for eight years in Lewis Prison in Buckeye.
"I didn't know what to think," he said of having to face prison again. "Only, 'How could I have gotten myself in this situation. Tim, you know better.' Everything I hated about prison. Being told what to do, strip searches…not being able to participate in your culture."
He soon learned that it wasn't as easy to participate in Native customs there as it was for other denominations with more frequent access to Bible studies, chapels and prayer mats.
"We might have a talking circle, we might have sweat (lodge) once a month," he said. "When you're trying to heal, spirituality is important. And I don't think that's something that a lot of folks that haven't walked those shoes understand."
Nuvangyaoma said other challenges include limited access to cultural supplies for activities like smudge sessions. But the troubles he experienced as an incarcerated Native didn't just end when he was released.
"I come from an extremely intimate position. I know from the inside, the challenges our native population has," Nuvangyaoma said. "I know when they transition out, the challenges our native population has, especially in the rural reservation areas."
Nuvangyaoma said he almost had to violate his terms of release because it was so difficult getting to Flagstaff to meet with his parole officer, something he knows is a challenge for those out on the reservation who don't always have access to reliable transportation, or live where the roads can get muddy and inaccessible.
"The distance from here to Hopi is approximately 100 miles," Nuvangyaoma said. "Gas isn't cheap. And if you have to make these visits more than one time a month…man its hard."
Another hard to attain condition of release is employment, he said, citing that the Hopi tribe is already about 60-65% unemployed.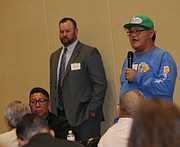 "A lot of parolees, probationers, are unable to get a job, not because they don't want to, it's just limited," he said. "So, are they able to pay their fees?"
There are a disproportionate amount of Native Americans in prison and jail compared to the overall Native population. Last year, 1,604 of the 64,142 cases in the U.S. Sentencing Commission were Native American, with offenders in the district of Arizona a short second behind South Dakota. A total of 3.6% of U.S. offenders were Native Americans, according to the commission website, ussc.gov. In contrast, Native Americans populate only about 2% of the United States.
In January, the social justice non-profit donor MaCarthur Foundation came out with a study showing Native Americans are incarcerated up to seven times more than white people in states with high Indigenous populations, and are sentenced more harshly.
Despite the large number of incarcerated Native Americans, Nuvangyaoma said the prison system does not do enough to account for the Native population's unique needs.
"Having been in the shoes of a lot of those that are still in orange today, I know that the Native population – we're in the shadows," Nuvangyaoma said. "We're in the shadows in the system."
Nuvangyaoma has gone back to the same prison he was incarcerated at in his role as Hopi chairman and spoken to incarcerated Natives and told them his story, and found that they are still in need of cultural materials and mentors. He says he wants to work toward developing some kind of second chance program on the Hopi Reservation and possibly build a template that they can use with other tribes.
There is currently a pilot program for offenders in northwest Arizona that live within an hour radius of Chinle, which is one of the furthest areas inside the Navajo Reservation in Arizona from any probation office.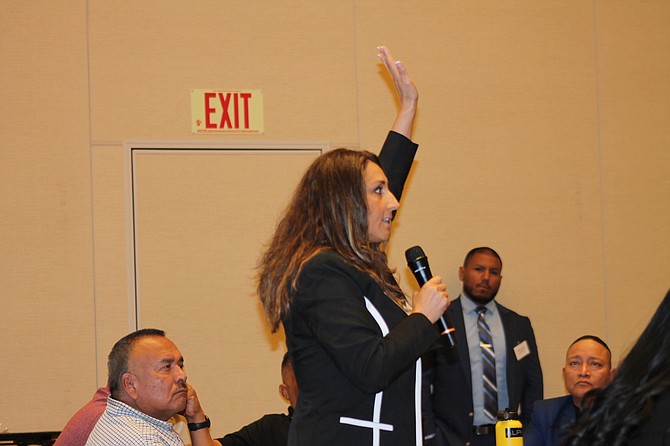 Federal probation officers Matt Cary and Audrey Bethel, who work in the Flagstaff probation office, presented the Northern Arizona pilot program, which launched about a year ago and currently has three enrolled.
Instead of having to drive five hours away for their sentencing in Phoenix or 168 miles to their probation officer in Flagstaff, offenders from the Chinle area can meet Flagstaff Judge Camille Bibles at the local Apache Courthouse in person every six weeks and meet with their probation officer over the phone every three weeks.
Arron Francis is expected to be the first graduate from the program in September.
"I've been in and out of trouble my whole life. Navajo Nation, juvenile detention center, county jails … all the counties," Francis told the crowd of his early start leading to his felony drug and DUI charges. "I was raised in a broken home. Raised in a bad environment, raised around drugs. My dad left the house before I was three. My mom was brutally murdered when I was about nine years old by her boyfriend. So I just got on a track to do whatever I wanted however I wanted."
Now Francis is over a year clean and is getting his GED. He is the entrepreneur of a food truck that sells pickle slush in Chinle and speaks to inmates at the local jail. He attributes his turnaround to the church and the pilot program, which offers him access to counseling and keeps him on track with the parole check in's.
Bethel said no one from the Reentry summit has contacted them about adapting the program yet, but attendees seemed eager for change and working together to come up with solutions on how to better serve the incarcerated Native community.
SUBMIT FEEDBACK
Click Below to: