Gearing Up for Greatness: Leupp Elementary School welcomes students back
Leupp Elementary School welcomes students back to campus Aug. 9
Alexandra Wittenberg, Navajo-Hopi Observer
Originally Published: August 22, 2023 9:34 a.m.
LEUPP, Ariz. — On the first day back at Leupp Elementary School Aug. 9, the principal and staff are joined by Theresa the Tiger to greet kids as they enter the school, grooving to songs like Van Morrison's "Brown-eyed girl" and Bon Jovi's "Livin' on a Prayer." A sign decorated with flowers and a bright red apple reads, "Ya at eeh – Welcome Back Students."
Theresa Davis takes her tiger head off for a quick breath of fresh air while the entry is clear of families. It is Davis' 17th year as a custodian with Flagstaff Unified School District and second at Leupp. Like many who work at the school, she has a long commute.
"I live on the other side of Grand Falls," Davis said. "I'm way out there. It's about an hour to get here every morning."
Most of the teachers commute from Flagstaff with a van leaving from the east side of town, a 45-minute drive. But there's something about Leupp Elementary School that makes it worth it.
Photo Gallery
Leupp Elementary School First Day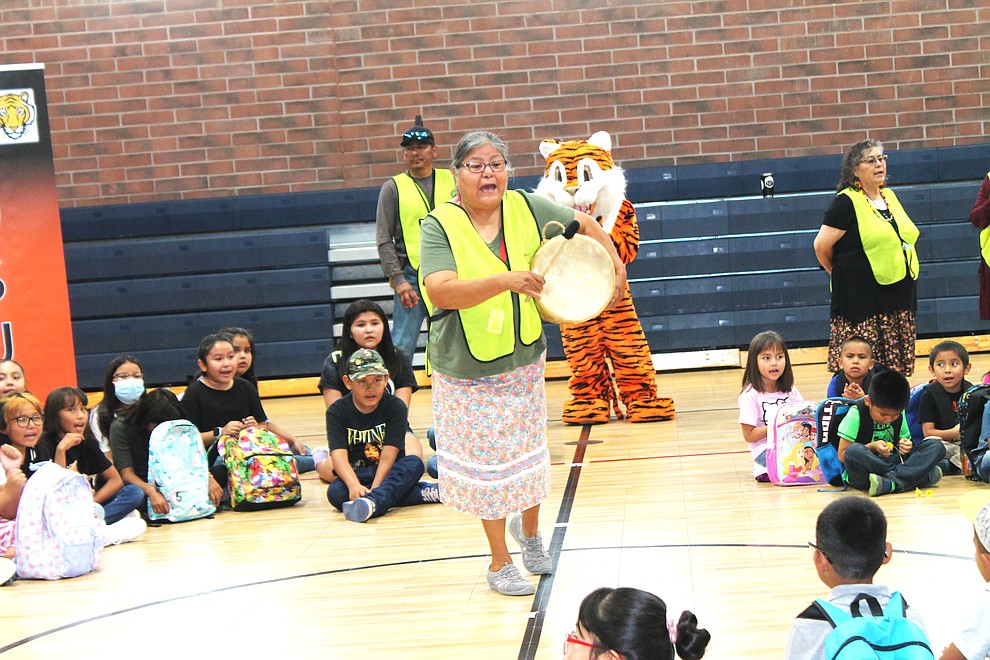 Navajo Language Teacher Annabelle Smallcanyon leading cultural songs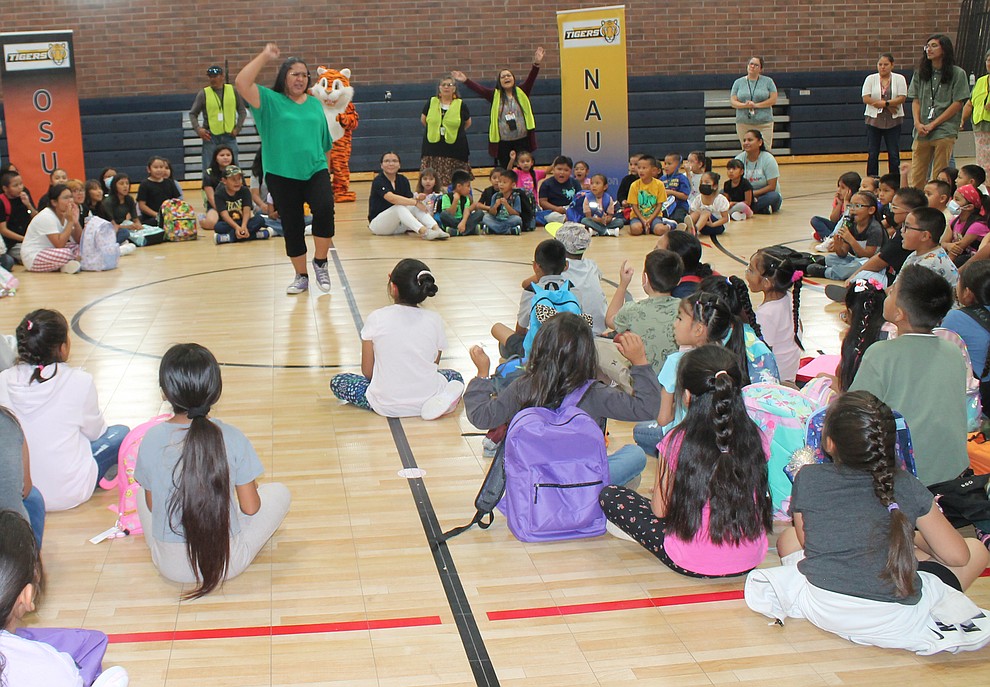 Students and teachers get hyped up for the new year
Kindergarten students "catch a bubble" as they walk to their new classroom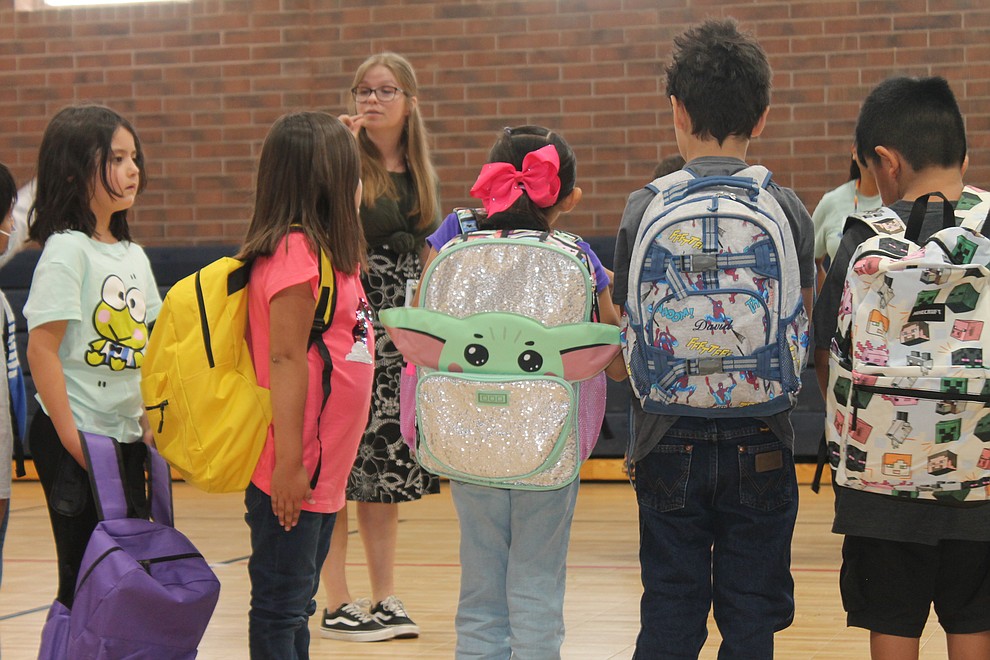 First grade teacher Bailey Shupe meets her new students.
Principal Ryan Chee greets an enthusiastic student as he gets off the bus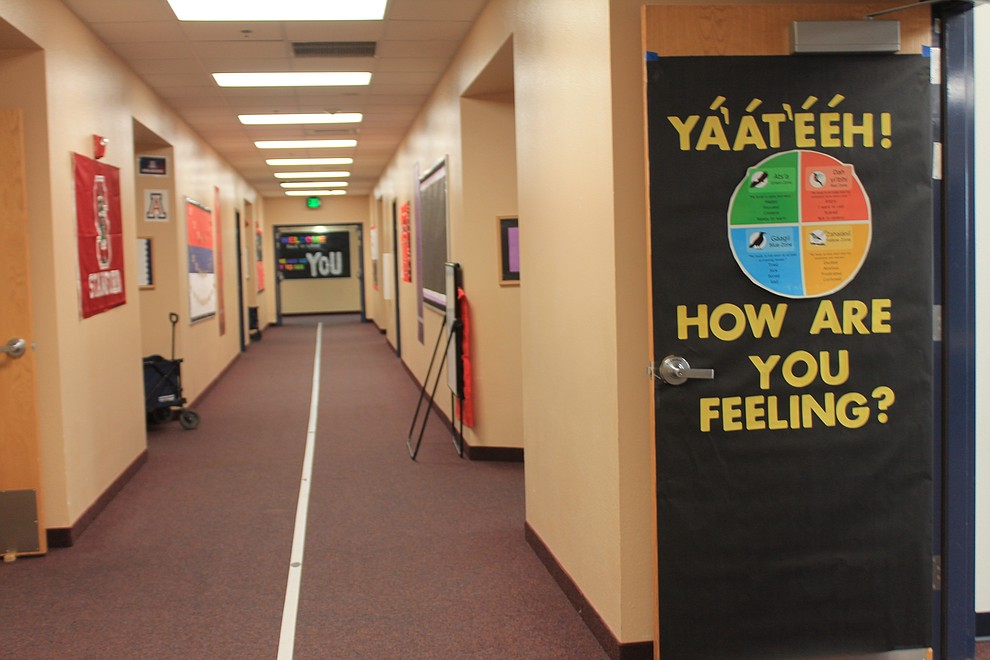 The counselor's office inside the halls of Leupp Elementary School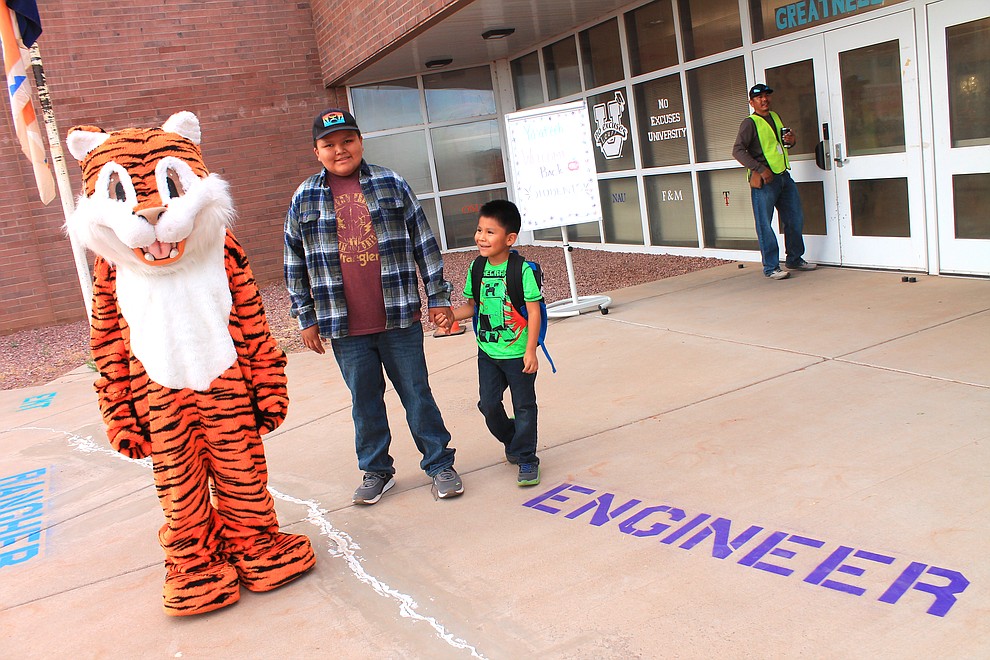 Theresa the Tiger and Deon Chee greet Colten and Aiden Begaye on their first day of fifth grade and kindergarten at Leupp Elementary School on Aug. 9.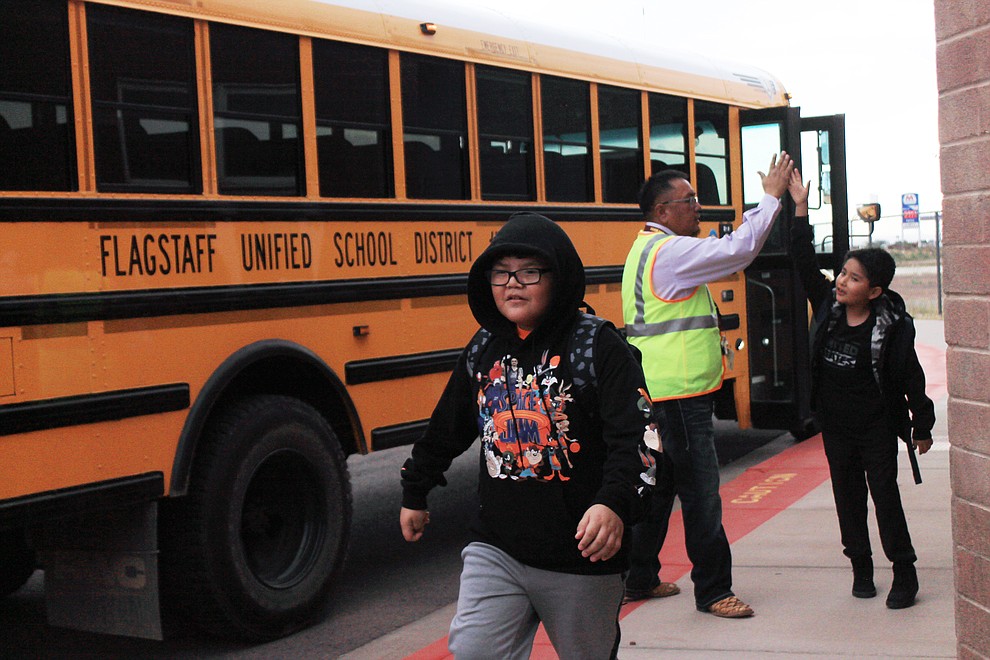 Mr. Chee greeting Eric Zilth and Carter Begay, fifth grade students.
Fifth grader Morgan Begay gets off the bus and high fives Mr. Chee.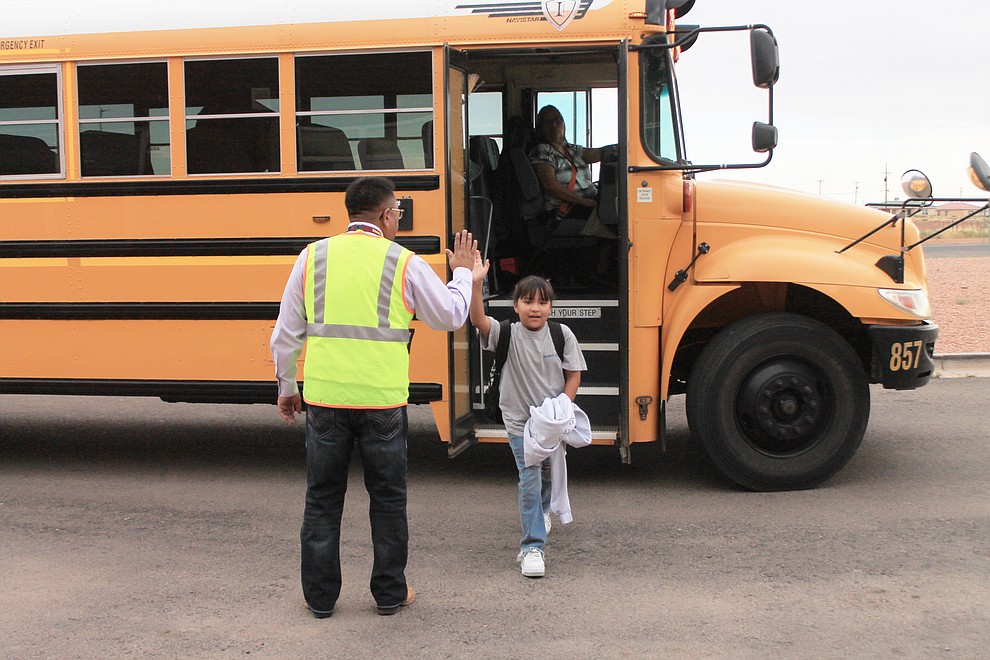 Mr. Chee high fiving Diyani Watson at bus arrival.
Theresa Davis takes a quick air break
Brayden Chee practices dummy rope with Ian Smallcanyon, left, and Colten Begaye at the playground before classes begin.
School Principal Ryan Chee, setting the tone for the day at morning circle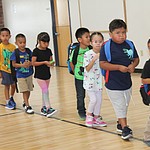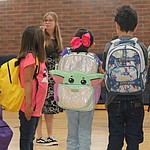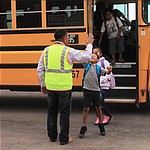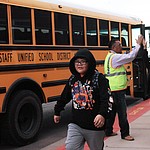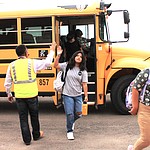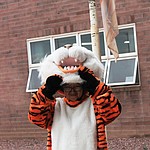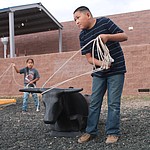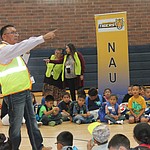 Gabrielle Smith, who is teaching fifth grade at Leupp for her fifth year, gets up at her Flagstaff home at 5 a.m. most days to get ready for the day and gets to the bus barn at 6:45 a.m.
"I love our school culture here," Smith said. "All of our teachers and our staff are very tightknit. We work together really well so it really feels like all the teachers and all the staff are coming together to take care of all the kids. Even though we are one teacher per grade level it never feels like I'm the only one taking care of them."
Davis puts her tiger head back on and waves as a family pulls up to the front of the school. A little boy gets out of the back of the car and Principal Ryan Chee welcomes him back.
"Did it snow in Birdsprings last night?" Chee asked. "No snow? Oh my goodness."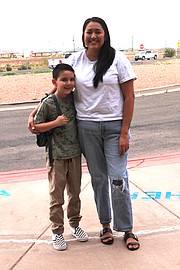 Besides Leupp, the school serves students in Birdsprings and Tolani Lake with enrollment of about 150 students. It is the only school on the Navajo Reservation that is part of Flagstaff Unified School District. Though reservation time is an hour ahead of Flagstaff time, Leupp Elementary stays on Flagstaff time to align with the school district, with clocks set to 8 a.m. Flagstaff time when it is really 9 a.m. on the reservation.
Chee welcomes a new bus arrival with high fives as the students that jump off.
"I love being out here in the mornings because you get to connect with all the parents to make sure that if they have questions we can kind of get everything situated before the day starts," Chee said. "I do a lot of my solutions to problem-solving that way."
Parent Elyssa Plopper likes Chee's approach. She has a huge smile as she drops off her son Jack for his first day of second grade.
"I'm excited," Plopper said. "I really like how Mr. Chee handles the children here."
Plopper also likes the school's No Excuses University program, which introduces the students to nearby universities and promotes career options at an early age.
In front of the school are different careers painted on the cement, and parents take photos of their children standing on what they want to be: Rancher, engineer, judge, dentist, welder, EMT and chef, to name a few.
"Right now [Jack] wants to be a police officer but he also talks about going to University of Las Vegas Nevada because last year their class was all about UNLV," Plopper said. "It's something I never really seen when I was growing up, so once I got to college … I didn't know what I was doing. So now I'm back in school and I kind of know what I'm doing. So I'm kind of glad my son has that experience over here."
Each class is themed for a nearby university: UNLV Rebels, Northern Arizona University Lumberjacks, University of New Mexico Lobos, University of Arizona Wildcats, etc.
"We have preschool through second grade that visit the campus of NAU every year," Chee said. "They eat on the commons and go visit the dorms and they know where the libraries are. And grades third through fifth, they'll go to ASU, do the same thing at ASU … so they really know the campuses by the time they leave."
Career paths are further explored in the after school and early morning program, FACTS, where Leupp students have academies in leathermaking, Navajo culture, and sewing where they make their own ribbon dresses and shirts.
"If they're going to go to college, or trade school, whichever [path] they so choose, they have a skill that they can make a little bit of extra money off," Chee said. "Of course as they get older, they can always refer back, 'hey I remember doing that.'"
The FACTS program is run by Deon Chee, who also runs his own leathercrafting business and teaches the children his tricks of the trade for the leathercrafting academy.
Deon Chee has several roles at the school – he also runs all the intramural sports: Cross country, soccer, flag football, basketball and volleyball. The school is now part of the Navajo Hopi Area Junior High League, and competes against some 30 other schools with both boys and girls.
"Everybody loves basketball," Deon Chee said of his favorite sport to teach and by far the most popular with the students.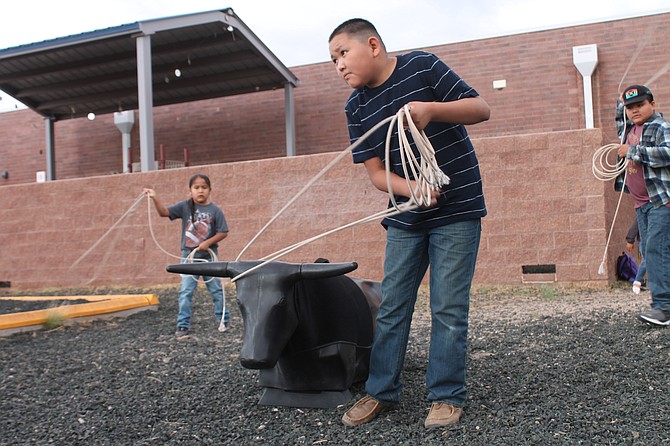 Even before the bell rang for morning circle, students ran or walked a few laps around the field, and had a chance to play at the playground or participate in dummy rope.
Now in fifth grade, Brayden Chee showed younger boys Colten Begaye and Ian Smallcanyon how he lassoes and throws his rope around the black model bull's horns with quick efficiency. Brayden is a two-time dummy world champion winning for his age groups at age 6 in 2019 and age 7 in 2020.
Students get experience with real animals on that field as well, with Deon Chee also helping show them how to butcher.
"They watch, and if they want to be a part of it they can do it… some of the kids are scared," Deon Chee said, adding that the adults slaughter the animal away from the kids' view before bringing them out.
In morning circle, the entire school gathers with their new classes in the gym next to a sign with their representing university. Students sing the Pledge of Allegiance in English and then sing a Navajo song, led by Navajo Language and Culture teacher Annabelle Smallcanyon, who thumps along with a handheld drum.
"Boys and girls, we do our personal pledge every day to be our very best," Principal Chee says. "Whether you're a student, whether we are a teacher, whether you are a bus driver. Whenever you are on campus we are going to be our best. Capeesh?"
"Capeesh!" the students roar back enthusiastically.
SUBMIT FEEDBACK
Click Below to: