Diné entrepreneurs keep the caffeine flowing with Stay Grounded coffee truck
Originally Published: August 22, 2023 9:45 a.m.
TUBA CITY, Ariz. – Ask anyone where the best cup of joe on the western Navajo Nation can be found and they'll point you in the direction of Stay Grounded coffee truck.
Last month, the mobile coffee truck celebrated four years of serving the western Navajo Nation. Located primarily in Page and the Tuba City area, Stay Grounded is known for their coffees, teas and house-blended energy drinks.
Diné sisters Calista and Selina Tsinnijinnie, along with their long-time friend, Shannon Black own and operate the truck. According to them, these last four years have been filled with all the highs and lows of thinking outside the box and starting a new business.
"Going into business like this was all new to us," Calista said. "It was a journey that we decided to try together. We just kind of went for it."
With backgrounds in engineering, accounting and medicine, the women had little experience in the restaurant and customer service industry.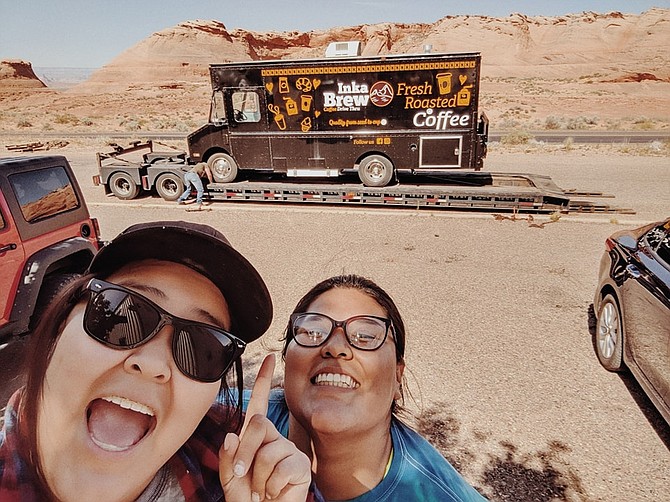 "And of course, we knew if we were to do this, we wanted to do it right," Calista said. "So, we did a lot of research. We signed ourselves up for a class in Seattle, got familiar with the science behind coffee, got familiar with the espresso machine, how to, you know, dial it in, and know the difference between beans. (We) kind of (got) an idea of what we're looking for … just a lot of research and schooling on the back end, before we got rolling."
Their first day serving customers was July 4, 2019 – Independence Day. There were, of course, a few obstacles along the way that had to be worked out before the business picked up steam.
"Hiccups in terms of, you know, power, water, all that stuff," Calista laughed. "Those are just kind of the things that you learn… you're just trying to figure out everything in a very fast-paced environment."
"When you're first starting out nothing's easy," Shannon added. "It takes a lot of hard work, a lot of dedication, time and that continuous push and drive to keep going."
As they went along, they got to know customers and people and slowly issues popped up that had to be addressed.
"We learned about sales tax and a lot of financial stuff that we had no idea about – supplies and payroll," Shannon said.
Shipping of inventory proved to be a big challenge.
"The Navajo Nation doesn't really have addressing yet, they're working on the rural addressing project – that's for 911 services, but we wait almost two weeks to get our shipment and then sometimes it gets sent back because the UPS or FedEx driver doesn't know the location of our residence," Calista said. "So, we're always chasing down the trucks."
"We definitely have a great relationship with our UPS and FedEx drivers," Selina added.
Navigating regulations for business owners on the Navajo Nation was another challenge.
"We've had to jump through so many hoops for the Navajo Nation, it's ridiculous," Shannon said. "We just get so many different answers from so many different departments… it seems like a wild goose chase and then you find this one person who knows about all the information you need and they're gold. That's the biggest growing pain that we've had and still have – we're still trying to establish a structure, but there's so many bureaucratic hoops that you have to jump through to in order to do something as simple as a business site lease."
And then the pandemic happened, which shut down the coffee shop six months after opening. After the initial shutdown, the women decided to continue operations by following guidelines.
"We made the collective decision to follow the Navajo Nation rules," Shannon said. "We are female, Indigenous, Navajo Nation business owners and we wanted to make the statement that we were taking the pandemic very seriously. So, we wanted to go with their rules rather than the city of Page or anybody outside the Navajo Nation."
Shannon said they wanted to make it clear that they were following Navajo guidelines out of respect for future generations and the health of their own families and grandparents.
As the nation moved through the COVID-19 pandemic, precautions were taken to maintain a healthy staff, including wearing masks, distancing, and taking employee temperatures daily.
"Then we found out that our customers liked the drive-thru," Calista said.
Since then, Stay Grounded has operated mostly as such.
"There are quite a few tourists who like to walk up and look at the menu," Shannon said. "We're not shy, we're not afraid to talk to you, we won't ignore you. We're more personable, I'd say."
Through these growing pains and the global pandemic, the women have each found a part of the business they enjoy, one of these is mentoring staff.
"My favorite part is also my biggest headache," Shannon laughed. "Yes, my favorite part is mentoring the team. They're mostly college students that we're working with. We've had a chance to help them grow (and) add job skills to their resume."
Being a barista at Stay Grounded is much more than just making beverages for customers.
"We're also training them on all the other stuff, electrician (work), how to hook up trailers, how to backup trailers, how to change a tire and all that," Shannon said.
Being able to mentor youth has proved to be a big part of their business, which ties in to their original reason for wanting to open a business on the reservation.
"The reason, or one of our driving forces behind this (endeavor) is because we wanted to create job opportunities within the reservation. And we also wanted to let the younger kids know that it's possible to do," Calista said. "You hear a lot of impossible, or you can't do it, or you just have to go elsewhere, you have to move to a city and do it there, you hear a lot of that growing up. So, that's definitely one of my driving forces for me … pretty much proving that everything is not impossible, that it is possible."
According to the savvy business women, Stay Grounded has a bright future and getting a permanent structure is one of their main goals.
"So that's something that we're definitely working towards right now," Calista said.
In the meantime, Stay Grounded continues to deliver a daily dose of caffeine to their customers.
Those wanting to sample their menu can find them through social media and on Google.
"Instagram is definitely our biggest drive, next is Facebook. And surprisingly, coming on up is definitely Google," Salina said.
SUBMIT FEEDBACK
Click Below to: