'We could take a lot of this appropriation back' | Cody Artis is forging a new path for Navajo blacksmiths
Chez Oxendine | Tribal Business News
Originally Published: April 18, 2023 10:35 a.m.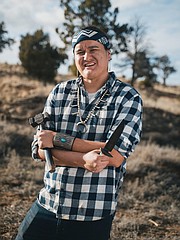 Blacksmith Cody Artis' first forge involved an old charcoal grill, some horse manure for fuel, and an air mattress pump as a stand-in for his bellows.
Fast forward six years, and he now works out of a shop on his in-laws' property, heating up and hammering out knives and tools that sometimes go for thousands of dollars. The shop's location in Breadsprings, N.M. on the Navajo reservation gives him plenty of room to work without bothering neighbors. He also works with a full forge now — no more horse manure for him, he said.
"I did everything with the bare minimum," he said. "Now I have my own shop, really nice grinders, a heat treat oven, an anvil, a nice forge and all these nice things that I've been working my butt off for."
The forge represents the culmination of a fascination with fantasy swords that began with practice sword fights with his cousins on the Navajo reservation using wooden weapons. Eventually, Artis' appreciation graduated to real metal swords in the movies like "Conan the Barbarian," then moved on to real fire and steel when Artis began forging knives in 2017 under a company he formed called, Artis Forge
"I feel a sense of freedom and creativity on the reservation," Artis said. "That's just a good place to operate where I don't have to worry about bothering anyone."
Artis treats his knives as artwork, he said. Sometimes the process can take a total of 24 hours or more per knife as he shapes, treats and etches each blade. His knives often feature decorative patterns or include different kinds of metal in their construction. One of Artis' most recent pieces features a piece of a battleship anchor shaped into the knife's hand guard.
It's been a long time getting here, Artis said. He emerged from the University of New Mexico with a degree in philosophy but was unemployed and aimless, and he told himself he was going to sit down and learn a trade to give himself focus and purpose.
These days, that purpose is twofold: a burgeoning law career — Artis works with a public defender's office on the reservation and just cleared the New Mexico state bar exam — and his forge work, which has supported him on his way through law school, he says.
"At the time, employment was very slim, so I just decided I'm going to try to make something out of something I love doing — so I started bladesmithing," Artis told Tribal Business News. "It's definitely gotten me through a lot of hard times, even as I transitioned from law school to employment on that side of my career."
Even with a law degree in hand, Artis plans to continue his forging. He attributes his enthusiasm for the craft — and the artistic intuition necessary to teach himself how to forge — to his mother, who was a beader, artist, seamstress and carpenter.
"I would just sit with her," he said. "By the time I started getting older, I became more crafty in what I wanted to do. I was able to apply that thirst for knowledge."
Artis mostly runs his business online, using social media to market his work. Posts routinely feature layered damascus or Navajo-inspired design work baked into the sheath, handle, and blade. Most of his work is bought by fellow Navajo; while Artis will travel to meet nearby purchasers personally, much of his work ends up shipped out to buyers across the reservation.
Artis is still growing his audience beyond the rez, however, and says non-Native buyers of his work are "rare." Artis also regularly runs into people who consider his work too expensive, but he insists there's more value in handcrafted, long-lasting work.
Buying a knife at Wal-Mart that could last a few months versus buying a custom-made tool, created by a Native person, meant to last years doesn't compare in terms of value, Artis said.
"I think a lot of people don't understand the whole process that goes into creating something that you're going to be passing down for generations or utilizing out on the rez," Artis said. "...but some people love the fact that my knives are hand-forged, made by me, made by a Navajo."
Artis steps into a rare venture for Native craftsmen, whose arts are dominated by more traditional visual mediums like carpentry, sculptures, painting, and beadwork, per a report by art publication Art in Context. Career demographic tracker Zippia lists Native blacksmiths as comprising just 0.1 percent of the total field.
Heading into a field where Native participation is so rare both stymied Artis' initial efforts to build community and his ability to build on work that came before, he said. Where he did find other bladesmiths in online communities and forums, he often found cultural appropriation or outright racism waiting for him.
"It was hard because I didn't really have a community to go to, and I had all these ideas about incorporating silversmithing and carving into my designs, but there was nobody to talk to about it," Artis said. "There was also a lot of racism going into it. These blade forums would make fun of Indians, saying we just banged rocks together, and I've had people ask weird questions or assume certain things about me."
Then there was the matter of cultural appropriation, Artis said: he routinely discovered non-Native blacksmiths building materials labeled with tribal names or some indication that they were Native-made in a bid to stand out in a crowded market.
Artis found himself wading into communities trying to root out appropriation, and in so doing, found another purpose: creating authentic Native work in a field that very frequently doesn't have any, despite the prevalence of Native names used to christen types of knives or tools, he said.
"All of that added fuel to my fire," Artis said. "I'm not into the free market, but I thought if I could compete with these guys and make my own market, we could take a lot of this appropriation back. We lose such a huge market in this field, so I started thinking about how to take it back."
One way to reclaim proverbial territory is simply improving and honing his business model, Artis said. He currently attends classes and workshops as a member of the 2023 cohort at Tuba City-based, non-profit Native-led business incubator Change Labs, where he's learning to modify his business model to better stimulate and accommodate growth. It's not his first interaction with the incubator, which featured his knives in their gift guide last year.
"I've gained so much knowledge of how to run a business. When I was kind of trying to figure out how to structure my business, I talked to my coaches, and I started to understand there's so much to knife making," Artis said. "You have to keep in mind how to market, you have to keep in mind how to grow, but you also definitely need to keep track of your books. Going to Change Labs gave me tools that made a lot of that so much easier."
This story was originally published by Tribal Business News.
SUBMIT FEEDBACK
Click Below to: