Northern Arizona Book Festival highlights Indigenous authors and publishers
Originally Published: April 18, 2023 11:28 a.m.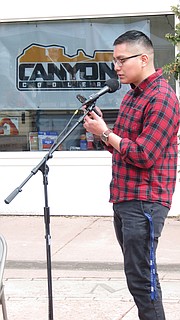 Two points of agreement about the Northern Arizona Book Festival this year is that it had more Native American involvement than in past years and there was also a good energetic vibe to the gathering.
Tyler Mitchell, editor for Salina Bookshelf Inc. Multicultural Publishing, said he was glad to see more Indigenous book publishers gathered at the festival.
Abalone Press and Torrey House Publishing were also among those participating, highlighting their authors and selling their books.
The Northern Arizona Book Festival, established in 1997, coordinates readings, panels, workshops and contests.
Publishers, authors and poets performed their readings.
"It keeps getting bigger and bigger with more Indigenous involvement," Mitchell said. "There is a lot of energy with kids reading their poetry."
The book festival events were scattered throughout the town, but the main events were at Heritage Square, where publishers and other vendors setup their booths.
"The energy is unmatched by having it outdoors. There's been nothing like this in the past," Mitchell said.
He said Salina Bookshelf is especially important because there are not a lot of opportunities for Native American authors.
Salina Bookshelf also publishes baby books and children's books by Native American authors.
"We want to do stories that represent them, so they get to see people who look like them," he said. "If they see themselves they expect more from themselves. They need that connection to keep themselves grounded. That's what Salina Bookshelf is all about."
Mitchell said their authors are glad that they are edited by a Native American editor who caters to stories for Native Americans.
"They feel secure and safe. They feel comfortable with us," he said.
One of Salina Bookshelf's recent books is "Becoming Miss Navajo" by Jolyna Begay-Kroupa.
Mitchell said it was a big step forward for Salina Bookshelf to show the evolvement of Miss Navajo. Begay-Kroupa now runs Phoenix Indian Center and she has won awards from the Native American Library Association.
Salina Bookshelf has published a Navajo language textbook by Evangeline Parsons-Yazzie and a book about Missing and Murdered Indigenous Women by Daniel Vandever.  
Born in Tuba City and raised in Chinle, Mitchell lives in Flagstaff where Salina Bookshelf is based.
Started in 1994, Salina Bookshelf publishes Native American authors and Navajo language textbooks.
Mitchell joined Salina Bookshelf as an intern in 2016 and became editor after editor Lafrenda Frank passed away.
The company works with schools and has published books by reservation teachers. It also has online readings on its website.
One book Salina Bookshelf is working on is "Running With Changing Woman," by Lorinda Martinez, who is a middle school teacher on the reservation. This novel is about a girl going through her womanhood ceremony.
"This is our first for young girls. I'm super excited," Martinez said.
Eric Bitsui, one of the founders of the festival, said the main message remains the same of spreading literacy and literature in the community.
"Anyone can write and get behind the mic at this festival," he said.
Bitsui has his own book, "Mosh Pit Etiquette," coming out with Tolsun Books in November. His book is about being a 21st Century Navajo as he writes about his involvement in a heavy metal band. He plays with Whiskey Kittens, a garage band with his friends. He is the only Native American in the band.
Born in Blue Gap, north of Tuba City, Bitsui moved to Flagstaff in 1982. He graduated from Chinle High School where he later taught Mitchell as a substitute teacher. He earned his English degree at NAU.
Bitsui said the Northern Arizona Book Festival embodies the literature of the Southwest.
"It has great poets and writers. It has NAU faculty and students. I also had a chance to see Native American friends I hadn't seen for years," he said.
SUBMIT FEEDBACK
Click Below to: