Rock Point recognized by President Nygren
Originally Published: April 4, 2023 3:52 p.m.
WINDOW ROCK, Ariz. — Rock Point High School's Lady Cougars basketball and volleyball teams were welcomed by Navajo Nation President Buu Nygren at the presidential stateroom at the Office of the President and Vice President April 3.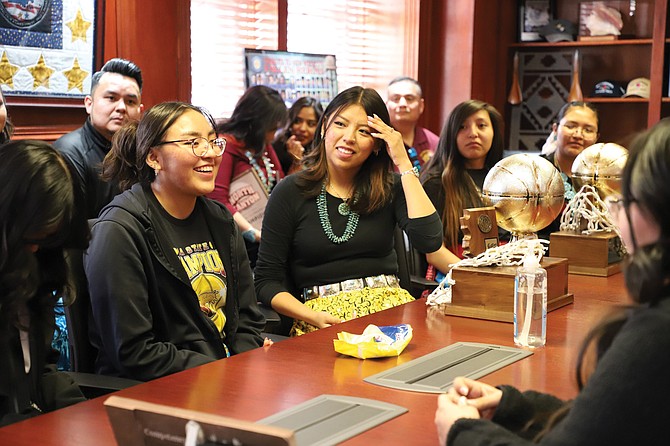 The teams arrived with their school Principal James Patterson, basketball coach Andrew Reed, assistant coach Crystanya Begay, volleyball coaches Kyle Arthur and Marisa Clark and Athletic Director Chris Wilson.
Nygren congratulated the Lady Cougars on their impressive wins at the 2023 Arizona 1A State Championships, where they claimed both basketball and volleyball titles. The basketball won the title game with a 49-45 point victory over the Joseph City Wildcats, while the volleyball team secured their win with a 25-23 final game victory over the Tempe Prep Lady Knights.
The Lady Cougars, who attend a school with an enrollment of only 300, brought pride and joy to their community with their victories. Many of the girls play on both teams, demonstrating their exceptional skills and abilities.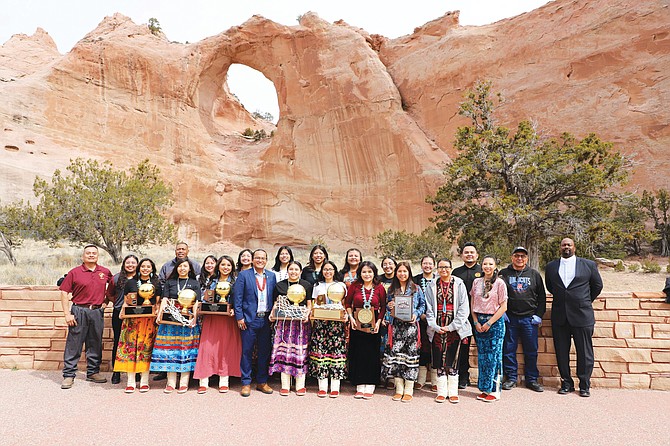 Nygren commended the Lady Cougars on their championship attitude and urged them to continue striving for success both on and off the court. He emphasized the importance of hard work, a strong mentality, and maintaining strong relationships with teammates.
The president also highlighted the leadership qualities demonstrated by the Lady Cougars, including competence, commitment, compassion, and teamwork. He noted that the success of the championship was a testament to the girls' skills, abilities, and heart, which made the Navajo Nation proud.
The Lady Cougars wore their traditional colorful outfits, with many girls sporting Navajo wraparound white winter moccasins, or k'é ntsaaí. They brought with them three golden basketball trophies adorned with the nets from their winning shots, as well as two golden volleyball trophies from their state championships.
The Lady Cougars' achievements serve as an inspiration to young athletes everywhere, demonstrating that with hard work, dedication, and teamwork, anything is possible, Nygren said.
SUBMIT FEEDBACK
Click Below to: