Navajo Nation explores drone-based healthcare delivery
Bernie Dotson, Navajo-Hopi Observer
Originally Published: February 1, 2022 10:02 a.m.
WINDOW ROCK, Ariz. — Leaders of the Navajo Nation recently joined ZappCare, a Native American-owned innovations and technology company and MissionGo, for a demonstration to showcase the use of drone technology to improve health care for people around the vast reservation.
Whether it's Window Rock, Kayenta, Crownpoint or Aneth Utah, getting critical medical cargo to residents is important. And what better way to do that around the 27,000-square mile area in Arizona, New Mexico and Utah than by unmanned aircraft flights.
On Jan. 22, Navajo Nation President Jonathan Nez and Vice President Myron Lizer were on hand for the drone flight demonstrations, as was Gallup-raised and Gallup High graduate Mark Atlan, CEO of ZappCare. ZappCare is a New York-based startup focused on bridging the gap between immediate access to healthcare and rural Native American tribes.
"This is something very much needed on the Navajo Nation," the Chiricahua Apache-born Atlan said. "We look forward to working with the relevant parties to see this endeavor through. Safety and health are number one at the end of the day."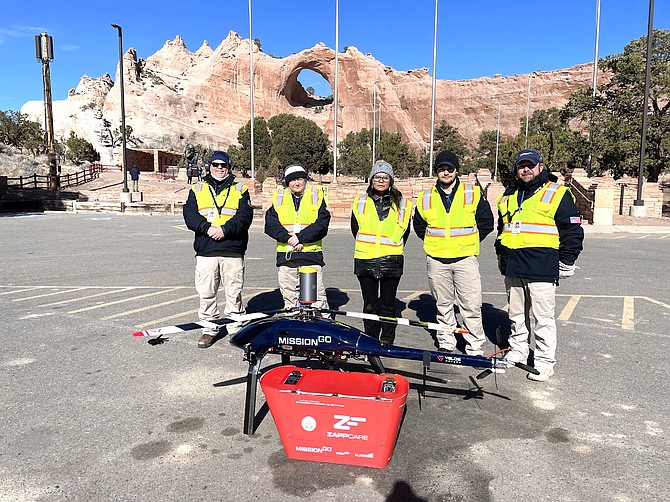 Lizer said he has worked closely with these Atlan and MissionGo founder Scott Plank to help bring more attention and resources for the initiative.
"It is truly an honor to be part of this historic day where we see the bridging of government thinking and the entrepreneurial world to serve our great Navajo People. Working with world renowned corporate minds like Mark Atlan and Scott Plank always pushes me to ask how we can find parallel opportunities to maximize our land, resources and manpower. I am grateful to serve as the connection between these individuals and hope we can continue to think outside the box as we overcome the Nation's challenges," Lizer said.
Should the Navajo Nation formally engage ZappCare, speedy drone deliveries to remote areas would cut into time constraints.
"Thank you very much," Nez said. "This is an important demonstration and one that can provide fast medical supply delivery and lead to job creation on the Navajo Nation."
The roughly two-hour agenda took place just outside the Office of the President and Vice President in Window Rock, Arizona, and included two flights, one drone delivery with items such as insulin, hypertension medicine, protein powder and anti-venom, and a second flight with fresh food.
The drones have wings and are manned by pilots and are about the size of small picnic table. They are equipped to carry small boxes of supplies. They take off and land like helicopters. Blood and other medical samples can be stored in small components in the body of the aircraft.
With a 20-plus mile flight radius and the ability to capture live video and solar-powered technology, each drone follows automated flight paths in varying weather conditions. Plank stated that the drones are currently being used in Southern California to inspect rural utility lines and assess electrical infrastructure damage.
Nez anticipates being able to use the technology to improve rural addressing, geological surveying, and perhaps one day delivering voting ballots to increase access to voting.
Drones were used this past summer to assess flooding damage caused by monsoon rainfall in the Birdsprings community, and a wildfire in Shiprock, New Mexico. With increased carrying capacity, drones may also be used to deliver food, water, fire wood and other essential items to families when roads are washed out and communities become inaccessible by vehicles.
"I've had the privilege of working with the Nez-Lizer administration for about 15 months now, and I believe they have a vision far beyond our time which is why we are here today," Atlan said.
Also joining the MissionGo flight team for observation was Navajo Technical University senior and Industrial Engineering major, Marcie Vandever. Both Atlan and Plank said they intend to train Navajo individuals, such as Vandever, to operate drone technology teams in the future
About ZappCare
ZappCare was founded by Native Americans (Navajo, Apache, Pauma Band of Luiseño, Cado) and was built specifically for Native Americans.
It was started in direct response to the COVID-19 pandemic.

ZappCare's mission is to address pressing health challenges across the Navajo Nation with cutting edge technology, culture responsive healthcare and community IHS partnerships.
ZappCare's vision is to extend the lives of Navajo Citizens by providing immediate access to safe, equitable, mobile and digital healthcare solutions. The company also would like to support the IHS with non-emergencies to reduce wait times and access so IHS can focus on emergencies and specialties. More information about ZappCare is available at www.zappcare.com.
SUBMIT FEEDBACK
Click Below to: