Travel Center breaks ground, intern program unveiled
Navajo Nation Gaming Enterprise launches first-of-its-kind educational partnership for Navajo College students
Originally Published: September 25, 2018 1:21 p.m.
LEUPP, Ariz. — Dalphianna Prettysongs was accepted into law school, but instead she is one of 20 interns working on the Navajo reservation, part of an internship program unveiled at the ground breaking of the new travel center at Twin Arrows Sept. 20.
When completed in summer 2019, the Twin Arrows Travel Center will be a southwest gateway to the Navajo Nation, and a new opportunity to promote tourism.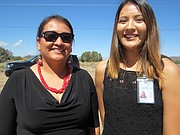 The first-ever internship program is called "Let's Build the Business" for at least 20 college-aged Navajo interns from a variety of nearby universities and colleges, said Navajo Gaming Interim CEO Brian Parrish.
 Managed by Navajo Gaming through the Síhasin Fund, and approved by the Navajo Nation Council, the internship program will provide young Navajos an unparalleled opportunity to become an integral part of the construction, development and business management of the new Twin Arrows Travel Center.
"We're eager to begin building the premier travel center for travelers on along I-40 as an introduction to all the Navajo Nation has to offer," Parrish said. "We're proud to launch this innovative program. It will give young people an opportunity to learn what it takes to build a successful business. They'll gain new hands-on skills that allow them to strengthen Navajo for future generations while creating even more economic opportunities."
The "Let's Build a Business," internship program will allow Navajo college students the opportunity to actively participate in a variety of business development aspects. These include planning, design and construction of the travel center, to business operations and management, plus marketing and human resources — all of which can count as college credit. Eight students have already been selected. Additional Navajo interns to be chosen from the Diné College, Navajo Technical University, Arizona State University, University of Arizona and other nearby colleges.
Tasha Preston graduated from the University of New Mexico in December 2017 with a bachelor's degree in architecture. She grew up in Tuba City, Arizona. Since she was selected for the internship program, she has been working on the architectural aspect of the project, for the last two and half months. She said she is excited to be a part of the design and construction process all the way through.
"For me, so far, this is different than any other internship that I've done," Preston said. "It's a lot of hands on. We're front and center. We're part of the decision process — we're part of everything."
That was one of the important aspects for Preston and different than other internships she has had.
"With other internships, they just give you baby steps," she said. "Here, we're just immersed in it immediately. We're doing a lot of learn as you go, but it sticks and it's great. I like it so far."
Prettysongs, too, said the internship is immersive. She graduated from Arizona State University with a bachelor's in business management in May. She lived in Jeddito, Arizona but grew up in Flagstaff, Arizona.
Prettysongs was accepted into law school at the University of New Mexico around the same time she heard about the internship. After thinking about it, she decided to forgo law school for the internship.
Prettysongs works on all things business and all things legal while the majority of what she does is construction contracts, which are then reviewed by the legal department. She is working on the design and build contract right now and also helps out with facilities management with Mary West, director of project development and the person for hiring both Preston and Prettysongs for the internship program.
"For me, for my experience in business school, people don't graduate with a business degree and automatically go into a job and say, 'I'm going to build something,'" Prettysongs said. "They start way at the bottom. This internship, for youth, you have the opportunity to build something and when you drive by when our travel center is done, you can say to whomever you're in the car with, 'I built that. I helped build that, which is what the interns here can say at the end of the project."
The travel center is slated for completion in the summer of 2019. It will service all vehicles with an emphasis on semi-trailer trucks. The center will be open 24/7 and feature premium restrooms, showers and laundry services for truck drivers, a wide variety of food and beverage selections with an emphasis on healthy food options, fresh ground coffee brewed daily and specialty desserts.
The center will also include a fire pit to slow-roast premium-grade Navajo beef for a variety of fresh-cooked meals and brisket for guests. The travel center will showcase Navajo arts and crafts and exclusive lines of Navajo-themed food and beverages.
Construction of the travel center will employ approximately 200 people and around 35 full-time employees when complete. Hiring will be by Navajo preference. The travel center is part of the larger Twin Arrows master plan.
For both interns, part of the exciting part of the internship is the ability to work on the reservation and interact with those shaping the Navajo Nation.
"All the other jobs I've worked at have been off-reservation in architecture firms, so being able to do this on the reservation is big," Preston said. "Mary has introduced us to all the Navajo Nation departments that we work with on this project. We don't meet staff… we meet the head boss. We've already got a lot of connections, which I think is good."
Preston also mentioned that West also is connecting small businesses that do not have the credentials to normally bid on a big project with other big firms, so the small businesses can get the experience and go after the big jobs and be hired under Navajo preference rules.
As for Prettysongs, she said she is happy with her decision to decide against law school.
"No regrets about law school," she said. "I'm not looking back."
SUBMIT FEEDBACK
Click Below to:
More like this story