Homecoming spirit shines at Hopi High
Originally Published: September 25, 2018 1:27 p.m.
POLACCA, Ariz. — Hopi High's Steven Baker was crowned homecoming king and Jaeda Honani was crowned homecoming queen during halftime of the football game Sept. 21 at Bruin Stadium.
Hopi High beat Greyhills 44-0 in the football game, which capped off a week of events that included a homecoming parade and powder puff game.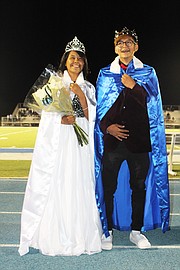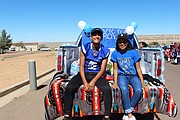 Honani said she was happy to be crowned homecoming queen because it's a one-time event. She said all of the contestants were good friends and she thought it was a healthy competition.
"I did not expect to win because they were all good candidates," she said.
Honani said as homecoming queen she is a role model for her classmates so she needs to be respectful, thoughtful and humble. She said her role models are her mom, her teachers and her coaches.
"Have a good senior (year) and have fun" is her message to her classmates.
Honani runs cross country and track, and plays basketball. She is also active in National Honor Society.
"I thank the student council members because they worked hard to put homecoming events together. I also thank all the Hopi High School students," she said.
Honani plans to major in business management at the University of Arizona in Tucson.
Baker said it felt nice to be crowned homecoming king because he didn't expect to win.
"I was nervous about the outcome. I didn't expect to win because the competition was good," he said.
Baker said he feels that as homecoming king he is a role model for his classmates and said he needs to act proper, do what needs to be done and be a good person. He said his role models are his mom, his dad and his brother.
His message to his classmates is "have a good year, have fun and keep your grades up so you can go on the senior trip."
Baker runs cross country and track, and plays basketball. He plans to major in architecture at the University of Kansas.
SUBMIT FEEDBACK
Click Below to: