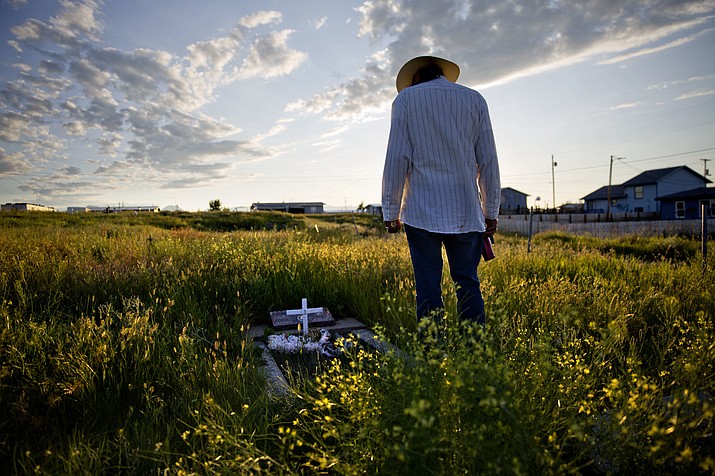 Originally Published: September 18, 2018 4:46 p.m.
This is part II in a series on missing Native American women. See last week's edition of the Navajo-Hopi Observer for part I.
VALIER, Mont. (AP) — Matthew Lone Bear spent nine months looking for his older sister, Olivia — using drones and four-wheelers, fending off snakes and crisscrossing nearly a million acres, often on foot. The 32-year-old mother of five had last been seen driving a Chevy Silverado on Oct. 25, 2017, in downtown New Town, on the oil-rich terrain of North Dakota's Fort Berthold Reservation.
On July 31, volunteers using sonar found the truck with Olivia inside submerged in a lake less than a mile from her home. It's a body of water that had been searched before, her brother says, but "obviously not as thoroughly, or they would have found it a long time ago."
Photo Gallery
Why Are Native Women Vanishing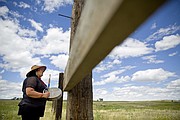 Lone Bear says authorities were slow in launching their search — it took days to get underway — and didn't get boats in the water until December, despite his frequent pleas. He's working to develop a protocol for missing person cases for North Dakota's tribes "that gets the red tape and bureaucracy out of the way," he says.
The FBI is investigating Olivia's death. "She's home," her brother adds, "but how did she get there? We don't have any of those answers."
Other families have been waiting for decades.
Carolyn DeFord's mother, Leona LeClair Kinsey, a member of the Puyallup Tribe, vanished nearly 20 years ago in La Grande, Oregon. "There was no search party. There was no, 'Let's tear her house apart and find a clue,'" DeFord says. "I just felt hopeless and helpless." She ended up creating her own missing person's poster.
"There's no way to process the kind of loss that doesn't stop," says DeFord, who lives outside Tacoma, Washington. "Somebody asked me awhile back, 'What would you do if you found her? What would that mean?'... It would mean she can come home. She's a human being who deserves to be honored and have her children and her grandchildren get to remember her and celebrate her life."
It's another Native American woman whose name is attached to a federal bill aimed at addressing this issue. Savanna LaFontaine-Greywind, 22, was murdered in 2017 while eight months pregnant. Her body was found in a river, wrapped in plastic and duct tape. A neighbor in Fargo, North Dakota, cut her baby girl from her womb. The child survived and lives with her father. The neighbor, who pleaded guilty, was sentenced to life without parole; her boyfriend's trial is set to start in September.
In a speech on the Senate floor last fall, North Dakota Democrat Heidi Heitkamp told the stories of four other Native American women from her state whose deaths were unsolved. Displaying a giant board featuring their photos, she decried disproportionate incidences of violence that go "unnoticed, unreported or underreported."
Her bill, "Savanna's Act," aims to improve tribal access to federal crime information databases. It would also require the Department of Justice to develop a protocol to respond to cases of missing and murdered Native Americans and the federal government to provide an annual report on the numbers.
At the end of 2017, Native Americans and Alaska Natives made up 1.8 percent of ongoing missing cases in the FBI's National Crime Information Center database, even though they represent 0.8 percent of the U.S. population. These cases include those lingering and open from year to year, but experts say the figure is low, given that many tribes don't have access to the database. Native women accounted for more than 0.7 percent of the missing cases — 633 in all — though they represent about 0.4 percent of the U.S. population.
"Violence against Native American women has not been prosecuted," Heitkamp said in an interview. "We have not really seen the urgency in closing cold cases. We haven't seen the urgency when someone goes missing... We don't have the clear lines of authority that need to be established to prevent these tragedies."
In August, Sen. Jon Tester, a Montana Democrat, asked the leaders of the Senate Committee on Indian Affairs to hold a hearing to address the problem.
Lawmakers in a handful of states also are responding. In Montana, a legislative tribal relations committee has proposals for five bills to deal with missing persons. In July 2017, 22 of 72 missing girls or women — or about 30 percent — were Native American, according to Montana's Department of Justice. But Native females comprise only 3.3 percent of the state's population.
It's one of many statistics that reveal a grim reality.
On some reservations, Native American women are murdered at a rate more than 10 times the national average and more than half of Alaska Native and Native women have experienced sexual violence at some point, according to the U.S. Justice Department. A 2016 study found more than 80 percent of Native women experience violence in their lifetimes.
Yet another federal report on violence against women included some startling anecdotes from tribal leaders. Sadie Young Bird, who heads victim services for the Three Affiliated Tribes at Fort Berthold, described how in one and a half years, her program had dealt with five cases of murdered or missing women, resulting in 18 children losing their mothers; two cases were due to intimate partner violence.
"Our people go missing at an alarming rate, and we would not hear about many of these cases without Facebook," she said in the report.
Canada has been wrestling with this issue for decades and recently extended a government inquiry that began in 2016 into missing and murdered indigenous women. A report by the Royal Canadian Mounted Police concluded that from 1980 to 2012 there were 1,181 indigenous women murdered or whose missing person cases were unresolved. Lucchesi, the researcher, says she found an additional 400 to 500 cases in her database work.
Despite some high-profile cases in the U.S., many more get scant attention, Lucchesi adds.
"Ashley has been the face of this movement," she says. "But this movement started before Ashley was born. For every Ashley, there are 200 more."
See next week's edition of the Navajo-Hopi Observer for the final part in a series on missing Native American women.