Hopi Jr/Sr High selects royalty during annual Indian Day celebration
Originally Published: September 18, 2018 4:49 p.m.
POLACCA, Ariz. —Indian Day at Hopi Jr/Sr High School was full of activities including dances, traditional lunch and royalty.
Miss Indian Arizona Second Attendant Lexie James served as master of ceremonies with an assist from Hopi Vice Chairman Clark Tenkahongva. Hopi High's Junior Reserve Officer Training Corps posted the colors.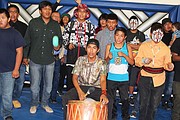 The seventh graders danced throw away butterflies, the eighth graders danced Navajo, music teacher Thomas Irwin's music class danced Hopi butterflies, JROTC danced Apache, the senior class danced Santo Domingo butterflies and Jane Broomfield's class danced Hopi corn dance.
During lunch, the Blue Thunder drum group performed. After lunch, Kaleen Joseph and Leila Bigcrow performed the Fancy Shawl Dance, the seniors danced Navajo and Miss Post #80 danced Pahlikmanas.
Those selected as royalty were Miss Hopi High Shaianne Mowa, Mr. Hopi High Daniel Harris and Miss Hopi Junior High Neveah Martin.
Mowa, a 15-year-old sophomore, said she was nervous, but excited to win because it was her first time running for this position. For her talent, Mowa sang a butterfly song. In the song, the butterfly flies into the clouds to bring rain.
"As Miss Hopi High, I'm a role model for the younger kids so I want them to be kind, respectful, responsible and do good things," she said.
Mowa said her role models are her grandparents because they help her a lot. Her grandparents are Freda and Augustine Mowa Jr. She said the other royalty did a good job on their talents.
"This was important to me because I wanted to show I could do it. Now, I want to try for college," she said.
Mowa plans to major in photography or culinary arts at the University of Arizona or University of California at Los Angeles. Mowa, who is a good reader, is active in drama club and AVID.
Harris, a 17-year-old junior, said he was not surprised he won because he was the only boy running. He said his responsibilities as Mr. Hopi High are traveling to events and participating in events at elementary schools.
For his talent, Harris sang a cultural song. His message for his classmates is to have a great year and have fun. As Mr. Hopi High, he considers himself a role model. He wants the students to come to class on time and be responsible.
Harris said his role model is football coach John Lomavaya because, "He is a great guy who considers me to be one of his sons. It's great because he helps me out."
Harris said he looks forward to working with the other royalty members. He said becoming Mr. Hopi High was important to him because his family members have been royalty in the past. He plans to attend Northern Arizona University to major in culinary arts. He plays football and wrestle.
Martin, a 12-year-old seventh grader, said she was excited and happy about being selected. For her talent, Martin danced as Hopi watermaiden. As Miss Hopi Junior High, Martin considers herself a role model for younger children and wants them to be polite. She said Miss Hopi High Mowa is her role model.
Martin said she was surprised that she won because she had never ran before. She said she is happy and excited for the other winners. She is looking forward to attending Hopi High School.
Martin runs cross-country, plays softball and wrestles.
SUBMIT FEEDBACK
Click Below to:
More like this story