Jerrel Singer shares messages behind murals
Originally Published: September 11, 2018 10:44 a.m.
GRAY MOUNTAIN, Ariz. — Artist Jerrel Singer is known for the vibrant colors he uses capturing sunsets and sunrises. His work is described as bright, vivid and flowing with color, as he attempts to capture movement and time.

"You know how you see clouds on a windy day moving fast? I try to capture that — I try to capture movement — the clouds and wind," Singer said.
Singer is a Navajo artist who grew up in Cameron and Gray Mountain on the Navajo reservation. Although it took him more than a decade to establish himself as an artist, he now has a dedicated following and people collect his art. Singer sells most of his art by word of mouth, at art events or through his social media sites. Over the last several years he has branched out beyond canvas art and has become a part of a group of artists who paint murals in the desert. Some of these murals have political statements attached to them while others are done for the sake of creating art. Each mural has a special meaning to Singer.
"You are painting what you feel should be there … sometimes it is just a feeling. Sometimes the murals have a political statement and reflect the times of what's going on. Sometimes, after a while, that statement gets lost so you do another mural and you put another statement up there."

— Jerrel Singer, Navajo artist
"You are painting what you feel should be there … sometimes it is just a feeling," he said.
The murals that send a message are tied back to the land and the people living on the reservation. Singer said there are always messages to convey.
"Sometimes, after a while, that statement gets lost so you do another mural and you put another statement up there," he added.
Today, Singer's murals reflect the impacts of uranium mining on reservation lands and Native people.
It's important to Singer because it's in his backyard — in the places he played as a child and where his family still lives today.
"I played right there. I grew up right there — my sheep grazed here," he said pointing to different areas around Gray Mountain. "It's (uranium mining) not lost and we've not forgot about it — I'm from that area. This is me, I'm a prodigal of that."
The effects of uranium have not only impacted the land he calls home, it has taken family members from him.
"That's what my father died of. He died from cancer from all that," he said.
Finding his niche
Singer started drawing as a child. He would sit at the kitchen table and sketch comics with his friends.
"We would try and collect comic books," he said. "But every time we tried to collect them my grandpa would find them and use them to start the fire."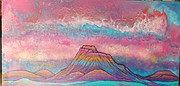 Some of his favorite were Archie, X-Men and other Marvel and DC heroes.
"I grew up with Bahe Whitethorne Jr. — me and him were always drawing and painting together. My cousin Ryan Singer was an artist too, so we all drew. That's how we killed time," he said.
"At first it was for enjoyment. Living on the reservation you don't have any TV, all you have is radio. There was a lot of paper around so I always drew," he added.
While in high school, Singer enjoyed art and took drafting and engineering classes. He dreamed of becoming an engineer.
"Then I got tired of studying and doing that. Things didn't work out. So I went back to drawing," he said.
Singer quit school and began caring for his ailing father. As he cared for his father, Singer would draw.
"I quit school, took care of my dad and while I was caring for him that's all I would do is draw," he said.
Singer took care of his father for two years before he passed away in 1997.
The time spent drawing during his father's hospitalization was a sharp reminder for Singer of his father — it was some time before he was ready to pick up a pencil or brush again.
"It reminded me of when my dad would be sitting or lying there. For a while after that I didn't want to draw," he said.
For the last 10 years, Singer has painted commercially, sold art and taken up painting murals — in addition to the full-time job he has worked for the last 18 years at Gore in Flagstaff.
Singer draws much of his inspiration from Arizona, including the desert and the reservation.
"A lot of things come from Cameron, Gray Mountain, the Little Colorado River and down the canyons," he said. "My brother lives in southern Arizona and I'll visit him and we'll drive around and paint the desert."
Singer also finds his inspiration in music — he puts on live art events where he paints and another artist plays music. At home he finds inspiration in an unlikely musical genre — K Pop, or Korean Pop. K Pop hit the music world around 1996 and incorporates a wide variety of audiovisual elements. Singer said it's just the right vibe for him.

"You can always just put on some music and paint to it," he laughed.
That's what he enjoys most about painting — relaxing and creating.
"I paint the way some people watch TV. You know how some people watch season after season of a show? That's me painting."
While he enjoys painting murals, Singer's favorite medium is working on small canvas pieces.
"It is very portable, people can move it from place to place. You can show it," he said. "I'm new to doing murals. I've only been doing it for a few years and I find it very entertaining because it brings in a lot of people."
Murals by Singer and other artists can be found across the Northern Arizona landscapes, from deserted hotel walls and jewelry stands to empty gas tanks reaching to the sky.
Meet the artist
Singer is currently showing art in downtown Flagstaff through the month of September at The HeArt Box, 17 N. San Francisco St. #1B, Flagstaff.
On Sept. 22 and 23 he will be at Desert View Watchtower on the South Rim of the Grand Canyon, on Oct. 4-7 he will be at the Shiprock Fair in Shiprock, Arizona and on Oct. 12-14 he will be at the Western Navajo Fair in Tuba City, Arizona. More information is available from Singer on his Facebook page or at jerrel.singer@gmail.com.
SUBMIT FEEDBACK
Click Below to:
More like this story