Hopi High boys win cross country invite, look to reclaim state title
Originally Published: September 11, 2018 10:30 a.m.
POLACCA, Ariz. — Hopi High boys cross country kicked off the season in fine fashion as they won the championship at the Hopi Invite Aug. 28 at Bruin Stadium. Coconino High School from Flagstaff won the girls championship.
Hopi High Coach Rick Baker said it was a surprise that the Bruins won the meet because they never came out as good this early in the season.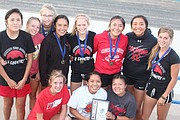 "I'm excited and this gives us momentum going into the season," he said. 
Baker said the top five runners for Hopi High ran well as they packed into the top 22 places in the race. 
Steven Baker, the coach's son, led Hopi High to the team championship by placing third and teammate Jihad Nodman was right behind him in fourth. The others finishing in the top 22 for the Bruins were Dewayne Laban, 18th, Shaun Anthony Pashano, 19th and Tyrall Roland, 22nd.
Baker said aside from the top five that freshmen Ahmon Lomayestewa and Manny Fredericks ran well for Hopi High. Baker said he has high expectations for both of them. 
"We ran a good race and it surprised me. We ran well enough to win," he said. 
Baker said he had all 15 runners for the Open Race. There were some minor injuries, but no major injuries. He said the players are keeping their grades up so far. He tells his runners not to use drugs or alcohol because they are dangerous and illegal.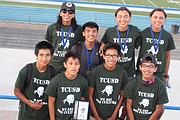 "Our goal for the year is to stay injury free, train hard and take it one meet at a time," Baker said.
Hopi High finished second at state last year after a national record 27 straight state championships. He said the Hopi High boys runners have mentioned that they want to reclaim that state title. 
"They need to practice every day and trust the process," he said. 
Seniors Nodman, Dewayne, K'Andre David and Baker are expected to lead the squad. 
Hopi won with 66 points, Tuba City snagged second with 82. Chinle took third with 87 and Show Low finished fourth with 131. The other teams were Many Farms, fifth, 139; Alchesay, sixth, 148; Ganado, seventh, 152, Coconino, eighth, 163; Holbrook, ninth, 268; Rock Point, tenth, 268; Pinon, 11th, 300 and Discheii Bekoh, 12th, 338.
Tuba City's Aaron Simien came in second. His teammates finishing in the top 25 were Isaac Simien, fifth; Demetrius Daw, ninth and Kaden Granger, 20th.
ReShaun Curley from Ganado took sixth. The others finishing in the top 20 were Raymond Wright, Alchesay, seventh; Mason Hall, Show Low, eighth; Jarrell Singer, Chinle, tenth; Quintyler Yazzie, Many Farms, eleventh; Taylor Taliman, Coconino, twelfth; Beau Williams, Show Low, thirteenth; Jermaine Ben, Rock Point, fourteenth; Johnny Segay, Pinon, fifteenth; Cameron Toothtakerlopez, sixteenth, Coconino; and Ashriel Pouncy, Chinle, seventeenth.
Lady Bruins cross country
Hopi High girls had to settle for fifth place in the girl's race with Coconino claiming the title. 
"The Hopi High girls should have done better, but that's the shape we are in for now," Baker said.
Baker said Jaeda Honani and Veronica Casuse ran good races for the Lady Bruins, but the others were off pace. 
"The rest of our runners need to finish with those two," he said.
Baker said he had all the runners, but Latifah Huma, the team's second best runner, suffered a foot injury and the others were out of shape. He said the one area where the girls are better is grades as they do a good job of keeping their grades up.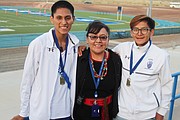 Baker said the first goal for the girls is to get into shape and then they need to trust the process of their training. 
"It's up to them whether they want to win state because they have been talking about it since May," he said. "They need to practice every day, keep an open mind about their training and race hard."
Honani, Casuse, Huma, Lauryn Honwynewa and Leia Andrews are the seniors leading the squad. 
Woodlyn Smith led Coconino to the team championship by placing third. Five of her teammates placed in the top 26: Hope Saxton, sixth; Kaelynn Ashley, eighth; Soma Freeman, twenty-fourth; Jordan Brockman, twenty-fifth and Lilia Tassinari, twenty-sixth.
Coconino won the race with 66 points, Ganado grabbed second with 77, Chinle snagged third with 81 points, Tuba City finished fourth with 82 and Hopi took fifth with 146 points. The other teams were Holbrook, sixth, 167; Pinon, seventh, 170; Many Farms, eighth, 195, Alchesay, ninth, 203; and Red Mesa, tenth, 286.
Precious Robinson from Pinon placed second, Hopi's Jaeda Honani finished fourth and Ganado's Jayla McIntosh took fifth.
Honani said finishing fourth was good, but she was not satisfied. 
"I should have done better," she said. "We would have done better if we trained together more during the summer. It's like we're starting behind the eight ball."
Honani said the warm weather did not impact her. 
"But I got dehydrated," she said. "I ran to the best of my ability for now, but I can do better."
Honani said her goal is to finish in the top three at state individually. She finished sixth at state last year. Honani's other goal is for the team to win state. 
She said she could improve by running every day, taking care of herself and working out every day.
"I don't want to miss a day because that causes problems. That happened before," she said.
Honani, 17, is a senior and hopes to earn a cross-country scholarship to the University of Arizona or to a community college. She also plays basketball and runs track and is active in National Honor Society. 
SUBMIT FEEDBACK
Click Below to: