Navajo Nation Hall of Fame inducts 21 elders and youth Aug. 17
Originally Published: September 4, 2018 10:58 a.m.
WINDOW ROCK, Ariz. — The Office of the President and Vice President (OPVP) welcomed 21 inductees into the Navajo Nation Hall of Fame Aug. 17.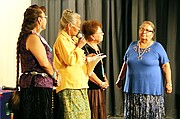 The inductees, nominated from among the youth and elder populations across the Navajo Nation, were recognized during a ceremony at the Navajo Nation Museum in Window Rock, Arizona. The ceremony marked the second round of inductees since the Navajo Nation Women's Commission launched the program last year.
"Congratulations to all who were selected for the Hall of Fame," said Navajo Nation President Russell Begaye. "Your contributions are commendable. Your hard work and dedication are making our communities better places. Thank you for all you do."
Individuals were selected because they exemplified moral character while inspiring commitment, dedication and compassion to improve lives in local communities. Inductees included police officers, artists, elected officials, educators, veterans, royalties, coaches, peacemakers and volunteer ministers.
Each represented a role as either an emerging young leader or an accomplished elder. Each inductee received a certificate and a medal — and a coveted place on the list of the Nation's top contributors. 
"Under this administration, we are bridging the gap between youths and elders," said Vice President Jonathan Nez. "When we combine the experience of the elders and the energy of the youth, great things can happen."
Nez congratulated the hall of famers, placing a medal around each inductee's neck. He thanked them for their service, much of which is done on a volunteer basis.
"You are the role models," he said. "You are the trailblazers. There are a lot of problems in our communities, a lot of social ills, but you 21 inductees have shown that our own teachings can heal us. Thank you for laying the foundation. Because of your sacrifices, the Navajo Nation is getting better."
Inductees into the Navajo Nation Hall of Fame:
Marie Antonio, advocate for veterans and elders; Anderson Nez Begay, basketball coach at Tse Yi Gai High School in Pueblo Pintado; Dahayoigii, a group of artists and traditional crafters who present a workshop for children; Carol Dolan, retired Navajo Nation police officer, aging advisor and pastor; Darlene Foster, Navajo police officer; Henry H. Fowler, chair of the Diné Studies Department at Navajo Technical University; iMPACT Shiprock, volunteer ministry for youth and elders; Anderson Jim, combat veteran; Eugene B. Joe, sand artist and traditional educator; Anthony Lee, mentor at the Healing Circle Wellness Center; Charlie Long Sr., peacemaker and board member for Navajo Preparatory School; Esther Dennison Yazzie Lewis, first Navajo to work as an interpreter in federal courts; Catherine Manus, Licensed Practical Nurse at Newcomb-Naschitti Health Office; Martha Morgan, advocate for elders; LaQuana Nez, a tenth-grader at Ganado High School; Betty Ojaye, former executive director of Navajo Preparatory School; Julia Roberts, Community Health Representative; Chee Bobby Thompson, community health representative and senior Olympics shuffleboard champion; Juanita Yazzie, youth and elder advocate; Samuel Yazzie, president of the Lukachukai Chapter and Chuska Regional Council and Ariana Roselyn Young, Miss Northern Navajo.
Information provided by the Office of the President and Vice President
SUBMIT FEEDBACK
Click Below to:
More like this story