National Native American Hall of Fame names first 12 historic inductees
Honorees include Native Astronaut John Herrington, activist LaDonna Harris, Olympian Billy Mills, Eloise Cobell and soldier Lori Piestewa
By Debra Krol, Indian Country Today
Originally Published: October 23, 2018 3:47 p.m.
PHOENIX — In an evening filled with emotion, laughter and occasionally tears, 12 Native people known for their distinction in athletics, activism, education, art and even reaching the stars were honored during the inaugural National Native American Hall of Fame induction ceremony.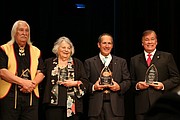 The ceremony took place Oct. 13 at the Phoenix Indian School Memorial Hall.
Four of the five living recipients were on hand to accept their awards, while Jill Momaday accepted on behalf of her father, daughter of author and poet N. Scott Momaday, who at age 84, uses a wheelchair and finds travel difficult.
"My dad extends his best wishes and deep gratitude," Momaday said. "His papers and writings center on what it means to be Indian in America."
Attendees heard comments of inspiration, hope and more from such history changers as forward-thinking educator Lionel Bordeaux, longtime Native rights activist LaDonna Harris, Native astronaut John Herrington and gold-medal winning Olympian Billy Mills.
Not even a rainstorm during the day could stop the ceremony.
"I wanted to ensure that the United States doesn't forget the contributions of these Native Americans," said James Parker Shield, Little Shell Chippewa, the Hall of Fame's CEO and founder.
The evening's ceremony was the culmination of that effort, as well as a call to action to continue to grow the Hall of Fame.
The evening was also enhanced by a special performance by Martha Redbone, Cherokee/Choctaw, who sang about the Indian boarding school era, accompanied only by her hand drum.
People in the audience cheered, or wept, as each speaker or representative accepting the induction award on behalf of that person, gave comments about the singular honor. Every thank-you, every comment was eloquent and heartfelt.
Turk Cobell, son of Eloise Cobell, accepted the award on behalf of his mother, the woman who was the key person responsible for the largest monetary federal court settlement in history for Native people.
"Being as humble as she was, she didn't spend years of her life and her resources for recognition. It was the right thing to do," he said.
The first Native American to hold the rank of Prima ballerina, Maria Tallchief was honored by her daughter, poet Elise Paschen, who read a special poem composed about her mother; Dan Deloria, son of Vine Deloria Jr.,known as one of Indian Country's best literary minds, said that "the work Deloria was doing was what was important; he looked to elders for guidance."
Emily Haozous, is the granddaughter of Allan Houser, one of the most renowned Native American painters and sculptors of the 20th century.
"He built a real narrative of Native people as beautiful, graceful and peaceful," Haozous said.
Sac and Fox Tribal Council Treasurer Robert Williamson, who accepted on behalf of Jim Thorpe, named by many as the greatest athlete of the 20th Century, spoke of his prowess and grace whether Thorpe was competing in football, track, baseball or other sports.
Gina Olaya, daughter of Wilma Mankiller, called her mother "a leader who would go to Washington, D.C. and fight for Native American rights, and then come home, put on an apron and cook for people at ceremonies. Mom dug ditches along with everybody else."
LaDonna Harris accepted her honor surrounded by a group of graduates of her Americans for Indian Opportunity ambassador program, including MC Harlan McKosato, Sac and Fox. Harris beamed as she accepted the award.
"My ancestors should also be honored here," said Hall of Fame inductee Sinte Gliska College President Lionel Bordeaux. "Our ancestors left us a challenge, be who we are instead of what others want us to be."
Tears flowed as John Herrington delivered a heartfelt speech honoring his wife Margo, who died in April after a two-year battle with cancer. Herrington also honored the people he called "my heroes — LaDonna Harris, Billy Mills." And, he recounted a time when fellow astronaut Tom Stafford invited Herrington to be part of the Apollo 10 mission anniversary.
"There was an empty chair on the stage," Herrington said. "Tom said to go sit in that chair. But, I said, 'I don't belong there! 'You belong there with those Apollo people,' Tom told me."
Tears were also flowing as former Native American Journalists Association President Patty Talahongva, Hopi, presented Percy Piestewa with her daughter Lori's induction award.
"I'm proud you have chosen to honor her," said Piestewa of Lori Piestewa, the first Native American woman to die in combat. "We tend to forget that our service members are putting their lives on the line for us."
Finally, Billy Mills took the stage.
"In a few hours it'll be the anniversary of my Olympic Gold Medal win," Mills said, continuing with advice to the audience. "Take our culture, traditions, spirituality and extract those virtues and values. Put them into your daily life."
Mills said that he used his tribal values to support him through life, education, the Olympics and his 57-year marriage. "Never more has America needed people of color and American Indians."
Billy Mills took the stage. "In a few hours it'll be the anniversary of my Olympic Gold Medal win...Never more has America needed people of color and American Indians." James Shield closed out the evening with an invitation for the 2018 inductees to begin planning for the next induction ceremony--and to help with the National Native American Hall of Fame's ultimate goal: to build a permanent home for the institution, including a museum with information and artifacts to educate the public about these history-changing Native people.
2018 Inductees to the National Native American Hall of Fame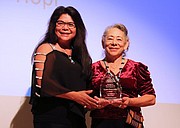 Lionel Bordeaux, Sicangu Lakota (1940) Bordeaux is a distinguished educator and one of the longest-serving college presidents in the United States; he's the president of Sinte Gleska College in South Dakota.
Eloise Cobell/Yellow Bird Woman, Blackfeet (1945-2011) Cobell was the lead plaintiff in the groundbreaking class action lawsuit Cobell v. Salazar, that exposed the U.S.'s mismanagement of trust funds belonging to more than 500,000 Native Americans.
Vine Deloria, Jr., Standing Rock Sioux (1935-2005) Author, theologian, lawyer, historian and activist, Vine Deloria, Jr. is widely known for his book, "Custer Died for Your Sins: An Indian Manifesto" (1969), which helped generate national attention to Native American issues in the same year as the Alcatraz-Red Power Movement.
LaDonna Harris, Comanche Nation (1931) Harris, a longtime Native activist, has influenced the agendas of civil rights, feminist, environment and world peace movement, and is the founder of president of Americans for Indian Opportunity.
John Herrington, Chickasaw (1958) The first enrolled citizen of a Native nation to fly in space, Herrington advocates for getting Native students involved in the sciences, and for promoting what Indigenous knowledge can contribute to modern science and engineering.
Allan Houser, Chiricahua Apache (1914-1994) Houser is one of the most renowned Native American painters and sculptors of the 20th century.
Wilma Mankiller, Cherokee Nation (1945-2010) Mankiller was a community organizer and the first woman elected to serve as principal chief of the Cherokee Nation of Oklahoma.
Billy Mills, Oglala Lakota (1938) Mills was an Olympic Gold Medalist in 10,000-meter run at the 1964 Olympics, at the time was the only person from the Western Hemisphere to win the Olympic gold in this event. He now supports Native youth with his Running Strong for American Indian Youth.
N. Scott Momaday, Kiowa (1934) Momaday is a novelist, short story writer, essayist and poet. His novel, "House Made of Dawn" (1969) was awarded a Pulitzer Prize for Fiction.
Lori Piestewa, Hopi (1979-2003) United States Army soldier Lori Piestewa as the first Native American woman in history to die in combat while serving in the U.S. military and the first woman killed in the Iraq War. Piestewa Peak in Arizona is named in her honor.
Maria Tallchief, Osage (1925-2013) Tallchief was an American ballerina and was considered America's first prima ballerina, the first Native American to hold that rank. She became the first star of the New York City Ballet, co-founded in 1946 by legendary choreographer George Balanchine.
Jim Thorpe, Sac and Fox (1887–1953) The first Native American to win Olympic gold medals for the United States, Thorpe is considered one of the most versatile athletes of modern sports. He won Olympic gold medals in the 1912 pentathlon and decathlon, and played American football (collegiate and professional), professional baseball and basketball.
More information is available National Native American Hall of Fame website.
SUBMIT FEEDBACK
Click Below to:
More like this story