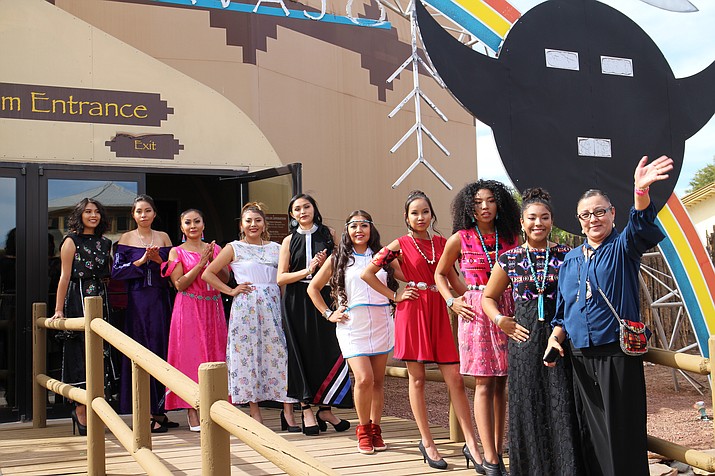 Originally Published: October 16, 2018 10:46 a.m.
TUBA CITY, Ariz. — The Sacred Native Fashion Show celebrated a successful 10th anniversary runway at the Explore Navajo Museum in Tuba City.
In perfect weather in the front of the museum, a celebrity-filled guest list, over 400 guests in attendance and crowds of passersby enjoying the show, the event proved to be not only a success but an overall milestone in fashion history.
The show's producer and fellow artist, Troi Whitethorne, has been arranging the show since 2008 when the museum needed an attraction during the fair. It was not known then how the small show would cause a riot of inspiration in Native American fashion — a type of re-imagining of cultural representation.
Not since the 1970s when the Phoenix Indian School hosted shows for students in the boarding school did Native American fashion get such a reception to celebrate indigenous heritage.
Over the years, the Tuba City Fashion show began to have a reputation for launching new designers and aspiring seamstresses across reservations became couture designers overnight. Soon the old kitchen table became the new office desk and the world waited with baited breath to see what fresh designs would walk the runway next.
New to the Sacred Native Fashion show is world-renowned designer Belinda Daychief Bullshoe of the Blackfeet/Blood Tribe of Montana.
Bullshoe has been to New York, Paris, Malaysia and recently 'Fashion Speaks' in honor of missing and murdered indigenous women, where she gave a dress titled 'Walking in Two Worlds' to Mrs. Universe, Ashley Callingbull, who grew up on the Enoch reserve in Canada. Currently Bullshoe is planning for the runway of Milan, Italy — another milestone of Native fashion.
Bullshoe had been invited to Tuba City before but schedules and traveling expenses made it difficult. This year Bullshoe brought eight couture designs and presented it for the mostly Navajo crowd to see. The patrons of the show loved the art and couture of another tribe and how it proved all nations could have one resounding voice through the art of textiles. Local models represented her clothing with dignity and professional grace, which is also a huge reason for the shows' success.
"I had no idea how big it was and the fair going on too," Bullshoe said.
Bullshoe said they got to see the Hopi and Yei Bi Chei dancers at the fair. The parade and fanfare of the entire weekend was surprising to her and her husband Ronald, who travels with her.
"I am having fun, this is really neat. We are going home with good feelings from our hearts and big smiles in our souls. Thank you for welcoming [us]," Bullshoe said.
She added she might be coming back in November for the Red Nation Film Institute awards because of a nomination for best short documentary that reveals the origin of her journey to becoming a designer.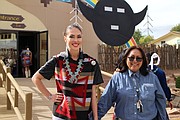 Premiere designer of the Sacred Native Fashion show was Pat Agustinez of the House of Whitehorse. She debuted a swimwear line that had the crowd and cars on the street stopping in their tracks. With the acceptance of modern Native beauty and the shedding of taboos, her the new line, the first ever, could forever erase cultural bias and self-imposed limitations of Native American stereotypes.
The swimwear collection consisted several pieces included with 20 other couture dresses, daywear and children's wear. The House of Whitehorse also re-imagined the long traditional skirt by shortening it and adding layers of petticoats while placing a fusion of Philippino side of her family. Her designs were made for all ages and are very unique to the Southwest, proving there is still plenty of room to raise the bar.
"I have always loved the water; and my kids, we love the ocean. So I thought it was just the next step is to sew swimwear. Maybe I will make men's suits next." Agustinez said. "I also like to choose fun fabrics or patterns to include my culture that's why I used the crushed velvet for the tops of the bikinis."
Jolanzo Goldtooth, of JG Indie, returned to support and collaborate as the last designer of the afternoon. JG Indie has also seen several international runways that have always included Native royalty.
"I try to use royalty because they are ambassadors of the people and I want to support them." Goldtooth said.
His line included a collage of pieces taken from the latest collections. He included his new line of accessories and jewelry to his runway walk. Goldtooth has become an icon of indigenous fashion as being one of the first Native American designers walk New York, Paris, the United Kingdom, Australia, Canada and the list still grows. Goldtooth is currently planning a trip to Paris.
Jennifer James brought some of her fiercest looks to the runway. She had a blend of every style from the office to rock star gear and then from day wear to haute couture. The Shonto resident says she likes to inspire other people to follow their dreams and do what the love.
"I do this for the youth or to inspire others. Like the Arize Fashion Show in Tuba last year, I really enjoyed teaching the youths how to sew," James said. "Some didn't know how but when they learned, they did really good on their dresses. I also like to help promote other designers and to collaborate with others."
James is now producing shows of her own.
"I hope that I can influence others to do what they love to do, to follow their dreams. That is why I come back to this show," James said.
Cynthia Trujillo, from Farmington, New Mexico, showed her fresh looks that had people commenting out loud their appreciation. She had several looks that celebrated traditional and modern fashion with body hugging couture made from wool material. She spent the majority of her time backstage sewing the models into velvet dresses, which is par for the course and turned out to be worth the effort.
Trujillo collaborated some of her outfits with NativeEarthJewelry.com's — when her turquoise and black velvet dress hit the runway with the spike collar made with pearls, sleeping beauty turquoise and red coral — everyone turned to see it. Trujillo is the next up and coming designer who will be wowing the crowds this season.
Ten designers debuted their fall collections this year and include: Loretta Tsinijine Su, who debuted a beautiful collection showing major potential in the oncoming seasons; Paul Winston and her definitive long layered skirt collection made with different kinds of textiles; Shay Shay, who brought in a small collection of beautiful outfits that collaborated with the styles of several tribes in Arizona and made for all body types; Elizabeth Whitethorne Benally with her signature fun Bluebird Flour gear and Natalie Rivas with NativeEarthJewelry.com.
The guest list included Culture Connection from the Public Broadcasting Show (PBS) had a film crew on hand to do a documentary; Miss Alaska 2017 Alyssa London from the Tlingit Tribe; Navajo Nation President Russell Begaye; Wrytten (Keri Denny Flynn) poetess and Honey Daniels music lyricist and producer; Alexandria Rose Holiday, Miss Northern Navajo 2016, Ariana Roselyn Young, Miss Northern Navajo Teen 2016, meme star Zoel Zohnnie; Day One Productions; MC Cynthia Glasses of the Native Hoops Magazine and making his poetry debut Kobe Yazzie.