Filling big shoes: Navajo Hopi Honor Riders seek new vice president
Geri Hongeva Camarillo, Special to the Navajo-Hopi Observer
Originally Published: October 16, 2018 10:28 a.m.
WINDOW ROCK, Ariz. — Navajo Hopi Honor Riders (NHHR) Board of Directors will need to fill some big shoes.
On June 19, NHHR Vice President Chris West resigned from the non-profit organization to focus more time on his family and his career.
West has been actively involved in the organization since 2006. He will continue to ride with NHHR and support his biker family. West began his board position in 2010 and has been the vice president of NHHR since 2015. He volunteered his time helping veterans improve their homes and dedicated his skills as a road guard to protect over 250 riders annually. He performed other selfless acts of services to help military families year round.
Chris and his wife, Michelle West, have been a duo for Navajo Hopi Honor Riders, both are active riders and have been involved in many fundraising events to support military families throughout the Navajo and Hopi communities. Michelle will continue as a Navajo Hopi Honor Riders support staffer, as she has been the lead organizer for Gold Star family events.
West explained his passion for supporting military families.
"I began riding because my father Steve West and my mother Marilyn Frye both served in the Marine Corps," West said. "My mother was always stateside and my father served in Vietnam. Hearing the stories from my father about what he went through upon his return to the states, it was disheartening. Soldiers were spit on and called names."
West added, "I have learned that freedom is not free. For those who have served and families who have lost their loved ones, those who have paid the ultimate price for their country. It is up to us to always remember, honor and respect our veterans."
On Aug. 18, Navajo Hopi Honor Riders board member Leon Curley presented a Pendleton blanket to West that the organization purchased to symbolize heartfelt gratitude and appreciation for his countless days of dedication.
Bobby Martin, president of Navajo Hopi Honor Riders, said the organization wanted to thank West for his hard work and dedication over the 12 years.
"We appreciate his commitment to the Gold Star families and supporting all veterans," Martin said. "We give him our best as he concentrates on his job and his family."
West has advice for anyone interested in the board positions.
"This is not just a non-profit, it is a family," he said. "You must be completely committed to the mission, the veterans and their families. Make sure your heart is in it, being on the board is not just an annual thing, it requires year round support. Your family must be understanding and supportive of the all-volunteer organization for military families."
Road guard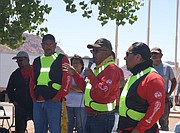 The Navajo Hopi Honor Riders have been riding just over 15 years now. They began as a small group. Now, the annual honor ride in May can exceed 300 riders throughout the four-day ride. The more riders, the more precautionary steps are necessary for all motorists.
In 2003, NHHR began the ride with two road guards, Leon Curley and Cameron Curley, as well as two lead riders, Bobby Martin and Larry Noble. Road guard duties include; assisting with traffic control at intersections, stopping for fuel as a group, watching out for livestock on the roadside and helping riders join or depart the group ride.
It takes a certain individual to risk themselves for the safety of others. NHHR has had a good collective of riders who have stepped up to be road guards: Leon Curley, Chris West, Bobby Martin, Rob Day and Cameron Curley.
"You try to control animals on the side of the road, but they can be unpredictable and decide to dart right in front of you at the last moment. The biggest and most frequent problems are impatient drivers," West said.
Some states, like Minnesota, have certified motorcycle road guards. The Arizona Patriot Guard Riders has a program, governed by a Senior Road Committee within their organization and follow the state statues and work with local law enforcement agencies.
For three years now, the Endless Riders motorcycle group from Gallup, New Mexico have used three road guards for their fifteen riders.
"We started road guarding when we began hosting poker runs, we have done our homework and have taken advanced riders course," explained Troy Essary, president of Endless Riders.
The road guards for the Navajo Hopi Honor Riders have extensive riding experience, some with law enforcement background and they work closely with Navajo Nation Police, Apache County Sheriff's Office, Navajo County Sheriff's Office and city of Page Police Department and other agencies throughout the states of Arizona, New Mexico and Utah. NHHR road guards mentor each other and teach anyone interested. They conduct safety meetings before every ride and encourage all riders to use proper hand signals.
Drivers are encouraged to be patient while the honor riders complete their motorcycle escort on the road. Navajo Hopi Honor Riders are all volunteer riders on a mission to honor military personnel. "Look twice, save a life."
Gold Star families
Gold Star Mother's Day has been observed on the last Sunday of September since 1936. President Barack Obama issued a proclamation September 30, 2012 commemorating "Gold Star Mother's and Family's Day." Gold Star mothers have lost their son or daughter while serving in active duty capacity in the armed forces for their country.
On Sept. 24, 2017, Navajo Nation President Russell Begaye created a proclamation to declare Navajo Nation Gold Star Mother's Day.
This year on Sunday, Sept. 30, the Navajo Nation came together at Window Rock Veterans Memorial Park to be with Gold Star families for a candlelight vigil.
Native American families have the highest rate for enlisting in the military and show their patriotism not just for their country, but for their ancestral land and their communities. The Navajo Hopi Honor Riders' mission to support our armed forces, past and present brings people together, to heal and comfort one another.
"The Gold Star families have changed me. I have gained more mothers and fathers during this time, I am not here to replace their loss, but they have taken me in as their child and greet me as their son. This will stay with me throughout my life. I have appreciated all the love they have shown me and my family," West said.
Navajo Hopi Honors Riders, Inc. became incorporated as 501(c) nonprofit in 2011. The group of riders first began their mission in 2003, when they rode to honor the first Native American female killed in action, Spec. Lori Piestewa from the community of Tuba City and Moenkopi. Presently, they ride for all Gold Star and Blue Star families.
Currently, the board consists of Bobby Martin, NHHR President, Leon Curley, Adolph Soliz Sr., Lynette Goldtooth and Geri Hongeva-Camarillo, treasurer. Support staff includes Michelle West and Janell Mann, both sharing secretarial duties.
Navajo Hopi Honor Riders will be seeking to fill two board positions. The board will be accepting letters of interest and will conduct interviews with any riders interested. All board positions are one hundred percent volunteer and requires diligent involvement to support Navajo Hopi Honor Riders events.
The nonprofit organization has grown tremendously since 2003, riders from all over the world partake in the annual honor run in May. More information is available by visiting www.NavajoHopiHonorRiders.com.
SUBMIT FEEDBACK
Click Below to: