Winslow Bulldogs defeat Holbrook Roadrunners 50-0, leaving team with playoff dreams
Originally Published: October 9, 2018 11:16 a.m.
WINSLOW, Ariz. — The Winslow Bulldogs defeated the Holbrook Roadrunners 50-0 Oct. 5 in Winslow.
The win improved Winslow's record to 5-3 and dropped Holbrook's record to 1-5.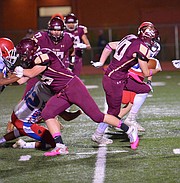 It took until halfway through the first quarter before the Bulldogs scored on a run by Nathan Scott. The conversion failed and Winslow led 6-0.
Winslow scored on their next possession on an 8-yard run by Nick Reyes. Brennan Sawyer passed to Sonny Wilbanks for the 2-point conversion.
Sawyer passed nine yards to Sonny Wilbanks after they recovered a Holbrook fumble there. The 2-point conversion pass with the same two increased the lead to 22-0.
Scott ran 35 yards for a touchdown on Winslow's next possession and Trevor Cavasos booted the conversion for a 29-0 lead with just over a minute left in the first quarter.
Winslow intercepted a pass and returned it to the Holbrook 10-yard line. After some penalties the Bulldogs scored on an 11-yard pass from Sawyer to Wilbanks. Cavasos converted for a 36-0 lead.
Weldon Gamber ran 19 yards for the touchdown and the lead was 42-0 with over eight minutes left in the half.
Reyes intercepted a Holbrook pass and returned it to the one-yard line. Sawyer passed one-yard to Michael Densmore and then Winslow passed for the two-point conversion and a 50-0 lead.
The half ended with Winslow leading 50-0.
The running clock and mostly young players in for the Bulldogs resulted in a scoreless third quarter. The same situation and several turnovers continued in the final period and the game ended with Winslow winning 50-0. All scoring was done in the first half.
The Winslow junior varsity Bulldog team lost for the first time to Snowflake 51-0. They had won their previous six games.
The Bulldogs will not play Oct. 12 and will end their regular season with games against Payson and on the road against Snowflake A playoff game remains a possibility.
SUBMIT FEEDBACK
Click Below to:
More like this story