Hopi Teen Show calls attention to breast and cervical cancer detection program
Originally Published: October 9, 2018 11:05 a.m.
POLACCA, Ariz. — Those dealing with cancer say the results are clear that those who want to survive must have early detection and they urge people to get early cancer screenings.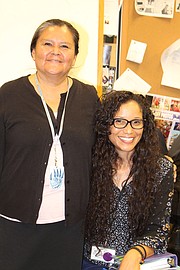 Aleema Jones, who works for the breast and cervical cancer prevention program with Hopi Cancer Support Services, said they screen for cancer because early detection is important for treatment.
Hopi High radio student Lauryn Honwynewa interviewed Jones on KUYI radio on the Hopi High Teen Show, the only live remote Native American teen talk show in the nation.
Jones, who grew up in San Diego, came to Hopi three and a half years ago because her father had cancer. Jones insisted her father go for treatment when a lump was found on his neck. With chemo treatments, her father overcame that cancer, but has since been diagnosed with prostate cancer. He continues his battle.
"Early detection is the best detection," Jones said.
While most cancers cannot be treated on the Hopi Reservation, Jones said Hopi Cancer Prevention has stipends to help cancer patients with gas, food and lodging.
"Sometimes patients have to go far (away for treatment)," she said.
Jones who is half-Hopi, said the Hopi program can also refer patients to doctors when they are diagnosed with different types of cancer. While this program centers on women, Jones said they can also screen men for cancer. She said they also have a program for screening people with disabilities for cancer.
More information about cancer services is available by calling (928) 734-1150.
Cancer survivor
Hopi High Dean of Students Jerry Cronin, who was also interviewed on the Hopi High Teen Show, has beaten cancer three times. He also said early detection is crucial to surviving cancer.
"I never felt so helpless in my life," Cronin said about dealing with cancer.
Cronin was interviewed by Mariah Qumyintewa. He was treated in Massachusetts by a doctor who was also a professor at Harvard Medical School. Cronin was told he had stage four cancer and given only a 10 percent chance to survive. Cronin said that would be similar to playing Russian roulette with 11 bullets out of 12 places in the gun.
"All of a sudden they couldn't find anything," he said about the tumor.
While Cronin went through chemo, he also credits Ojibwe tea and alternative medicine for saving his life. He said the problem with any cancer is if it is not caught early that it will spread to all the organs.
"If it gets in the lungs or the brain you can't fight it," he said.
Cronin said the symptoms that tell people they need to get to the doctor for cancer screening are blood in the urine or the stool, or in his, case kidney stones.
"People are here who can counsel you through this," he said.
SUBMIT FEEDBACK
Click Below to:
More like this story