Supaman impresses with hip-hop and Native dancing
Supaman releases new video, 'Miracle,' with Grammy nominated Maimouna Youssef
Kyla Rivas, for the Navajo-Hopi Observer
Originally Published: November 27, 2018 10:58 a.m.
PAGE, Ariz. — His birth name is Christian Parrish Takes the Gun from the Apsaalooke (Crow) Nation in Montana; his professional name is Supaman.
Many know him as a hip-hop artist and a pow-wow fancy dancer who took the bad and the good from his life and fused it with a music style that gave the world a new genre of music. That music has inspired Indigenous artists from all nations.
Supaman, in honor of Native American Heritage month, visited Page Unity Club for a special non-profit performance. The price of admission was a can of food to help the Unity Club collect food for the local food bank.
On the morning of Nov. 16, Supaman toured schools in the area to spread a bit of inspiration and entertainment.
"These kids are great. I'm old Unity Alumni from the school I went to so I enjoy doing these shows." he said. "I guess they did a video on Facebook inviting me to Page and somebody tagged me in. So I wrote them back and said I would do it. I heard some of the students were really shy and one of the girls didn't even talk. So I decided to do it since they went out of their [comfort zone] … it touched my heart..."
He is also releasing his latest album, 'Illuminatives,' his favorite project and he hopes his visit to the Page Cultural Arts Building showed the people of Page a deeper part of his life.
"I like this album because I did it for me. I did the music the way I wanted and I think it's my favorite," Supaman said.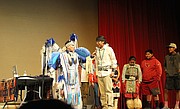 But he is much more than his music.
After a spiritual epiphany took hold of him during his first tour, he started to see how hip-hop music had influenced him growing up, sometimes negatively. In that moment, Supaman felt a connection to his Creator and was prompted to use music to influence others in a way that would bring meaning to their lives.
His pow-wow roots strengthened the vision ,yet hip-hop music had always been in his life too. So, he went to work using his talent and hard knocks life for better use but he knew the Creator wanted more from him. He was able to bring himself to a place of change and great influence, which he embraced wholeheartedly with a fusion of cultural identity and hip-hop.
He also began to get deeply involved in indigenous organizations, using his music to bring attention to problems plaguing indigenous communities such as poverty, alcoholism, domestic violence, drugs or suicide; all of which he personally witnessed.
On stage he tells the story of his childhood and his father's death.
"My father and a few of my cousins died from suicide, so it's I why chose the platforms I promote like [suicide prevention]." Supaman said. "My father went off into a storm with a bottle."
To hear Supaman tell his story on stage is to hear a part of many lives on the reservation. With so many people relating to his childhood, many people were also enlightened by a sense of pride that the cycles plaguing the reservation can be broken.
Supaman's first album with his group Rezawrecktion, 'It's Time,' earned a Native American Music award in 2005. Supaman has been in the music business over 15 years now and has since added four solo albums, numerous awards and recognition, including his involvement in the Water is Life video project with Taboo (Shoshoni) of the Black Eyed Peas that earned them the MTV Video Music Award for Best Video with a Social Message in 2017 called "Stand Up / Stand N Rock #NoDAPL."
Supaman talks about the night they accepted the award.
"There we were on the red carpet, a bunch of kids from the Rez," he said.
Supaman also paid tribute to his family that night by wearing his family's war bonnet, a warriors' high honor.

During his evening show the Page High Unity Club performed cultural dances and a modern talent show that wowed the audience. The show was emceed by Page local Tito Hoover of Rez Boy Comedy, who also opened the show for Supaman with a 10 minute set.
Supaman opened his performance with a prayer in his language and a beautiful traditional tribute to the murdered and missing indigenous women of reservations across the country, which is statistically high in Montana on the Apsalooke reservation.
During the show, students from the audience joined Supaman on stage to create a beat and hook just for fun. The experience of the entire show inspired all who were there and everybody left feeling the words recorded by Unity club member Eli Secody and Supaman,
"Remember yourself, love yourself."
More information or to schedule a visit or get a copy of Supaman's latest album is available on his website supamanhiphop.com. The official 'Stand Up/Stand N Rock #NoDAPL' video is available on YouTube.
SUBMIT FEEDBACK
Click Below to:
More like this story