Miss Lori Piestewa Post 80 Princess announced at Hopi High School
Originally Published: November 27, 2018 10:49 a.m.
POLACCA, Ariz. —Aubrey Harvey, a sophomore at Hopi High School, was recently selected as Miss Lori Piestewa Post 80 Princess.

Her main task is promoting veterans, which she wants to do because her sister, Vanessa, serves in the military.
Harvey recently worked the booth at a diabetes awareness gathering to let people know that she is honoring veterans. She will also attend various events supporting veterans such as a tribute to the veterans at the Heard Museum in Phoenix.
"One of the benefits of serving as princess is that I will meet new people," she said. "I'm a role model now because I looked up to the past princesses."
For her talent to become princess, she wrote a poem about PTSD and sang a song honoring the veterans.
"My parents said they knew I would get it because they knew I look up to the veterans because they sacrificed a lot for us," she said.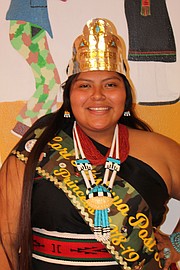 Harvey said she looks forward to going places where she can honor veterans.
Harvey is also in the print journalism class at Hopi High.
"It taught me to just be myself and be confident," she said. "I learned how to write and I went on a media trip that was fun because I met new people."
Harvey enjoyed seeing the behind the scenes media programs at Scottsdale Community College and the news program NAZ-TV at Northern Arizona University. She especially enjoyed when the Hopi High students were able to go on screen at the end of the NAZ broadcast to wave goodbye to everybody.
"You had to be there to see us," she said.
Harvey also attended the Arizona Interscholastic Press Association conference at Arizona State University Nov. 6 in Tempe.
"I learned tips about writing there," she said.
Harvey also was proud that nine of her classmates won state awards at the AIPA conference.
"It showed that the students did a good job. It was good for the students and for the school," she said. "I liked meeting the students at NAU and going to the breakout sessions at ASU."
Harvey is also in an AVID class at Hopi High. That is a class that prepares students for college, teaches them study skills and shows them how to organize their work.
SUBMIT FEEDBACK
Click Below to: