Indigenous peoples denied access to sacred site as ski area opens with treated sewage
Originally Published: November 27, 2018 11:09 a.m.
FLAGSTAFF, Ariz. — Approximately 20 people gathered to offer prayers in the early morning Nov. 16 as Arizona Snowbowl ski area opened with snow made from treated sewage water.
Police blockaded parts of the San Francisco Peaks, a mountain held sacred by more than 13 indigenous Nations and managed by the Forest Service as public lands.
The police threatened to arrest anyone without a ski pass who attempted to access the area. Snowbowl supporters also attempted to assault demonstrators, according to the people there.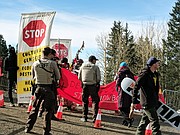 Four law enforcement vehicles patrolled and surveilled the initial prayer circle and as the group went up the mountain, they were followed by law enforcement.
A little more than a mile from Snowbowl ski area, people got out of their cars and walked up the mountain singing, carrying banners and prayer staffs.
"Am I not allowed to pray and go to the Sacred Mountain that my ancestors and that my people have been praying to long before this was considered America?" asked Ray Ray, who lead the demonstration in prayer up the mountain. "That a sacred space can be privatized by a company that pays for my religious rights to be taken away, for my freedom of speech to be taken away, is tyranny and malice from the company, the employees, the security and patrons of Snowbowl."
Support vehicles were pulled over and threatened with tickets for impeding traffic, even though those vehicles were following the walkers to ensure their safety.
More than 20 law enforcement agents from varying agencies including the State Gang Task Force were patrolling the ski area as the group arrived.
Law enforcement agents including a Forest Service ranger blockaded the walkway with a sign to the only ski run Snowbowl was able to open and threatened anyone without a ski pass with arrest for trespassing. The sign read, "Ski pass required beyond this point. All sledding prohibited. No pedestrians on ski slopes."
"This is our sacred mountain, our church, how can we be trespassing? How can you restrict access to public lands?" asked Klee Benally, volunteer with Protectthepeaks.org, to Coconino County sheriffs and the Forest Service ranger. "Where does the public land end? What gives you the right to restrict access to my church?"
Agents refused to respond to Benally's question.
The County sheriff said, "If you cross that sign, you will be arrested."
When asked again where the public lands ended and why indigenous peoples couldn't freely walk on the mountain, the Forest Service ranger stated, "You can figure that out in court." 
The sheriff then started checking if everyone walking through the area had ski passes.
Vontrivia Zee, a Flagstaff resident who joined the prayer gathering and demonstration stated, "The cops really didn't have the knowledge of why we couldn't go on the mountain. They were violating our rights," said Vontrivia Zee, a Flagstaff resident who had joined the gathering and demonstration.
Tylene Halfmoon said that at 25 and as a Native woman, she sees and feels the struggle of her people and racism within the border town of Flagstaff.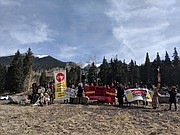 "I felt I owe it to my ancestors, and all the indigenous people out there suffering from homelessness, drug and alcohol dependence, broken homes, domestic violence, people being targeted by police for simply being brown and for my grandmas who lived that hard life back then," Halfmoon said. "All in all, today gave me hope that there are still people out there that care and this is something that will need to continued and taught to our future generations, so that they can understand we are not a weak people: we are strong, tough, resilient and we are still here even after they tried to kill us all off with mass genocide."
"From our water, to our earth, to our air to the very stance that we take upon the earth. They want to take that away" Ray said.
Sumayyah Dawud, who is Muslim and came from Phoenix to offer support, recognizes the value of sacred sites because they exist in the Muslim religion, too.
"To see this mountain be continuously desecrated for capitalist profits and to totally go against wishes of 13 Indigenous Nations who have been here for tens of thousands of years or more before this so called country was ever created," Dawud said. "It's unacceptable what they're doing and so this is why I came today and why I've come in the past and will keep coming to stand up against this colonial abuse and state violence and capitalist oppression. We are facing catastrophic climate change and what they are doing to this mountain with this sewage snow is contributing to the violence against the Earth."
Snowbowl supporters yelled racist statements at the group throughout the morning.
As the group stood their ground holding banners and chanting, two Snowbowl supporters attempted to push through the crowd and assault the demonstrators. They responded quickly by defending their friends and chanting.
"I experienced at this event so many levels of violence and oppression against people standing for their survival," said Mary Begay, a lifelong Flagstaff resident and volunteer Mountain Protector. "We were walking through the desecration as we were restricted from our movement by law enforcement who were there only protecting the company and their profit. Mountain protectors were constantly being verbally assaulted by skiers and two female mountain protectors were assaulted physically by a man who forcefully swung the sharp edge of his snowboard at our faces and would have seriously injured them if they had not blocked it with their hands in time. We will not be intimidated by police or racist Snowbowl supporters. When sacred sites and cultural survival is under attack, we must fight back."
Snowbowl is the only ski area in the world to make snow from treated sewage. They are allowed to use 180 million gallons of treated sewage per season by the US Forest Service. The effluent is piped up the mountain from the city of Flagstaff who maintains a contract to sell the wastewater to the ski area.
"That people are choosing to pay to ski on what amounts to a frozen river of treated sewage is ridiculous," said Eva Malis. "This wastewater has been proven to contain harmful contaminants and cancer causing agents, and the EPA does not require testing or treatment for pharmaceuticals or hormones that have been found in this effluent."
Snowbowl has long been controversial because of its presence on the San Francisco Peaks. The ski area operates under a special use permit on public lands managed by the Forest Service. For decades, the resort has been subject to multiple lawsuits that have shaped legal precedent for indigenous religious freedom and sacred sites.
The Forest Service approved ski area expansion and treated sewage snowmaking in 2005.
Lawsuits by environmental groups and indigenous Nations ultimately failed and Snowbowl started making treated sewage snow in 2012. The Hopi Tribe is currently in litigation with the city of Flagstaff over the city's contract to sell wastewater to Snowbowl with an Arizona Supreme Court decision on the case coming any day.
More information is available at www.protectthepeaks.org
Information provided by Protect the Peaks
SUBMIT FEEDBACK
Click Below to: