Body cameras issued to Navajo Police Department in act of accountability
Originally Published: November 27, 2018 10:46 a.m.
CHINLE, Ariz. — The public may notice a new device on their officers in the new year — the Navajo Police Department will be equipping officers with body cameras.

On Nov. 15, the Navajo Police Academy cadets were issued the second round of body cameras during their classroom training in Chinle.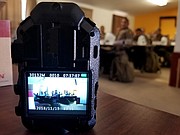 The Navajo Police Department body camera project was first introduced by recent graduates of the academy. The new officers were the first to have body cameras as part of their uniform and have actively been using their device during their daily patrol.

As part of the goal and vision for the Navajo Police Department, Police Chief Phillip Francisco and his command staff have worked diligently to invest in essential tools that will ensure accountability and transparency for their officers and the community.
All NPD officers across the Navajo Nation will be equipped with body cameras as early as January. The project took over a year to implement due to building the network infrastructure to hold the device recordings and establishing the policy and procedures for body camera usage.
The class of 53 cadets received a full day of training and had the opportunity to use the device in foot pursuit scenarios. The device, developed by Safety Vision, is a compact camera that records audio and video and is capable of taking photos. It is equipped with night vision technology and holds about 32GB of data.

After every shift officers will be required to upload their data to a district server which will be linked directly to the Window Rock headquarter, Francisco added. Once the data is uploaded, the officer will not have access to the recording.

All recordings will have restricted access to ensure the integrity of the data and privacy rights.
Information provided by Navajo Nation Police Department
SUBMIT FEEDBACK
Click Below to:
More like this story