Native women have new role in D.C.
Originally Published: November 13, 2018 10:30 a.m.
FLAGSTAFF, Ariz. — Congresswoman-elect Deb Haaland was elected Nov. 6 to New Mexico's 1st Congress District — one of two Native American women elected to Congress.
Haaland is an enrolled member of Laguna Pueblo.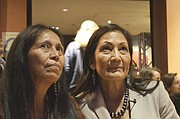 She was born in Winslow, Arizona. Her grandparents, who were from Laguna Pueblo, lived in Winslow and worked on the railroad. Haaland, who moved around with her family a lot because her father was in the Marine Corps for 30 years, still visited Winslow every summer until her grandparents retired and moved back to Laguna Pueblo.
Haaland, who ran under a banner of "Congress has never heard a voice like mine," says that representation and diversity matter, especially in Congress.
"We should have diverse voices at every level of government," she said. "That's the way we find solutions to the issues that we're working on. That's how we get different perspectives, different backgrounds and different cultural backgrounds so that we are considering as many possible things that we can work on."
Haaland acknowledges there is distrust between the government and Indian tribes across the nation, but she said making sure that Native people have a seat at the table and listening could go a ways toward restoring trust.
"They (the federal government) need to quit cutting funding, there are so many things we need to do," Haaland said. "We need to put funding toward the epidemic of missing and murdered indigenous women. We need to make sure tribal courts are funded properly and that we're not taking healthcare away from people."
Haaland said that in this divisive and negative political time, some of those steps would help all people across the United States, not just Native people.
Haaland has a deep background in politics — she has been participating in politics for close to 20 years. She worked on getting out the Indian vote on many campaigns.
"I really did build a huge network over as long as I have been working to get folks to the polls," Haaland said. "I felt like I, as an organizer, I was able to gain a lot of support early on."
But she did encounter people who said she would not be able to raise the money it would take to win an election like this one.
"My answer to that was to work harder and, you know, win," Haaland said.
That does not mean that Haaland always envisioned running for office. She didn't. She never thought about it. Early on, her focus and passion was organizing in Indian country.
"I didn't think about running for this office until pretty much the time I ran," she said.
But she doesn't come to office with no training. She participated in a democratic women's leadership training program in 2007. That program, Emerge New Mexico, gave Haaland tools to work on campaigns and be a candidate.
"It took me a little while before I got up the courage to do that," Haaland said.
Going to Standing Rock and seeing the impact of a collective Native voice, which came from many different tribes, was also an inspiration to raise her voice in a different way.
"That was really inspiring to have that many people standing together on an issue," Haaland said.
Haaland stresses that she worked hard for a long time for Democrats and for the Democratic Party working to get Democrats elected and that is what Native youth who have aspirations to follow in her steps should be prepared for.
"I feel like that's always paid off for me because I've always wanted folks elected who cared about my community, cared about our community and who cared about our environment," Haaland said. "Those are things I gauged my support I'm giving to candidates on. I feel like it's never too early to start getting involved."
Within the Democratic Party, Haaland started out as a volunteer and now she's the Congresswoman-elect for New Mexico's 1st Congressional District.
"Start somewhere, work really hard and do what you're passionate about," Haaland said.
As for hearing herself say the words, Congresswoman-elect, Haaland said she is still getting used to that part.
"I have thousands of volunteers who helped me with my campaign and so many people who donated to help me have the money I needed to run. I am just grateful for everyone's efforts, everybody who put their heart and soul into my campaign. I'm really grateful for that," Haaland said.
Haaland reminds everyone that there are four Native Americans in Congress. Two republicans from Oklahoma are also part of the Native American caucus, now along with Haaland and Sharice Davids from Kansas, another Democrat.
Haaland and Davids, the first two Native American women who have been elected to Congress, are going with an expanded number of women who were also elected this cycle.
"Women are going to bring a whole new energy to the job," Haaland said. "We'll be bringing up things that perhaps haven't been brought up before. I think it will be good."
SUBMIT FEEDBACK
Click Below to:
More like this story