Hopi High students take home awards at state journalism conference
Originally Published: November 13, 2018 10:24 a.m.
TEMPE, Ariz. — Hopi High School won nine awards at the Arizona Interscholastic Press Association Conference Nov. 6 at Arizona State University in Tempe.
About 750 students from throughout the state attended the conference. 
Hopi High was the only reservation school to win media awards and was one of the smallest schools represented.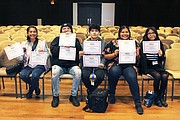 Hopi High took home seven awards for radio journalism and two awards for print journalism. 
The awards were based on the work of students from the 2017-2018 school year. 
The Hopi High radio students performed the Hopi High Teen Show, the only live remote Native American Teen Talk Show in the nation. The show is broadcast on KUYI Hopi radio, which is the largest public Native American radio station in the continental states and is also streamed online at KUYI.net to listeners around the world. 
Sean Bolus, who now attends Northern Arizona University, won three awards. Bolus received an excellent, or second place, for a feature story about last year's national journalism convention. He received an honorable mention, or third place, for a news story about NWEA testing and another honorable mention for a news report about health. Aside from winning his awards, Bolus edited all of the Hopi High radio students winning pieces. 
"(It's) great and I'm proud to have helped the others. I was surprised that I won three awards. I was not expecting anything, although I did my best," he said.  
Bolus said radio opened his eyes to the communication field.
"Now, I'm confident to be on a radio station because I know what it takes to run a radio station. Plus, I'm more comfortable with my speaking skills," he said.
Bolus is majoring in biology and comparative cultural studies at NAU. He is considering volunteering at the NAU radio station. 
"It's exciting talking on the radio," he said.
Bolus, who hopes to become a pediatrician, wants to use his medical knowledge in the future to talk on radio about viruses and other medical information. 
Cheree Jean, who graduated last year, brought home an excellent award for her news story about Bears Ears National Monument. 
Traci Nahsonhoya, who graduated last year and is majoring in engineering at Arizona State University, won two honorable mentions: one for a sports story about a basketball tournament and another for a personality profile. 
Marty Naha, a senior at Hopi High, earned an honorable mention for a feature story about Swedish educators visiting Hopi High School. He plans to major in art at the IAIA. 
"It felt good to win this award because I never won anything like this before," he said. "Radio helped me with my speaking and not being shy. It helped me come out of my shell."
While Naha won the award for a production piece, he said he preferred doing live radio interviews at KUYI.
"I will use radio in my future by being out there and talking all the time," he said.
In the print journalism category, Latifah Huma, a senior at Hopi High, won an honorable mention for her sports story "Hopi High runners committed."
Huma said she was happy and surprised about winning this award. 
"I (have) never won an award for journalism and this shows all my hard work writing paid off," she said. "Journalism helped me with writing my essays for college. It helped me improve my grammar so that I make more sense in my writing."
Huma wrote mainly about sports because she talked about her favorite sports and something she loves to do. She plans to attend Ft. Lewis College to become an athletic trainer. She would like to take courses in journalism, especially if she could cover sports. 
Lameeka Sage, who now attends Holbrook High School, earned an honorable mention for a review of "Rappers Song."
SUBMIT FEEDBACK
Click Below to:
More like this story