'Dawnland' documents untold story of Native American child removal in the U.S.
Originally Published: November 6, 2018 12:20 p.m.
FLAGSTAFF, Ariz. — "Dawnland," a documentary which will begin streaming Nov. 6, follows the first government-endorsed truth and reconciliation commission in the U.S. as Maine investigates the devastating impacts of Native American child removal.
"Dawnland" is premiering on the PBS series Independent Lens, as part of November Native American Heritage Month programming.
The investigation by the Maine Wabanaki-State Child Welfare Truth and Reconciliation Commission represented a groundbreaking moment in the history of tribal-state relations and its goal was to uncover and acknowledge the truth about what happened to Wabanaki children and families involved with the Maine welfare system.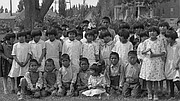 From 2013 to 2015, Native and non-Native commissioners travelled across Maine, gathering testimony about the impacts of the state's child welfare practices on families in Maliseet, Micmac, Passamaquoddy and Penobscot tribal communities, which together comprise the Wabanaki people.
The report, delivered in 2015, which can be read at http://www.mainewabanakitrc.org/report/, discovered that state power continues to be used to break up families, threatening the very existence of the Wabanaki people. The film hears the stories of many children, some of whom are adults now, and emotional and physical harm they suffered while the adults in charge of them tried to erase their cultural identity.
"Dawnland" not only exposes the truth of what happened in Maine, but also provides the opportunity to raise awareness of this nation-wide issue, which continues to impact families and children.
Indian Child Welfare Act
For most of the 20th century, government agents systematically forced Native American children from their homes and placed them with white families. In the 1970s, one in four Native children nationwide were living in non-Native foster care, adoptive homes or boarding schools.
The U.S. government enacted the Indian Child Welfare Act (ICWA) in 1978 because of the high number of Indian children public and private agencies removed from their Indian homes. The act gives relatives of the children and the tribes a say in what happens to Indian children. The act was designed to preserve Indian culture and heritage.
Esther Anne (Passamaquoddy), a child welfare expert, was instrumental in laying the foundation for the Truth and Reconciliation Commission. She works for Maine-Wabanaki REACH, which advances Wabanaki self-determination by strengthening the cultural, spiritual and physical well-being of Native people in Maine.
Anne said the release of the report and the documentary are very timely in 2018 with the repeated attempts to dismantle the Indian Child Welfare Act.
A federal judge in the northern district of Texas recently shot down the ICWA as unconstitutional. While the ruling is currently limited to the northern district of Texas, the consequences of his ruling being upheld by a higher court could be devastating for Indian Country, according to a story by Indian Country Today, "Texas judge rules against Indian Child Welfare Act".
"We've known historically that these conservative groups have been trying to dismantle ICWA since it was enacted 40 years ago," Anne said. "I can see that this film ("Dawnland") in particular, more than the report the film can serve that function of educating people and making people aware of ICWA in general and the threats to ICWA, which are really threats to tribal sovereignty."
In fact, Anne said, the Goldwater Institute in Arizona, which has been fighting against ICWA, saying that it is concerned with Native children is a fallacy.
"I really don't believe the Goldwater Institute is actually concerned with Indian child welfare," Anne said. "I think that this is a way for them to dismantle the existence of tribes' altogether."
Maine's Truth and Reconciliation Commission's report had 14 recommendations and half of them are focused on child welfare and the other recommendations were for a collective responsibility of those living in Maine to respect tribal sovereignty and to accurately educate people of Native history.
"Those things are not things that can easily be checked off, they are things that are going to take a long time," Anne said. "There continues to be movement in all of those areas. Maine Wabanaki REACH is dedicated to pushing those forward but we don't do it all by ourselves, a lot of groups are working. That's what we talk about with collective responsibility, it's up to all of us."
"Dawnland" and the Truth and Reconciliation Commission report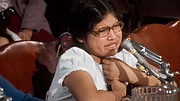 Anne said she remembers the day the report was shared with Wabanaki REACH.
"It was pretty emotional because we felt relieved and validated, especially with the number one recommendation: to respect tribal sovereignty and their finding of cultural genocide," Anne said. "It just really reinforced everything that we had known and had felt and it was good to have it in a report from an official body."
"Dawnland" examined the challenges faced by the commission as it worked toward truth, reconciliation and the survival of all indigenous peoples. Anne said everyone in the documentary and those who were part of the commission, had to find a way to trust the process.
"We knew the truth already but we had to trust that this process and that the truth that we knew would also be evident to the commission and it was," Anne said. "We felt good about it. It was beautifully written and very well laid out. If you look at it online, you don't get the same feeling as holding it in your hands."
Why is "Dawnland" important?
Anne said she hopes that when people watch "Dawnland" they are moved to make changes in their lives and move toward undoing colonial structures that have caused so much damage.
"For non-Native people, [to undo] these colonial structures that they benefit from on the backs of Native people," she said. "Not to feel bad about it and cry a little bit and say 'Gee, that's too bad' and go home, business as usual, but to be moved to the point of action and to figure out how they are going to reconcile themselves to that history and how they benefit from that and how they are going to repair that harm that they benefit from."
Anne said feeling bad is not enough, because what has happened and is happening is cultural genocide, but she feels hope in 2018 that there is a difference in people's understanding of the history of cultural genocide and what can be done about it in the future.
"The level of education and awareness is a lot greater," Anne said. "There are so many more non-Native people in Maine who understand more of the true history who are educating themselves about what really happened and what is really still happening."
Anne said the balance is figuring out how they can do that without further burdening Native people.
"Because often, as you see in the film, it's such a hard thing to grapple with," Anne said. "People just want to go to what makes them feel good, 'like I want to be friends with an Indian.' Relationship are important, all those relationships that we developed helped this work propel, but it can't be dependent on a relationship with a Native person, because there's not enough of us."
Anne said she agrees the issues are confusing and non-Native people fear the harsh, stark reality of the truth, but she said no one can escape the pain of this, even though it is human nature to leave the bad stuff and focus on the good things. She has heard non-Native people say the issues are complicated.
"Yeah, tell me about it," Anne said. "Try it from my vantage point. The issues are complex because we are survivors of genocide."
More information is available by visiting the "Dawnland" page on Independent Lens, featuring more information about the film, which will be available for online viewing on the site beginning Nov. 6. 
SUBMIT FEEDBACK
Click Below to: