Winslow High School students honored at Elks banquet
Originally Published: May 29, 2018 11:15 a.m.
The Winslow Elks Club holds its annual awards banquet for students from Winslow High School May 2. The club provided free dinners for 380 parents and students and then presented 168 individual awards to students. Among the awards there were six sports awards. Three scholarships were presented.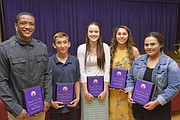 From left: Justine Butterfield receives an Elks award, Winslow High School athletes are presented with sports awards and three students display their Elks awards.
SUBMIT FEEDBACK
Click Below to: