Hopi Jr. High keynote speaker: retaining culture is important
Originally Published: May 29, 2018 10:49 a.m.
POLACCA, Ariz. — Keynote speaker Detroit James spoke about how the habits he picked up from his culture helped him deal with tough times during his first college year. He said he went through many breakdowns in college.
"In the real world, you will be fortunate to know your language," he said.
James served as the keynote speaker at the Hopi Junior High promotion ceremony May 23 at Bruin Stadium. Sixty-six students were promoted.
James recalled when he took his first exam in microbiology in college he scored in the 50s when most of his classmates scored in the 80s. "I cried because that's not the type of student I was," he said.
But, James said, culture taught him to be able to stay up late at night, like he did for ceremonies. So, he ended up with 92 percent for the semester as he used his cultural teachings to empower himself.
"All my strengths came from remembering my prayers and family," he said. "That's why my mom told me not to be lazy."
James said that is why students need to listen to their parents, grandparents and teachers.
"So you will learn. When you go to high school, listen," he told the students. "Teachers will give you life lessons."
Thus, James told the students to be proud of their identity and be proud of who they are, whether they are Navajo or Hopi.
"Each and every one of these students have earned their education," he said.
He said the students may not thank their teachers every day, but they will be thankful for them the rest of their lives.
In the fall, James will be entering his senior year at the University of Arizona in Tucson studying physiology and education in the Honors Program. In the meantime, James is studying cancer research, including the impact of air quality. He's also looking at radon and lung cancer and water quality on stomach cancer.
James, who graduated from Hopi High School in 2015, said it was an honor to speak to the youth. He said he is proud to be a Bruin graduate.
James told the eighth graders who were being promoted that he sees a lot in them.
"You have the ability to go on," he said.
James spoke about how Hopi High was created so students could stay on their reservation and learn their culture.
Hopi Chairman Tim Nuvangyaoma told the students that he was excited to share the moment, but he also wanted to acknowledge everybody from the teachers to the bus drivers who have helped the students reach this point. He said eighth grade promotion is a big step forward and the students should encourage each other when they to high school next year.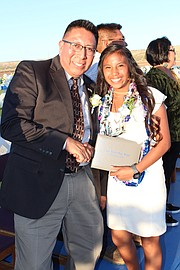 Chairman Nuvangyaoma said the students should ask questions as part of the growth process. He said he looks forward to seeing what these students bring back to Hopi in the future.
"I'm proud of you so continue striving," he said.
Hopi Vice Chairman Clark Tenakhongva, who presented two citizenship awards, said education starts at home. He spoke of his four successful grown children who all graduated from Hopi High School.
"This school is great, but it's up to you," he said. "We can only give you the knowledge then it's up to you."
Hopi Junior High Principal Lucille Sidney called the promotion a milestone for the students. She said after graduating from Hopi Jr/Sr High School that her loyalty remains here.
"We are here to celebrate another momentous occasion," she said. "Junior high is a time for searching for knowledge and your identity."
Principal Sidney said these students will have more momentous occasions with high school and college ahead of them. She said that Bruin values live on in the people and the youth.
Hopi High's Junior Reserve Officer Training Corps posted the colors. Laroux Lomatska, a seventh grader, gave the invocation.
Donald Dawasevaya, president of the Hopi Jr/Sr High School interim governing board, presented Candaleria Begay with the salutatorian award.
Chairman Nuvagyaoma presented Jazlynn Bell with the valedictorian award.
SUBMIT FEEDBACK
Click Below to: