Native American couture designer, Loren Aragon, commissioned to design gown for Walt Disney World
Couture gown to represent Native American culture of the Southwest region of North America
Kyla Rivas, for the Navajo-Hopi Observer
Originally Published: May 24, 2018 10:01 a.m.
The leaked announcement on social media announced the Native American couture designer, Loren Aragon, owner of Aconav, has been commissioned to design a couture gown for Walt Disney World to represent the Native American cultures of Southwest region of North America.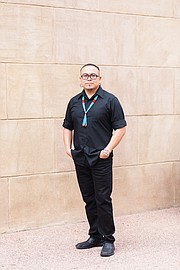 The finished piece will highlight a new exhibit at the American Heritage Gallery in The American Adventure at Epcot World Showcase in Orlando, Florida.
The exhibit is titled, "Creating Tradition: Innovation and Change in American Indian Art." Aragon, an Acoma Pueblo, will be among seven artists to use a Native traditional medium to create a contemporary work of art that directly reflects cultural significance. Disney, the Museum of Indian Arts and Culture in Santa Fe, New Mexico and the Smithsonian's National Museum of the American Indian (NMAI) in Washington D.C. are collaborating on the exhibit.
In an exclusive interview with the Observer, Aragon, designer and owner of Aconav gave only a few clues to what this never seen before dress will look like.
"It's going to be a gown… going back through the history of Disney dresses," Aragon said. "I really want it to be a timeless, stand out piece like those Cinderella dresses and give it my touch, as far as the Native side goes. I will also stay in tune with what Aconav stands for, which is, cultural designs embodied in timeless elegance while representing an identifiable Native American style."
When the Disney Corporation approached him, however, they were specific in how the design had to embody its inspiration. The inspiration comes from an antique Acoma Pueblo pottery design out of the vaults of the Smithsonian's NMAI. The pottery was made by an unknown Acoma potter using traditionally made black and rust colored pigment on off-white clay dated to the mid 1800's.
"My request is unique because they wanted a [design] that was drawn from the ancestral traditions and put into a new design using a new medium," Aragon said. "We chose a pottery and I am taking the design elements of [the pottery] unto the dress."

The one of a kind pottery will be displayed next to the dress as part of the exhibit.
Aragon founded Aconav, named after his Acoma Pueblo roots and his wife, Valentina's, Navajo roots, just a few years ago after making the decision pursue couture designs full time. He held off a career in mechanical engineering because his passion for the art of fashion design became more than a side venture.
"It was just [retracing] back to family members who knew how to do [cultural art]," Aragon said. "They taught me a lot, like what the designs meant. I had wanted to get back into pottery… but I wanted to think outside of the clay."
The inspiration for fashion came from the women in his life as a youth.
"My mother and aunt are seamstresses and I watched them put our traditional garments together with [fabrics] off the [store] shelf that were 'native inspired' and I wanted to be held to higher standards and I wanted to be different, " Aragon said.
Holding the Aconav brand to a high expectation helped him with the decision to custom make his own textiles and silk screen prints.
At shows Aragon exudes professionalism for his name, the Aconav brand and Native people.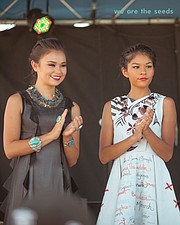 "Presenting in a high end world there is a feel of being to held to higher standards and as Native artists we are already held to it," he said. "The art we produce must possess a certain content of metal, the leather must be real or materials have to be authentic and that really drove everything that I already wanted to do. It's now something I pride myself on."
Art has always been in Aragon's life and his first fashion show was at the Pueblo Grande Museum in 2014, but it was the Santa Fe Indian Market where he showed his first 20 pieces, which got him noticed as a designer.
From there his resume grew to include many prestigious runways including New York Fashion Week in 2015 and 2016. However it's the Arizona runways that he holds in high esteem specifically the Phoenix Fashion Week's and its four month boot camp.
The 2016 boot camp for designers, an educational process with all the elements of a runway show, helped the designers showcase a collection where Aconav took second place. In the 2017 boot camp, Aconav took the coveted 2018 Couture Designer of the Year. This recognition caught the eye of Disney, the MIAC, and Smithsonian's NMAI.
Aragon gives his wife also Aconav's Operations Manager and his mother, Aconav's core team, credit for pushing him to pursue his dream and helping to create a brand that now has global recognition.
"My wife was a big part of it, "Aragon said. "Her push to keep me engaged in doing the art and letting my creativity flow. She is the one who helped me get there and helped me promote my work."
Aragon also reaches out to the Native youth in this historical moment.
"If you feel the passion to do what you want to do just do it," he said. "Be persistent, don't give up at the first sign of failure, learn from it and move forward. Failure is going to happen no matter, and a lot, so, be ready for it. Things don't happen overnight. I say this to Native designers; we aren't taught or ever ready to fail, nor told how it's going to be, its just going to happen. You just can't give up on the first stumble or sign of failure. It's a learning process."
More information or to see clips of the video journal of the gown making process, is available on Aconav.com or their Facebook page. The official blog leak of the announcement and partial details of the exhibit is on chipandco.com.
The untitled gown will be displayed at the Epcot World Showcase in Orlando, Florida when the exhibit premieres June 4th.

"[The gown] will have a name and I'll be thinking of a name the whole time I am putting it together," Aragon said.
SUBMIT FEEDBACK
Click Below to: