Zuni Fest kicks off heritage festivals in Flagstaff
Museum of Northern Arizona highlights extraordinary women during summer heritage festivals; Zuni Fest May 26-27
By Kristan Hutchison Special to the Navajo-Hopi Observer
Originally Published: May 22, 2018 10:45 a.m.
FLAGSTAFF, Ariz. — Women dominate the 28th annual Zuni Festival of Arts & Culture May 26-27, part of a theme woven through all the Museum of Northern Arizona Heritage Festivals this summer.
The "Extraordinary Women" theme was chosen long before women grabbed headlines nationwide for stepping forward and speaking out. Zuni Festival includes Heritage Insight talks about the role of women in the matrilineal culture and the performances of the Zuni Olla Maidens, who honor their foremothers through dance.
The formation of the Zuni Olla Maidens is a story of historical feminism. In Zuni culture, the men are responsible for all religious ritual, including sacred song and dance. The Zuni women have other, equally vital roles in the matrilineal society.
"We are also just as important as the men and that's one point that's always made to people that come to Zuni," said Juanita Edaakie, one of the leaders of the Zuni Olla Maidens. "We have the same power as the men do."
Sing us some rain
Dancing and singing wasn't something Zuni women did, until Daisy Hooee Nampeyo formed the Olla Maidens in 1922. Daisy Nampeyo came from a different tradition and lineage. She was the granddaughter of a renowned Hopi-Tewa potter, Nampeyo of Hano, who taught her the art of pottery. Daisy Nampeyo had also studied art in California and Paris, so when she married a Zuni silversmith and moved to Zuni Pueblo in the 1920s, she brought in outside ideas. One of those ideas was the need to showcase the revival of pottery by Zuni women.
Nampeyo got permission to form a women's dance group, honoring their foremothers, because the women perform social dances and songs rather than sacred.
"They had a lot of support from the community because they weren't stepping over any religious taboos," Edaakie said. "We always talk about the power of the songs that we sing. A lot of the songs are passed to us by the men of Zuni."
Among the songs they sing is one to bring the rain, something the region desperately needs in this dry year. Edaakie recounted a performance during a dry-spell in North Carolina many years ago. The day after their performance, torrential rains poured down and their flight home was delayed.
Dance ambassadors
Since 1920, the Zuni Olla Maidens have become a venerated ambassador for Zuni culture, performing across the country and abroad. The dancers were honored by the New Mexico Historic Women Marker Initiative and given the Allan Houser Award for preserving and reshaping the face of native arts.
Leadership of the group passed down, from Nampeyo to Edaakie's late grandmother, Crystal Sheka, then to Edaakie's mother, Cornelia Bowannie. Now Edaakie shares the leadership with her sister, Loretta Beyuka.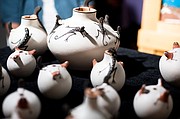 Young dancers train with small, practice pots, perfecting their balance and developing strong neck muscles.
"They walk really tall. Their posture is wonderful," Edaakie said.
Once a dancer has perfected her technique, a local potter builds a pot shaped to fit the curve of her head. The dance pots, or ollas, are smaller versions of ancient ollas used for carrying and storing water. Women would make daily treks to the Zuni River, back when it flowed freely, before dams and droughts sucked it dry. The ollas these foremothers balanced were huge and heavy, filled with enough water for the family.
"Our ultimate goal is to pay homage to our ancestral women," Edaakie said.
Though the pots the Olla Maidens dance with are smaller, they are still created in the same way. Many Zuni potters still dig raw, red clay from a place long used by the tribe's potters, grinding, sifting and kneading the dirt until it's pliable.
Once a dancers olla is fired and painted, it is blessed with salt, harvested by the men from the Zuni Salt Lake, where they've collected salt for ritual and cooking for thousands of years. Dancers keep other items in their ollas as well. Some use the olla like a purse, stashing makeup, phone, comb, business cards and souvenirs inside.
Meaning in every move
Before they place pots on their heads and begin shaking rattles to bring the sound of rain to the desert, the Zuni Olla Maidens must put on their shoes. That's no small task. Like every other step in their performance, getting dressed involves layers of meaning, history and a careful process that borders on meditation.
First the dancers swathe their legs in layers of fabric to create a stovepipe shape. Then they pull on moccasins and wrap deerhide smoothly around and around from ankle to knee.
"Our ancestors were smart," Edaakie said. "They were growing food in the field and had to protect themselves from the rattlesnake and cactus. They used the natural resources to protect the legs from scratches and cuts or bites."
The dancers don ornate dresses with heavy skirts, sewn and embellished by Edaakie. They carefully adorn their wrists, fingers and necks with turquoise and silver jewelry. Only after the dancers are fully dressed and ready to dance, do they pick up their pots, the ollas.
More information about Zuni Fest can be found at www.musnaz.org.
SUBMIT FEEDBACK
Click Below to:
More like this story