Originally Published: May 22, 2018 12:15 p.m.
Two hundred and fifty motorcycles passed through Winslow on Old Route 66 en-route to Washington DC and the Vietnam Memorial May 17. Riders and passengers are riding as a tribute to armed service members who served or died in the war in Vietnam.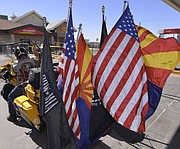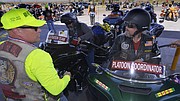 Most of the riders were of the age to have served in Vietnam and others said they ride to honor a grieving family survivor of a victim. The group left I-40 at exit 252 and passed through Winslow on Route 66. They stopped at Flying J truck stop on Transcon Lane in order to refuel and rest. Flying J was closed at 9:45 a.m. to cars and trucks in order to accommodate the riders. Run For The Wall cyclists filled all parking lots of the fueling, restaurant and RV service areas. This group is one of three routes going west to east concurrently. They plan to arrive at the Vietnam Wall in Washington D.C. May 26.