New dental clinic opens at Indian Health Care in Winslow
Originally Published: May 22, 2018 11:50 a.m.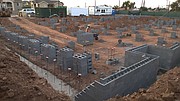 WINSLOW , Ariz. — On May 4 a grand opening was held for a new dental building at Winslow Indian Health Care Center. A number of notable Dine' were on hand with opening speeches by Sally Pete, Velma Husky, Robert Salabye, Dr. Thomas Barnes, Dr. Darrin Blackman, Jerry Freddie, VanDerrit Poyer and John Nells. The new clinic adds 15 new chairs at WIHCC and is equipped with state of the art dental care technology, including a lab where a new tooth crown can be prescribed, made and applied in the same day. This relieves patients of a potential second trip from the long distances, typical on the reservation. The project began in the summer of 2017 with excavation, today it is ready for patients.
SUBMIT FEEDBACK
Click Below to:
More like this story