Nation's feral horse problem brought to forefront after recent death of nearly 200 horses
Originally Published: May 22, 2018 5:32 p.m.
FLAGSTAFF, Ariz. — How could the Navajo Nation, which considers the horse sacred, let nearly 200 horses die near Gray Mountain and what is going to be done about it in the future? Who is responsible?
These are the questions people are asking right now in the wake of the tragedy.
But Gloria Tom, director of Fish and Wildlife on the Nation, said the issue is a complicated one, including who is responsible for the horses.
She explained that horses that are branded have an owner and even if the horse has been let loose, the horse is still the owner's responsibility. For those horses that are not branded but are on Navajo Nation land, they belong to the Navajo Nation and it is responsible for managing those animals.
Still, even with those stipulations, the problem of what to do about the horses is not a simple one and it falls under the umbrella of the Navajo Nation Division of Natural Resources, which encompasses the Department of Fish and Wildlife and the Department of Agriculture, among others.
Beyond even the Nation, though, the Office of the President and Vice President said that some responsibility for managing the horses lies with local chapters.
"There is a process for round-ups and it begins with the local chapters," said Navajo Nation President Russell Begaye. "What they need is a resolution requesting round up, which prompts the assistance of the Navajo Nation and the BIA. Help is there, but they have to ask for it."
Tom said in 2016, an aerial survey showed about 37,000 free ranging horses on the Nation, even though the president's office estimated the amount to be 50,000 to 70,000 horses based on the same survey. Begaye said the problem is not a new one but a seasonal issue.
Tom said for an accurate count, the department would like a survey to be done every two years. But that takes money. The Bureau of Indian Affairs paid for the 2016 survey.
"Seeing as we're in 2018, we really haven't found the funding to do that other survey," Tom said. "The one that we did in 2016 is just a snap shot of what we have. Being optimistic, we would like to start gathering trend data and in order to do that, we would need to get funding."
The management plan
Tom said there is a management plan that was developed by an interdisciplinary team within the division.
"It basically looked at different ways to remove horses from the landscape," Tom said. "Either through round ups, offering incentives to livestock owners, establishing regional livestock sales throughout the Navajo Nation."
Right now, the Nation has no internal way to hold those sales.
"If somebody wants to market livestock, they have to take the animal to one of the sales off the Navajo Nation," Tom said. "A lot of people,today, they don't have the means to transport livestock, much less catch free ranging horses. So, basically, there is not a whole lot of livestock moving from the Navajo Nation just because of that."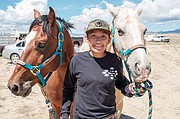 The management plan would set up regional sales throughout the reservation and offer incentives for people to sell some of their horses. The plan also encompasses adoption and birth control for the horses. The plan has an educational/outreach component, which Tom said is non-existent right now.
"I know our Department of Agriculture does do a lot of workshops on equine health and equine owner responsibilities, but it's on a very small scale," Tom said. "There's a need for much larger outreach programs for managing horses. Right now, it's really small."
But the plan costs money to implement to the tune of $1 million a year.
"It's not something you can just implement once and turn around and walk away," Tom said. "This is a long-term management program that we're talking about because of the number of horses that we have."
The Division attempted to get the plan funded through various sources but have been unsuccessful in finding the money up to this point.
The long-term drought the region is experiencing does not help the situation with the horses, which Tom called extreme in various points on the reservation.
"Basically, there is no water. And there's no vegetation," Tom said. "And so, what we saw over in the Gray Mountain area…I imagine it's happing pretty much all over the reservation. The ponds are drying up. The mud is there and animals are getting stuck trying to get to water. It's something that is occurring reservation-wide."
Most people who do have livestock are hauling water, but that does not address the problem.
"We're in a drought situation and we do not have the water and the vegetation to support that number of animals in the landscape," Tom said. "So for those areas where people (chapters) have not been doing anything, we're going to be seeing a lot more of what we saw in Gray Mountain."
Are the horses wild or free ranging?
While Tom does not have exact numbers, she said she believes that most of the horses came from somebody. She cites the generational change happening among the Diné, where the people are not as dependent on horses for ranching and farming as they used to be. And people not understanding what the cost will be when they bring a horse home, especially with vegetation and water not available on the Nation.
"So you basically are spending hundreds of dollars every month just to keep them fed and watered and up to date on vaccines and veterinary care, so a lot of them just have a tendency to let them go," Tom said. "They'll let the stallions out, and leave them out and leave them as stallions, which is against the law on the reservation, but there is really no enforcement."
But Tom does think in some areas that are very remote on the reservation, there are horses that are really wild.
"We have really isolated areas where there's horses," she said. "They're far away from people, they're far away from communities, they're really wild. There's no way you can get close to them. But the actual breakdown of those animals and those that are just free ranging in the communities, I wouldn't be able to give you that percentage."
Local horse hunts
In March, a horse hunt was cancelled by the Office of the President and Vice President.
"We understand the concerns of the people," Begaye said. "We know the issue of horses is an emotional one with strong feelings on all sides. My administration will not condone a horse hunt for controlling the overpopulation of feral horse. But, we do need to implement a management plan to preserve and protect Navajo land for future generations."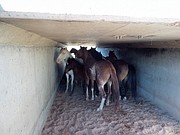 But Tom said there is still a need to reduce the number of horses because of the impacts on wildlife and habitat. One horse consumes about 32 pounds of forage and 10 gallons of water per day.
"The competition that's occurring between horses and wildlife… when we've attempted to address those by offering some hunting opportunities from some of our tribal members, our leadership right now does not think that is something they want to support," Tom said. "But there is still the problem that exists out there. We're still struggling with how to deal with that. And knowing that there's no water and knowing that game is being displaced. And so, we're still struggling to deal with that."
What to do?
Tom said it is important for the farmers and ranchers to take notice of what is happening on the landscape — if people see ponds drying up and animals dying, they should let the Navajo Nation know and notify the Department of Agriculture and their local grazing officials.
"I think it's something that's just starting, this is something we anticipate seeing and it's really up to the people who are out there seeing these things to notify their local communities and let them know that's happening," Tom said. "How we can respond, that's a big question."
The Nation responded to the Gray Mountain area because of the risk of disease to the local community, but each situation needs to be evaluated separately, Tom said.
"But the local community leaders are the ones who really need to get ahold of what's happening out there in their communities and the grazing officials are there — that's the reason they are there, they are responsible for monitoring those animals."
SUBMIT FEEDBACK
Click Below to: