Originally Published: May 22, 2018 12:14 p.m.
Early in 2018 American flags began appearing in Desert View Cemetery on Fleming Street in Winslow. As months progressed the flags became impossible to ignore as they multiplied. Currently there are 410 flags standing rigidly in the blustery daily winds around Winslow. Flags for Veterans at Desert View Cemetery is a volunteer project of four people.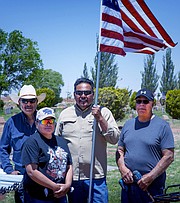 Larry Begay began the project, Mindy Lee handles the administrative duties, Layman Brown and Alex Ballejos are key players in assembling and planting the flags. This group plans to complete the project with a total of 725 flags. Though the number may rise as they are contacted by family members who have names that the flag group is unaware exist.
More like this story