Welding their way to a new future: Navajo Technical University celebrates 11 new welders
Originally Published: May 15, 2018 11:02 a.m.
CROWNPOINT, N.M. — As the 2018 spring semester concludes at Navajo Technical University, 11 welding technology majors will earn their certification with the American Welding Society (AWS) proving their competence in the highest industry standards for professional welders.
Students who earned their AWS certification included: Adriano Begay, Aaron Robinson, Derris Sam, Myron Yazzie, Samantha Francis, Verna Sue Casamero, Cordell Joe, Julio Sombrero, Trevor Lincoln, Ernest Ibarra and Darius Perry.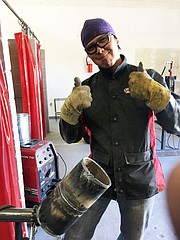 Of the 11 students who earned AWS certification, Julio Sombrero is the first to obtain 6G AWS welding certification. This endorsement for pipe welders is the most challenging because it requires welding a pipe at a 45-degree fixed angle. This certification test also requires the student to weld in all horizontal, vertical and overhead positions, including both right-handed and left-handed.
"Upon entering the program, I had some knowledge about welding that I learned in high school," said Julio Sombrero, a dual major in welding technology and mathematics. "Mr. Storer helped me to build on these skills all the way to earning my 6G certification. It's a great program and students are able to gain a lot at multiple levels."
Over the course of the past year, NTU's Welding Technology program has awarded 20 AWS certifications to students. At the May 12 commencement ceremony in Crownpoint, the program will also graduate eight students when Sombrero, Lincoln, Perry and Yazzie will join Travis Begay, Joseph Nelson, Marcus Simpson and Loren Tsosie in earning their certificates.
"These students are dedicated and they take much pride in their work. They deserve every opportunity that is presented to them," said instructor Christopher Storer, who has transformed NTU's welding program by remodeling the learning facilities and introducing state-of-the-art equipment such as a TIP TIG welding machine. "To see them achieve their certifications from NTU and the AWS demonstrates the enthusiasm they have combined with their responsiveness to our teaching strategies."
A certificate in welding technology at Navajo Technical University requires 32 credit hours, with 20 credits of core welding courses. Students gain an overall understanding of welding machines, welding processes and hands-on welding proficiency, but they also develop skills in blueprint reading, welding inspection, destructive and non-destructive testing, metallurgy, computer-aided drafting and precision machine tool operation.
More information about the welding program at Navajo Technical University is available by contacting Chris Storer at cstorer@navajotech.edu or by visiting NTU's website at www.navajotech.edu.
SUBMIT FEEDBACK
Click Below to:
More like this story