Arizona Supreme Court agrees to hear Snowbowl lawsuit
Originally Published: May 15, 2018 10:38 a.m.
PHOENIX — The Arizona Supreme Court has agreed to decide whether the Hopi tribe can try to block the use of treated effluent to make snow on the San Francisco Peaks.
In a brief order, the justices agreed to hear arguments by Snowbowl and the city of Flagstaff that an intermediate level appellate court got it wrong in concluding the tribe has the legal standing to claim that the effluent is a nuisance. No date has been set for a hearing.
The order is a setback for the tribe which just a week earlier had urged the justices to stay out of the fray.
More to the point, if the high court sides with the ski resort and the city, that could be the last legal gasp in the multi-year bid by the Hopi and others to halt snowmaking with effluent from the city. Courts have thrown out prior lawsuits alleging everything from violations of environmental laws to infringement on religious freedom.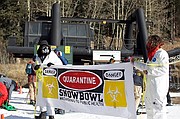 Central to this lawsuit is a claim by the tribe that the peaks are the "single most important sacred place the Hopi have.'' Aside from visits for ceremonial and cultural purposes, tribal members gather items for ceremonies back on the reservation.
"The natural resources gathered from the peaks ceremonial use must be pure,'' attorney Anne Lynch argued to the justices in urging them to stay out of the legal fight. "If they are tainted they cannot be used, and materials must be collected from elsewhere.''
But the legal issue is more basic: Does the tribe have the legal standing to allege a "special injury'' under Arizona's public nuisance law.'' A trial judge said no; the Court of Appeals said yes.
In taking up the case, the Supreme Court agreed to hear arguments by John Egbert, attorney for the resort, that nuisance claims are limited to situations where the harm is to the general public and not just members of one tribe.
John Klecan, representing Flagstaff, is making similar arguments, saying a nuisance claim would be appropriate only if the tribe could prove that the use of treated effluent on the mountain resulted to injury to "all of the public who frequent or utilize the area for many different purposes.''
SUBMIT FEEDBACK
Click Below to:
More like this story