Arizona Cardinals third round draft picks broadcast from Winslow
Originally Published: May 15, 2018 3:05 p.m.
On April 28, the Arizona Cardinals football team broadcast their day three draft picks from Winslow Arizona. They will have fourth, fifth and sixth round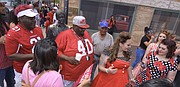 picks completed in Winslow. During the event downtown Winslow was blocked off with a variety of vendors offering drinks, food and souvenirs. The family affair hosted many family groups along with die-hard football fans. Around 5,500 people attended the event.
SUBMIT FEEDBACK
Click Below to: