National Nurses Week celebrates nurses
Originally Published: May 8, 2018 10:39 a.m.
FLAGSTAFF, Ariz. — In honor of National Nurses Week, May 6-12, the Navajo-Hopi Observer sat down with nurses from Tuba City Regional Health Care Corporation and Winslow Indian Healthcare Center and asked them to share their experiences and why they chose a career in nursing. Tuba City Nurse Lincoln Johnson is one of the only certified emergency nurses at Tuba City Regional Health Care Corporation. He is specialized in his skills and other certifications and has a wide range of skills. Bridgette Cody is a clinical care nurse at Winslow Indian Healthcare Center in Winslow.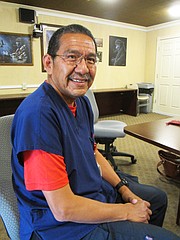 Lincoln Johnson, emergency room nurse, Tuba City Regional Health Care Corporation
How long have you been a nurse?
14.5 years.
Where are you from?
This part of the reservation, on the western side. I grew up in the Black Mesa area. Also, I've lived more in Shonto than Black Mesa.
What was your inspiration to become a nurse?
I worked in the rescue area. I was at school and I had a degree I was receiving in emergency medical services and then I happened to be walking by and I saw the nursing curriculum and I thought, 'not too long.' But I knew I would always be emergency medicine — that's why I gravitated toward the ER.
Have you worked all 14 years in Tuba City or have you been other places?
As a nurse, I have worked all 14 years in Tuba.
In other aspects of emergency medicine I have worked other places. I've worked in Flagstaff, Hopi, Winslow and here but all my nursing life has been here.
What is about Tuba that makes you want to stay here?
For one, it's close to home — I can drive and be home within an hour. This is the place where people come to for care — some really sick, others not so sick but we see a whole range. This is the place.
Does Tuba have an advantage considering the population who comes here for care?
As far as people would understand where a person's coming from, yes, this is the place because we speak Navajo. We understand the Navajo, Hopi and Paiute cultures and the world at large. We do get people who are touring the Grand Canyon — they can come from China, they can come from Europe, they can come from all over the place.
What is a typical day like?
We start out the day checking in our equipment, making sure things are there as we need it, or before we need it, make sure they work.
Before, as we're coming to work, most nurses are prepping themselves for whatever. Because the attitude sets the day — we're going to be ready for anything. Anything can happen and we'll be ready for it. With that thought in mind, you're not surprised coming to work. If you don't have that attitude, 'I'm going to be ready to handle these things,' if you're not prepared for it, that also sets the tone for the day.
What are the challenges?
For me, there are a bunch of challenges. I'm always learning, one never stops learning. A challenge might be a patient that keeps changing moment to moment. You get one thing, one medication ready for that patient, but then they change and a new medication, or a new procedure is called for, so you're trying to stay ahead. The team approach, the doctor, the other nurses, the administration, even the patient registration, x-ray, CT, laboratory — we all have to work together to help patients.
Would you recommend nursing as a career to youth?
Emergency nurses. Yes, especially here in Tuba because you get a wide range of experience here. I've seen nurses who come here who have come from less busy or less acute care ER's, emergent or urgent care. They come here and they utilize all of their skills. And they leave from here much more competent and confident. They become more valuable because of that. Nursing is a wide-open field. You have OB nurses, you have Peds nurses, you have OR nurses, you've public health nurses, you have nurses who are involved with research, you've got education and staff nurses. It's been good for me. I've enjoyed it.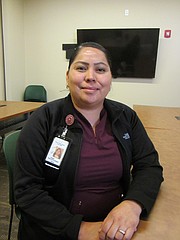 Bridgette Cody, clinical care nurse, Winslow Indian Healthcare Center
How long have you been a nurse?
It will be five years in June.
Where are you from?
I'm originally from about 30 miles northwest in Leupp.
What inspired you to become a nurse?
My mom always taught me to be respectful of others and taking care of other people. It's always been something I've done. Since I graduated high school, I got my CNA in high school. I've always been doing it since I graduated from NAU in 2012. I just went into being a registered nurse (RN) and a clinical care coordinator for the past three years.
There were a lot of Native American scholarships that helped me out through my nursing program.
What would you tell Native youth about a career in nursing — do you think it is worthwhile?
Oh, definitely. Nursing is so broad. There's so many things you can do. When we talk to the youth who come through they're like, 'oh, I don't want to touch blood.' Nursing is not all blood. There's a lot of nursing infromatics. They can do what I do, which is clinical care. I sit at a computer and answer phones and assist the doctors. It's not necessarily like IV sticks and needles. But there's so much. There's data analysis, there's top government jobs where they do clinical research. There's a lot of opportunities in nursing that nobody really knows of.
What's a typical day like?
I do four 10's. I get here at 7 a.m. and my day goes to 5:30 p.m. When I come in the morning, I usually look through my notifications. I'll get notifications from providers, medical records, purchase referred, which is our contract health department. I will also get notifications from our nurses on the floor because we try to work as a team. So when I'm out, my patients are still getting taking care of. I leave my notes pretty lengthy for what I'm doing for my patients, so if I'm not here, someone is able to keep it covered.
What are your challenges?
For me personally, I understand Navajo, but speaking it is a challenge. We still have a lot of elderlies that we still need to communicate with, making sure they understand education. I know patient education has always been our top priority that our patients do understand what we are telling them so it benefits them.
Because we're ambulatory care, so we're trying to do preventative care. Even if they do make it to the hospital — we go to Little Colorado Medical Center, which is the local hospital here — every Monday through Friday and we do rounds with the doctors. If they are our patients, we identify them and bring them back into the clinic, so we're getting them back here, getting them appointments with their primary care and assisting them to go to pharmacy to do medication reconciliation.
We're trying to help them come back into the clinic, helping them identify their needs so that they understand their health problems and why they're here. And try to help them so they're not getting those late night hospital visits.
Our main focus at the clinic is preventative care. We're doing well-baby checks, we do physicals for any age, we do a lot of screenings with mammography, they also do screening for colon cancer, women's health. We do immunizations — all of these are preventative before patients need the service.
Why Winslow?
I'm only 30 minutes away from where I originally grew up. When I was growing up, you identify the need that there's not that many people willing to come back home. And then, I know when I started working, you could see people's face brighten up that you're the same culture and you're coming back and you're here to help. That's kind of inspiring enough for me.
When I first started we were in the old building, we were very small. I didn't come for the new building or anything, I didn't know anything about that. So, when I started, the little clinic that we had, we worked well together. Before I even came, there were things in the works for the new building. I'm very blessed that it's here, not only for myself, but my family comes here, too. To provide the best quality care that they can have.
I was very fortunate for my program at NAU. I did the traditional bachelor's program, but they also had American indigenous program off of that, so they accept 10 students every fall. It's tough, but if you're willing to put in the work, it's very rewarding.
SUBMIT FEEDBACK
Click Below to:
More like this story