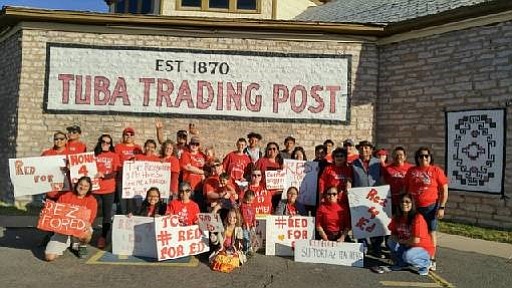 Originally Published: May 1, 2018 6 a.m.
TUBA CITY, Ariz. — About 50 Tuba City teachers, parents, children and community members gathered at the corner of Main Street and Edgewater Drive in uptown Tuba City April 26 to show solidarity in the #RedforEd movement.
The teacher waslk out is not only about higher pay for teachers, but also for school support personnel.#RedforEd also wants to bring back school funding to the 2008 level.
There was also a community driven protest at the main intersection in Window Rock on Thursday morning, which consisted of veterans who were marching for their kids and grandkids in the name of better funded education along with Arizona State Representative Wenona Benally (AZ - District 7) and local teaching personnel from the Window Rock School District.
The #RedforEd movement started in the eastern region of the United States last month to pressure state governments to provide adequate funding for their students. Funds would go toward equipment, books and supplies — not just bigger paychecks for teachers.
RedforEd also recognized that higher salary for teachers was not the only issue with funding. Support workers at schools, like non-certificated staff like counselors, cafeteria workers, janitors and bus drivers all are underpaid and manydon't receive holiday pay and some are stuck at minimum wage.
Currently, Arizona Gov. Doug Ducey was proposing a 20 percent pay hike for the Arizona teachers in a late night legislative session April 26, but that would incrementally go into effect and teachers question where the money will come from.
Arizona teachers and their supporters feel that this 20 percent proposal by Ducey is not enough.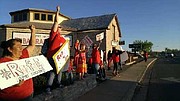 "I want to point out that the draft for pay increases from Governor Ducey is solely for classroom teachers and he left out any new money for school support staff, which to me is unacceptable, said Arizona Education Association President Joe Thomas in a statement.
RedforEd is also calling for the return of state funding for all schools at the 2008 level, which many feel was adequate to properly fund each student's needs. They don't want to see any new tax cuts until funding reaches the 2008 level.
As of April 26, there were over 50,000 demonstrators in Phoenix, who marched to the state Capitol in support, with rural communities like Tuba City and Window Rock providing outreach support for their education organizations.
Tuba City District employees, parents and community members met three separate times April 26 to physically show support with #RedforEd.

They started at 6:15 a.m. (MST) at the uptown area and moved to the local community park at noon and then held another community march at 5 p.m. from the corner of Hwys. 160 and 264 to the Tuba City Chapter house.
Window Rock #RedforEd protestors were at the intersection of the Window Rock Motor Inn and tribal museum shopping center in downtown Window Rock for most of the day.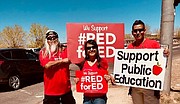 State Rep. Benally said that she heard about the #RedforEd by word of mouth but as an elected official who supports the movement, she was invited to join in.
"The Red for Ed movement has swept across Arizona from Kayenta to Nogales serves as a call to our current governor and legislature to make public education a priority," Benally said. "For the last decade, the state of Arizona has cut $1.5 billion in school funding. This is more than any other state in the nation. This movement is not just about raising teacher pay, it's about increasing funding for all school staff- from administrative assistants to bus drivers. We need our governor to bring all stakeholders to the table to find a reliable, dedicated and sustainable funding source for our schools."
Duane Yazzie, teacher and librarian at Window Rock School District, said originally because there was not anything formal planned in Window Rock, he was prepared to make signs and be at the intersection by himself, but some friends and family said they would support the walk out.
"I believe a public presence on an important issue like this represents seeds that will take root and others will join us as they become aware of the critical issues surrounding public education," Yazzie said. "Hopefully, this protest will have an effect on our representatives in the Arizona legislature for public education advocacy."
Myles Beam, a ninth grade teacher at Tuba City High School said, "Alone, my personal participation in the Tuba City Red for Ed walk out, will not make much difference in the education system of Arizona, but standing and walking with my fellow community members in Tuba and then knowing we are joining the thousands in Phoenix today, then collectively, we can make a real difference for our students."
Tuba City District #15 also did not formally support the #RedforED movement. Neither the current TCUSD Interim Superintendent Sharlene Navaho nor current TCUSD Board President Ron Begay provided any comment at press time.

There were several primary organizers in the Tuba City #RedforEd walk out community protest, which included Duree Lomadafkie, Cheryl Onsae, Carmen Honyouti, Savannah Lee, Myles Beam and Mary Tewahaftewa.
In Window Rock, in support from veterans for higher Native education was Ed Becenti.