Talia White of Santa Fe's IAIA shares art opportunities with Hopi students
Originally Published: May 1, 2018 6:01 a.m.
POLACCA, Ariz. — Talia White, spokeswoman for the Institute of American Indian Arts (IAIA) in Santa Fe, New Mexico, recently visited Hopi High to tell the students about their art school.
White said IAIA offers a unique experience because it has an emphasis on indigenous cultures.
"With that as a foundation, it is easy to see that students embrace and celebrate their native identities in so many creative forms while being in a place of academia," she said. "Also, IAIA offers students remarkable opportunities to work one on one with world-renowned practicing artists as their instructors."
White said she loves sharing information about IAIA.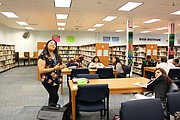 "I love sharing info about our art school with young people because, as Natives, I always say that we are intrinsically artistic. Our artistry thrives in our languages, songs, ceremonies, baskets, pottery, jewelry, dances, and so many more areas. I think that IAIA does a great job of prioritizing the rich cultural history of our students and it is truly reflected in students work, where you can visibly see the combining of their beautiful Native backgrounds among so many mediums," she said.
White said she likes to share this with students because she thinks it is important for young people to know that their voices are strong, important and much needed.
"I think the students at Hopi High School really tuned into all the info," she said. "Most filled out the application and many asked questions. I really enjoyed their enthusiasm. It's always great to come into a classroom and have students absorb information for their future options."
IAIA has five associate and bachelor programs, three certificate programs and one master's program. Studio arts, museum studies, creative writing, indigenous liberal studies and cinematic arts and technology are among the associate and bachelor programs. One-year certificate programs are offered online. IAIA also has an MFA for creative writing.
White said IAIA offers an immense amount of support through its Student Success Center. Those resources include financial aid, career services, academic tutoring and more. Students work with advisors who can identify opportunities in their specific areas of study that will help them grow artistically, personally and professionally. IAIA also has residential facilities for single and family units on campus and a cafeteria as well.
White said IAIA helps students identify various job opportunities. Through career services, students can work on their resumes, cover letters and develop portfolios. There are also opportunities for students to work on campus. Some of the campus jobs are studio arts monitor, mentor and digital dome research assistant.
White said class sizes are moderate to allow for creativity and communication among peers who form lifelong bonds for future collaborative work. She said throughout the IAIA campus, they have state of the art facilities such as a Fab Lab and Media Dome. They also have tools accessible to students that will help develop their skills and talents as artists in their respective mediums.
White said IAIA has a free three-week bridge programs available to help incoming freshmen. She said this program allows students to establish skills for college readiness, leadership and creativity with dedicated instructors and staff.
"Participants explore Santa Fe and surrounding areas, foster friendships and work with peers. They become familiar with all campus resources that are available to ensure successful retention and completion," she said.
IAIA has a "4 for 3" graduation plan, which rewards students for attaining their bachelor's degree in four years or less. Students who accomplish this goal will be reimbursed their tuition for their senior year, earning a 25 percent savings on their tuition. Because books are included in tuition, students who meet the criteria also get their books free their senior year.
Tuition at IAIA is $4,700 per year. IAIA does not charge out of state costs, so students applying anywhere in America have the same rate. Financial scholarships are available as well as the CIB Scholarship, Merit Scholarship and other scholarships.
SUBMIT FEEDBACK
Click Below to:
More like this story