Winslow Jr. High art club raises $1,022 for food bank
Originally Published: March 27, 2018 11:09 a.m.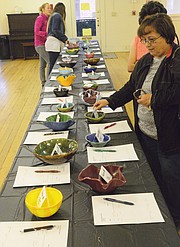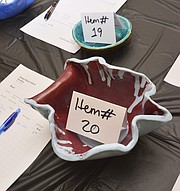 Ceramic soup bowls made by Winslow Jr. High art students were sold at the Empty Bowls event which included a silent auction, fundraiser and art exhibit March 9. The empty bowls for purchase were a way to highlight hunger in the Winslow community. Twenty six bowls were arrayed with bidding sheets at the Winslow Visitor Center from 6 - 8 p.m. March 9. Parents and interested parties were encouraged to bid and purchase the bowls. The event was free and 12 different soups including bread and rolls were set out for attendees to enjoy. All monies collected were donated to Winslow's DePaul Food Bank. Winslow Jr. High art teacher Christa Knox said the event raised $1,022 for the food bank.
SUBMIT FEEDBACK
Click Below to:
More like this story