Shiprock Chieftans defeated, 74-40
Anton Wero, for the Navajo-Hopi Observer
Originally Published: March 20, 2018 10:28 a.m.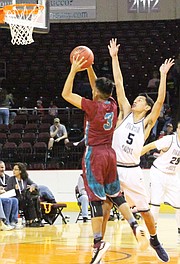 RIO RANCHO, N.M. — The No.7 Shiprock Chieftains were overwhelmed by the No. 2 Silver Fighting Colts from Silver City, New Mexico, 74-40, at the New Mexico 2018 US Bank Boys State Championships Quarterfinals, at the Santa Ana Star Center.
Silver's Tristin Moore, Alex Marquez and Tyler Gonzales combined for 15 first quarter points, leading from the opening tip and never looking back. Shiprock's Braden Whitehorse was fouled attempting a shot and connected on one of two free throws, with two minutes left in the first quarter, Silver led 15-1.
The Colts did not let up, as they outscored the Chieftains, 14-7, in the second quarter and led by 22 points, 29-7 at intermission.
Chants of "Never give up," were heard from the 2,000 plus Shiprock fans, who made the trip from the New Mexico Four Corners area, the Chieftains managed to tally 14 points from seniors Leonard Hoskie, Arvin Begay and Cota Nahkai, in the third quarter. The Colts continued to apply full court pressuring defense and scored off turnovers, increasing their double digit lead to 31 points, 52-21.
In the fourth and final quarter, the Chieftains battle back, but the lead was insurmountable, they could not get over the Colt's lead. The final score was 74 – 40.
Seniors Arvin Begay and Cota Nahkai scored seven points for the Chieftains.
Tristin Moore had a game high 27 points and Jonathan Harris chipped in 21 point, for the Silver Fighting Colts who advanced to the semifinals.
"We don't have anyone in our district, who have play with over pressuring defense, like the Colts, they went after each rebound and fought for each loose ball," said Chester Atcitty, Shiprock's head coach. "We will learn from this game and more forward with it, to next season."
SUBMIT FEEDBACK
Click Below to:
More like this story