Portales Rams defeat Shiprock Chieftains, 65-54 at girl's state championships
Anton Wero, For the Navajo-Hopi Observer
Originally Published: March 20, 2018 10:28 a.m.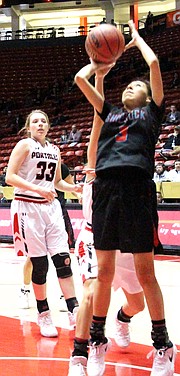 Albuquerque, N.M. — "D up, D up, D up, …" was mostly heard from the benches and fans during the New Mexico State Tournament, held at the Dreamstyle Arena — The Pit, March 6-10, with teams, participating from various reservations, border towns and surrounding communities.
Many projected the Tohatchi Lady Cougars and the Shiprock Lady Chieftains were in line to repeat as girls state champions, while other teams just wanted to earn a blue or red state champion trophy.
In a quest for a repeat title the No.4 Shiprock Chieftains lost to the No.1 seed Portales Rams, 65-54.
The Lady Chieftains (20-10) met the Lady Rams (27-2) at the 3A Girls State Championship semifinal game at the Dreamstyle Arena — The Pit.
The 3A State defending champion Chieftains, in their quest to repeat, beat the No. 5 Silver Lady Fighting Colts, 58-44, while the Rams were victorious over the No. 9 West Las Vegas Lady Dons, 58-41, at the quarter finals game.
Portales quickly scored from beyond the arc, setting the up-tempo pace of the game. The Chieftains traded baskets with the Rams, but Portales stayed in control of the game and lead as the first quarter end, 13-8.
The second quarter saw the game tied three times, 13-13, 18-18 and 20 all and five lead changes. Shiprock's eighth grade point guard Lanae Billy and four other Chieftains combined for 16 points, only to be outdone by the Ram's Taylee Rippee, Codi Flores and Sarah Lovato. With a little over three minutes remaining in the second quarter, Rippee scored a bucket that gave Portales the lead for good, 25-20, and they never looked back. Lovato hit a trey as time expired giving Portales a six point advantage, 30-24, at the half.
Portales's Lindsay Blake erupted for 10 points, during runs of 6-0, 12-0 and 5-0, in the third quarter. Portales twice had leads of 15 points and six different players scored during those runs. The Rams built an insurmountable lead, at the conclusion of third, 53-28.
The 7,000 plus Chieftain fans could watch, as they battled back, in the final quarter, outscoring the Rams, 26-12. The game ended 65-54 in the Rams' favor.
Lanae Billy had a game high with 15 points, Tia Woods added 14, while Aiona Johnson contributed 11. Rippee scored 14 points while teammates Blakey and Zamorye Cox, added 12 and 11points respectively, for the Rams.
SUBMIT FEEDBACK
Click Below to:
More like this story