Tuba City and Moencopi tackle school gun threats
Law enforcement, school officials, community discuss how to better prepare school facilities
Originally Published: March 13, 2018 10:07 a.m.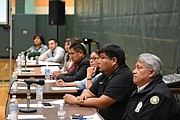 TUBA CITY, Ariz -- A capacity crowd turned out March 6 at the Warrior Pavilion in Tuba City to hear from law enforcement and school officials about threats made to Tuba City Junior High and other reservation schools in recent weeks.
The panel included Navajo Nation Police Department representative Lt. Leonard Williams and the Navajo Nation Prosecutor Michael Bennett — panels shared how each school facility reacted and what they might change to be better prepared for student safety in the future.
The event was hosted by TCUSD #15 under the direction of Sharlene Navaho, interim superintendent, along with several agencies including Tuba City Boarding School, Moencopi Day School, Greyhills Academy High School, and Dine' College.
Williams said he needed to remind the community that in situations like these, the department cannot give out details.
"All we can give out at the moment of the situation is to tell the concerned callers that we're working on it and we also cannot give out names of possible suspects," Williams said. "I know it's difficult for our community to wait for these details because they are sincerely concerned, but that is the official protocol. So it's helpful to remind everyone to give us the time to find out what happened, contain the situation and get the facts straight."
Bennett said it was not just the local Tuba City Police Department that responded to the gun threat in Tuba City, the FBI and the Navajo Nation Criminal Investigation Unit.
"Once the local police officers take the initial information regarding the situation, the clock starts ticking for me to petition the court and law enforcement within a 24 hour period," Bennett said. "My prosecutor's office also cannot give out specific information to the public at this time. My official duty is to make sure we have enough thorough evidence to make an arrest and this takes a bit of time."
Bennett also spoke about the individuals involved in the incident.
"The students arrested in this instance are currently in a correction facility," Bennett said. "This type of public threat is a serious one because it comes under both local Navajo Nation jurisdiction and also federal jurisdiction. Also, a threat like this is categorized as cyberbullying, since there is currently no law on Navajo or Hopi for crimes like this, it must come under other categories. This threat can be seen as both harassment and stalking to the most severe extent. My office must be diligent in how it's categorized."
Each of the school representatives on the evening panel gave a very brief account of how their individual schools reacted when they saw the local Facebook postings from the community on the gun threat at Tuba City Junior High.

Navaho said the district has emergency safety procedures in place.
"We went on immediate lockdown and that means no contact from either outside or inside except for administrators," she said. "Students are kept inside in shelter in place conditions."
Navaho reminded all parents and guardians to make sure and update all emergency call numbers and that cell phone numbers are current and given to the students' school
"We use our one-call emergency system in events like this and your contact information is critical to getting current information, if we can give it at that time," Navaho said.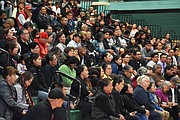 Myra Draper, a Tuba City Boarding School board member, said their school went over its safety procedures after the threat was made and she felt that was helpful to remind their boarding school staff of their procedures.
Phyllis Begay, a representative from Dine' College, said her campus was immediately alerted and she had their security personnel check all student and staff identification cards-tags because their campus is essentially a closed campus during the regular business hours. Begay said her staff also went over their safety procedures as well to re-familiarize themselves with safety precautions.
One of the strongest statements came from Dr. Loren Hudson from Greyhills High School and Hudson's comments received loud applause from the audience.
"We can't expect the outside community to solve our local problems," Hudson said. "We must take full responsibility here. We must play to our strengths instead of being reactionary."
Hudson then held up his cell phone to the audience.
"We all have one of these. Do we know that we also use this phone as a weapon against our kids, our community?" Hudson asked. "We are so preoccupied with our cell phones. Put down your cell phones and talk to your children at dinnertime. Ask them how their day was. Tell them how your day went. We must remember to teach and talk to our kids about respect, care for one another and reverence about life and how precious it is. We must teach our children how to say please, thank you, yes, ma'am and yes, sir again. We are losing our basic teachings. This gun threat was a huge wake up call to our local Native community. We adults must be reminded to stop playing and be pro-active with teaching our children about serious responsibility and tribal respect. These are our students, our children. Let's be competent, let's be safe. Also, all of you parents need to ask your school board members if there is a safety procedure in your school for emergencies like this. If your school receives federal funding, it is a federal requirement for the school to have safety procedures in working order."
Williams also gave more details on how law enforcement handles crisis emergencies that involve students.

"I know the community will see this recent situation as a huge wake up call. But I also want to remind the parents and guardians that our police department also has a protocol," Williams said. "When we have a lock-down situation students are locked up safely in the schools. This means no one in, no one out. And I have taken phone calls from angry parents who want to know what is happening. We cannot change the lockdown status until we get critical information and then can relay that to the schools that the lock down can be lifted. This process is for the safety of your children. "
Parents from the audience were allowed to fill out paper forms to ask questions from the panel.

Several questions had to do with what kind of changes would be made to both Navajo and Hopi tribal laws to get current with possible safety threats that are not in either tribal law books.
Bennett said laws are being developed to keep current with crime situations like this and they have to go through both legal review and also final approval from the Navajo Nation Council for approval, which sometimes takes a while, but they are working on it.
Williams was also asked if there was cross jurisdiction between the Hopi Tribe and Navajo Nation in Tuba City and Moencopi because the two reservations are across the street and highway from one another.
"Hopi and Navajo do indeed have separate jurisdictions regarding their individual tribal members," Williams said. "But in a serious crime such as this, like a shooting or possible gun incident, Navajo or Hopi Police Departments will not hesitate to assist each other to prevent further crisis and danger."
SUBMIT FEEDBACK
Click Below to:
More like this story