NPS, tribes share vision of intercultural heritage at Grand Canyon's Desert View
Originally Published: March 13, 2018 10:21 a.m.
GRAND CANYON, Ariz. — Located at the southeast edge of Grand Canyon National Park, the Desert View Watchtower rises high above the Colorado River — for many, it's the first glimpse they get of the park. It's also an area of great cultural significance, and as such, the National Park Service is planning a facelift for the area.
Desert View Watchtower is, of course, on the National Register of Historic Places, but it's a deceptively young building in relation to many other structures within the park. Designed by architect Mary Coulter, who had a knack for making the new look old, it was painstakingly built to resemble many Native American structures Coulter came across in her Southwestern travels.
Hopi artist Fred Kabotie painted murals that still adorn the walls inside the tower — Coulter created the tower to serve as not just architectural eye candy, but to give visitors an experience.
An experience that connects them to the Native people who lived on and revered the land for hundreds of years.
It's this experience that the National Park Service (NPS), along with the Intertribal Advisory Council and the 11 traditionally-associated tribes, hopes to improve by embarking on the Desert View Inter-tribal Cultural Heritage Site plan. The plan calls for transforming Desert View from a traditional scenic overlook and visitor services area into an Inter-tribal Cultural Heritage Site that provides opportunities for first-voice cultural interpretation from associated American Indian Tribes — including cultural demonstrations — and enhances visitor orientation to both the cultural significance of the site and greater park, as well as information about tourism opportunities on surrounding tribal lands.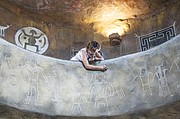 Among the proposed changes, (NPS) is considering some modifications to existing infrastructure like parking lots, as well as doing away with some underutilized facilities (such as the existing visitor center, shade structures and some walkways), to make room for some potential new construction such as an expansion of the current amphitheater and construction of new restrooms or a new cultural center within the existing developed footprint at Desert View.
Desert View is already home to the cultural demonstrator series, which features artisans from many surrounding tribes from March through December. The Inter-tribal Cultural Heritage Site will build on the already-popular series by acknowledging the distinct identities of each of the 11 tribes, preparing tribally-specific protocols for demonstrations and culturally appropriate crafts for demonstrations and supporting tribal economies.
The 1966 National Environmental Policy Act (NEPA) requires federal agencies to analyze the environmental impacts of federal actions and engage the public and federally recognized tribes in the decision-making process. The NPS then prepares a written Environmental Assessment (EA) to determine if a federal undertaking would significantly affect the human environment.
According to the park, the proposed actions for Desert View include ways to proactively respond to increased visitation to the site, as well as embrace a unique opportunity to partner with associated tribes. Major changes may include removal of the central walkway, construction of new restrooms, maintaining formal east and west rim trails, construction of a cultural center and performance area, creating an outdoor demonstration area suitable for safe food handling, revegetation and relocating bus drop-off areas.
The EA should be completed by this summer with a decision finalized by winter of 2018-2019. There will be a second opportunity for public comment on the EA in fall or winter 2018.
SUBMIT FEEDBACK
Click Below to:
More like this story